ENGLEWOOD, Colo. -- **After covering an NFL team for a while, you think of several names when you see numbers on jerseys. Even the number 13, which has been worn by players in a mere 14 regular-season games in the last 40 years, evokes memories of wide receivers like Herb Haygood, Eron Riley and Tyler Grisham and the catches they made in an attempt to make the roster.
At running back, memories of Broncos past came flooding back during OTAs when watching the rushes called by Head Coach Gary Kubiak and Offensive Coordinator Rick Dennison -- and the style in which the offensive line and running backs executed the plays. Linemen worked in tandem, moving laterally, and the runners made one cut and took off. Success in this scheme is not about being the fastest, quickest or strongest; it's about being the most precise and decisive.
When C.J. Anderson cut upfield, it was easy to recall an old No. 22 like Olandis Gary executing a similar call. As Kapri Bibbs veered outside, turned on a dime and cut back 90 degrees toward an opening, a flashback to Selvin Young in the same No. 35 during his breakout training camp of 2007 flew through the mind's eye. If Montee Ball had kept the No. 38 he wore during his first training camp, one might have had a vision of Mike Anderson.
Enough time has passed and enough philosophies have changed in the last several years that what's old has the capacity to become new again, especially when woven into the tapestry of an offense melding plenty of concepts from the attack of the last three years.
"It's definitely a one-cut-and-go system," Bibbs said. "You find the hole, you make a cut, and you trust it and you've just got to be real decisive as a back. No LeSean McCoy, bouncing-around-type stuff. It's one cut, get downhill, make the right read and you're going to score a touchdown."
One hallmark of the system is its ability to allow its running backs to flourish. During Kubiak's 11 seasons as the Broncos' offensive coordinator (1995-2005), five different runners combined for 10 1,000-yard seasons: four for Terrell Davis, two each for Mike Anderson and Clinton Portis, one apiece for Gary and Reuben Droughns. In four of those seasons, the 1,000-yard rusher was not the Week 1 starter (although Droughns did open the 2004 season as the starting fullback, blocking for Quentin Griffin).
Another touchstone of the scheme is its ability to maximize the strengths of offensive linemen who don't have elite draft pedigrees, but possess the skill set to handle the work. Collectively, the blockers and carriers can work -- if they find cohesion and make the right split-second moves.
"We'll make the right cut," Anderson said during OTAs. "No matter who's back there, we'll make them (the offensive linemen) right. That's a promise."
The running back competition bears watching -- from the top of the depth chart to the No. 6 spot. All but one of the Broncos' running backs has regular-season experience, and the lone exception, Bibbs, spent last year on the practice squad and is back in a scheme similar to the one in which he flourished at Colorado State.
C.J. Anderson is at the top of the depth chart, and he's earned that. Among players at his position, only Pittsburgh's Le'Veon Bell had more yards from scrimmage during the second half of the season. That burst propelled Anderson to the Pro Bowl.
"I think C.J. has worked extremely hard," Kubiak said during OTAs. "Coming off of last year he deserves that opportunity and I think he's getting ready for that opportunity. But he knows he's being pushed very hard."
And the Broncos have the horses to push Anderson. That group begins with Ball, last year's season-opening starter. He returned to full health after a groin injury limited him to five games last year.
"Of course C.J.'s going to be No. 1 out of the gate, because he deserves it from what he did last year," Ball said during offseason workouts. "But I told him, 'You're the guy right now, but I'm coming.' We're great friends, and it's going to be great competition which is going to make the offense better."
There's Ronnie Hillman, who also was healthy during the offseason after missing much of the late season because of a sprained foot. There's Juwan Thompson, who flourished in short yardage, but also led all Broncos running backs in yardage per carry in 2014, thanks in part to a 47-yard jaunt that was the Broncos' longest run in three years. And then there's Bibbs and Jeremy Stewart, each of whom will try to maximize their chances.
"Obviously, C.J. -- that's in a lot of ways his spot to hang on to," Kubiak said. "I think that Montee has had a great offseason. I think Ronnie has had a really good offseason.
"I think it's very competitive. You never know about the backs until you put the pads on."
Underscoring the competitive situation is the fact that none of the running backs joined the majority of the starting lineup in retreating to the weight room early during OTAs. Even though Anderson joined the league's elite late last year, he doesn't have the job locked down. That says less about him than it does the entire collection of running backs, which appears to be among the deepest position groups in the league.
BREAKING DOWN THE RUNNING BACKS:
C.J. ANDERSON: **Since time immemorial, predicting how a young player handles a rapid ascension and/or sudden success has been a tricky task. But from all indications, Anderson has taken the proper approach, determined not to be a meteor that streaks through space and crashes into a planet, but a comet on a constant, consistent orbit around a star.
Two reservoirs of motivation fuel his flames. The first is his anger over the playoff loss to the Colts. Even though he had the Broncos' best play with his fourth-down reversal-of-field late in the third quarter, he nevertheless believes he didn't do enough.
"I'm comfortable where I'm at, but I'm still hungry because I know last season I was a big key why we didn't move on to the next round," he said during OTAs.
The other is the desire to not be a flash in the pan. Good running backs have their moment, then fade. Great ones sustain their play. Competition can help him keep the sharp edge that helped him seize the opportunity that landed in his lap last year, and his skills should make him a good fit for this offense. The rest would then depend on his health -- always a key issue at a high-wear, heavy-attrition position.
MONTEE BALL: **Durability was one of Ball's primary attributes when the Broncos selected him in the second round of the 2013 draft, which is why his second NFL season was so frustrating to team and player alike. Although he made a quick return from a training-camp appendectomy, he was never quite right, and later admitted that the groin strain he suffered in Week 5 might have begun with soreness he noticed in Week 1.
Just as important as his adaptation to a zone-blocking, one-cut-and-go scheme -- which he watched and adored while growing up a die-hard Broncos fan -- are the changes he made to his workout regimen. Ball focused on increasing his flexibility to prevent future muscle injuries. Yoga and Pilates became staples of his work even before the Broncos returned for team workouts in April.
"I feel great. I never felt this good before," Ball said.
But the test of his flexibility work comes when full pads go on in early August. Although he is positioned to perhaps create a platoon with Anderson, the group is so deep that he can't afford an injury setback.
RONNIE HILLMAN: **No running back on the roster is at a crossroads like Hillman, who heads into the last year of his first contract still looking to establish himself as more than a complementary back. Hillman had two 100-yard games when he filled in for the injured Ball last October, but didn't get the starting job back after he succumbed to a foot injury because of Anderson's spectacular sprint through the second half of the season.
Hillman is still the fastest of the Broncos' running backs when it comes to straight-line speed, but how well he cuts and how quickly he adapts to the altered blocking scheme could determine whether he sticks on the 53-man roster once the preseason ends.
JUWAN THOMPSON: **Although he's the biggest of the Broncos' running backs, there has been no momentum to give him snaps at fullback; that work belonged to tight ends James Casey and Joe Don Duncan during OTAs. That is an endorsement of Thompson's skills with the football; he made the most of his limited chances last year, with the longest carry, the second-highest average per touch (5.12 yards) and the best touchdown rate (one every 19.3 touches) among the position group.
Last year's sample size is small, so don't make too much of those numbers. But his intelligence, ability to pick up the offense and versatility as a blocker, pass-catcher, runner combines with surprising elusiveness in the open field to make him an intriguing prospect.
KAPRI BIBBS: **To make an impression in this group, Bibbs knows that he must not just practice well; he must be a student of the game -- and take the right demeanor. In a conversation with Bibbs during OTAs, it was apparent he takes those aspects of his job seriously, knowing that he must impress Running Backs Coach Eric Studesville as much in the meeting room as on the field.
"I think I took a big leap this year in the playbook and a big leap with my coaches, especially my running backs coach, he's got a lot more faith in me and he knows I've been working hard in my playbook," Bibbs said. "I'm a lot more serious, and he sees that."
That translated to the field during OTAs, where his decisive cuts revealed a deep comfort level with a zone-blocking scheme, established during his work in a similar system at Colorado State.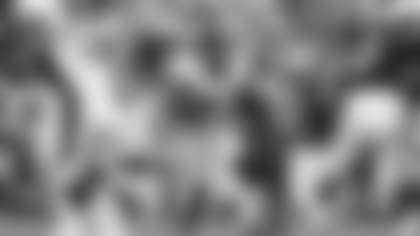 JEREMY STEWART:Injuries to Ball and Hillman and a heavy workload for Anderson gave Stewart a brief crack at some carries late last season. But to distinguish himself this summer, the Stanford alumnus will have to deliver some big runs, particularly in the preseason games, which could determine who sticks at the back end of the depth chart.
June 29: Safeties
Coming Friday: Defensive line