ENGLEWOOD, Colo. --Peyton Manning could hold every career record in NFL history, and he would still believe that his game can be tweaked and improved.
That's his nature. That's how he became the quarterback he is, and remains after posting a quarterback rating over 100.0 for the third consecutive season, matching the 2004-06 seasons in which he hit triple digits.
"Nobody works harder. Nobody cares more," Head Coach Gary Kubiak said during offseason work.
With a tweaked scheme melding old concepts with new ones and an offensive line that will feature at least three starters who did not start for the Broncos at any point last year, Manning and his fellow quarterbacks have a bit more on their plates than in previous years.
But 17 previous seasons in the NFL should count for something, right? It does for Manning, who can lean on a career in which he's adjusted to new receivers, altered concepts, and on three previous occasions, a new coaching staff -- including when he joined the Broncos in 2012. This year incorporates all of the above.
"You always try to use your experience as a teacher," he said in June. "I've always tried to learn something from every repetition and situation -- defense, the best way to counter it. Hopefully you've got a pretty good storage file up there in your mind and in your memory that you can use to figure out kind of what works and kind of what you should do to adjust to different things. [For example] different receivers -- some receivers are faster than others, so you've got to get the ball out quicker.
"So I think that you try to use your experience in any way to help you. When you're dealing with some changes and adjustments, I think experience can help you that way as well."
During his annual Duke University throwing sessions in April, Manning worked with offseason pickup Owen Daniels, re-signed tight end Virgil Green and second-year wide receiver Cody Latimer. They joined wide receivers Andre Caldwell and Emmanuel Sanders, both of whom took part in the 2014 Duke workouts.
When training camp begins, Manning will have Demaryius Thomas back. The extra work he got with his younger targets -- particularly Latimer -- will help him and the offense.
The focus then will turn to how Manning and the reshuffled offensive line find cohesion once the Broncos move into full-contact, full-pad work during training camp. With a rookie as his blindside protector (Ty Sambrailo) and a first-time NFL starter at the next spot in (Ben Garland), it will take plenty of repetitions to get the line where the Broncos -- and Manning -- wants it.
The work will not stop when training camp ends, either.
"We've still got a lot of time during training camp to get a lot of reps and form that kind of chemistry that you're trying to form," Manning said during minicamp. "You're also going to be looking to form it during the season as well. It's an ongoing process. The key is to try to keep improving."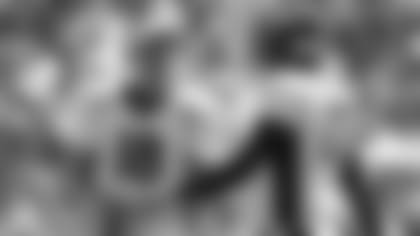 The offseason was about getting work for areas that needed it. Extra practice under center and extra work for backup quarterback Brock Osweiler and other young reserves were key points.
When the regular season begins, Manning and the Broncos will focus on their core competencies. But the offense will look different, and that could take Manning outside the pocket more often than in the past several years.
"We're going to do what he does best," Kubiak said during offseason work. "Obviously if we run the ball well -- which we plan on doing -- we're going to move the quarterback at some point. It will be something that we work on.
"He has been very excited. He's been challenged. He said that to me a couple of times, 'I'm challenged again. I'm having to learn new stuff because I've been doing this for so long.' I think that is good for all of us no matter how long you've been in the league."
And now, a further look at the Broncos' quarterback quartet:
PEYTON MANNING: **The list of quarterbacks who have succeeded at Manning's age and experience level is short. But the 2009 season of Brett Favre offers an example of what a seasoned quarterback can do in the modern NFL. That year, Favre came within one errant pass of a Super Bowl appearance and had the highest single-season quarterback rating of his career (107.2).
To his credit, Manning has handled the changes with the right mindset, choosing to embrace rather than resist.
"I think everybody likes continuity and some consistency in what you're doing, but I will say at age 36 when I got here and now 39, that I have been stimulated by the changes, which I do think keeps you engaged and energetic and focused in meetings," he said in June.
"I can tell you one thing: I am not bored in the least bit. I'm stimulated. I'm studying and I feel like I'm engaged and trying to learn something new from Gary Kubiak. I'm learning something new from Rick Dennison. I'm learning a little something from Owen Daniels. Any time someone has a question of me, I'm glad to answer that about a route with Owen or James Casey. That has been the truth.
"Instead of being stymied by any type of change, you can be stimulated by them. That's been true for me and I think that's been a real positive, to tell you the truth."
BROCK OSWEILER: **Yogi Berra once said, "When you come to a fork in the road, take it." Daffy wisdom aside, this is a vital juncture of Osweiler's career. As he approaches his fourth training camp, he's still awaiting his first career start, but is in the final year of his contract. Teammates and coaches have praised his progress and stronger presence in the huddle this offseason, and mistakes in practice are now the exception.
"I've always been impressed with Brock and his composure and how he commands the huddle," tight end Virgil Green said last month. "The more and more you play in the league, the more confident you get and the more composure you have out there."
The extra work given Osweiler in the offseason reveals the Broncos' investment in his success. They want him to develop; to maintain the stated goal from John Elway of winning "from now on," they need him to be ready.
But in terms of his on-field, in-game potential, Osweiler is still an unknown commodity, and will remain that way as long as a future Hall of Famer is healthy and atop the depth chart.
His skill set should mesh well with Kubiak's offensive concepts, particularly those that involve quarterback mobility; Osweiler's natural athleticism serves him well there. But he also has to learn to function under center, something he hasn't done on a regular basis since his childhood.
"I'm asking him to read some things a little bit different. I teach guys to read with their feet, and how they hitch and how they do things. So that's different for him," Kubiak said during OTAs.
Different, but potentially better.
"You're able to make some reads that maybe would have taken a little bit more time [in shotgun]," Osweiler said last month.
ZAC DYSERT: **When Kubiak mentions Osweiler, he often follows by noting Dysert's progress and presence in the quarterback competition, so he's clearly in the mix.
But this will be a crucial training camp for Dysert in determining his future. After spending last year on the practice squad, he now has competition at the back end of the depth chart from rookie Trevor Siemian. Like Dysert, Siemian was a seventh-round pick, and their battle could come down to who has the highest ceiling.
Kubiak kept three quarterbacks on the 53-man roster coming out of the preseason during his last five seasons as Houston's head coach. If that trend continues, Dysert could be in good shape -- assuming, of course, that he can beat out Siemian. That would leave the door open for all four quarterbacks to remain in some capacity, with one on the practice squad.
But with competition fierce at many positions on the roster, the Broncos might not be in position to keep three quarterbacks among the final 53, which would likely leave room for only one on the practice squad.
If Dysert plays well in camp and the preseason games, he could force himself back onto the 53-man roster. The Broncos won't want to risk exposing him to the waiver wire if he dazzles this summer.
Dysert had a 100.7 quarterback rating on 12-of-18 passing during last year's preseason, but racked that up mostly on checkdowns and short passes underneath; his longest completion in game play last summer was just 18 yards. He needs to show more accuracy and confidence going deep to secure a spot for 2015.
TREVOR SIEMIAN: **Perhaps the most promising sign for the rookie during offseason work was the strength he put into throws. His arm appeared stronger than ever just six months removed from suffering a torn anterior cruciate ligament last fall at Northwestern.
"I'm getting a little quicker on my feet and I'm getting more powerful in my base," Siemian said during minicamp last month.
Siemian was limited to individual and seven-on-seven work during OTAs and minicamp as he completed his recovery. He will continue to wear a brace on his left knee throughout the season.
When he takes the field during training camp, his first task will be to readjust to some snaps under center. Northwestern used a spread attack, and Siemian admits that he hasn't worked extensively under center since his Pop Warner days. That means he must emphasize his footwork in his drop backs.
"Feet tying in with the progressions, and that's something I didn't do in college -- and especially work under center," Siemian said during minicamp. "I think I'm capable of handling it. I'm getting there; I'm not there yet."