ENGLEWOOD, Colo. --The possibilities are tantalizing -- and, for an opposing quarterback, traumatizing.
Already blessed with one of the league's best edge-rushing combinations in Von Miller and DeMarcus Ware, now the Broncos can add Shane Ray, a top-10 talent whose pre-draft misdemeanor citation sent him tumbling to the No. 23 slot. That hurt Ray from a contract perspective, but helped him in finding a landing spot; it put him in reasonable trade range for the league's top teams who picked at the end of the first round.
To get a pass-rushing prospect like Ray, you usually need to finish 6-10 or worse -- and usually that means you don't have two elite edge rushers already on the roster. Instead, a 12-4 team coming off four consecutive division titles nabbed Ray. Now the Broncos can ease him into work, utilize him to keep Miller and Ware fresh -- and on occasion use all three at the same time.
Rarely in football has the phrase "pick your poison" been so apt. If you're an offensive coordinator, you can scheme to double-team one -- and if you go into max protect, two. But not all three.
You can forgive Defensive Coordinator Wade Phillips for the gleam in his eye when he ponders the possibilities for the three of them together. It won't be something you see in every pass-rush situation; there might be entire games where Miller, Ware and Ray do not work a single snap together. But it's another tool in a defensive box that overflows with them, and Phillips is a master carpenter who has used every tool imaginable in an NFL career dating back to 1976.
The new 3-4 alignment should also suit the Broncos' pass rushers a bit better than the 4-3 scheme the team used from 2011-14. Miller can settle in as a strong-side outside linebacker, rather than working in the hybrid role he manned to this point as a strong-side linebacker in the base unit and a hand-in-the-dirt defensive end when the Broncos went into their nickel and dime sub packages.
Ware is back at home. Most of his career with the Dallas Cowboys -- including his peak years with Phillips as his head coach -- were as a 3-4 rush outside linebacker. But as he heads into his 11th season, he's excited about the switch because of how it will allow him to operate in space more often, reducing the contact he sees. ,p> "I'm really excited about it," Ware said when offseason work began. "It's a lot easier on the body."
But having Ray to rotate in will also help keep Ware's repetitions down. The Broncos hope that can extend the Pro Bowler's effectiveness, keeping him fresher longer.
But Ware is just the beginning for the unit.
VON MILLER: **It's easy to overlook the fact that he played last year just months removed from the torn ACL he suffered at Houston on Dec. 22, 2013. In that light his 2014 season was remarkable: 14 sacks and 47 hurries (per ProFootballFocus.com). PFF also graded him as the No. 2 run-defending linebacker in the league last year behind Oakland's Khalil Mack.
"I think I'll be in better shape than I was last year," Miller said in April. "A was in pretty good shape last year but I want to go to another level. It's always about how far you can push yourself and how much you can better yourself."
As a strong-side linebacker in the 3-4, he's arguably the best player at that position under Phillips since Hall of Famer Rickey Jackson manned that spot for the New Orleans Saints in the 1980s. During Phillips' five years on the Saints' staff, Jackson blossomed from a gifted-but-raw rookie into a perennial Pro Bowler who racked up 35 sacks from 1983-85, Phillips' last three years with the Saints. Others flourished in the position under Phillips, including Bryce Paup in Buffalo during the 1990s and Shawne Merriman with the mid-2000s Chargers.
"It's a position that if a guy can rush, you can match up well. That's why we've kept [Miller] there," Phillips said. "You'd think he'd be a 'Will' linebacker who rushes almost every play, but you can rush the 'Sam' linebacker, too, so that's what we'll do."
DEMARCUS WARE: **Phillips' defensive scheme is all about getting his defenders in the spots for which they're best suited. During their four seasons together in Dallas, that meant lining up Ware as the weak-side outside linebacker and letting him use his speed and length to attack off the edge. Ware racked up 60.5 sacks from 2007-10, and then added 31 more in the two seasons that followed Phillips' departure before the Cowboys converted to a 4-3 alignment in 2013.
But in Dallas, Ware never had a pass-rush partner like Miller.
"I'm very excited," Ware said. "I think when you think about a pass rusher, you always think about how many times you get to rush the passer and in Wade's defense, I know I'm going to get a lot of opportunities, especially guys like Von, having him now not dropping as much. He's going to be rushing the passer on the strong side; he's going to be playing [on the strong side].
"It's just knowing now you're not going to have a chipper a majority of the time, because if they want to chip, we're going to bring other guys. And that's going to help out guys getting one-on-ones and be able to really create some havoc out there."
The Broncos hope that Ray's arrival can help Ware stay fresher for longer. Last year, Ware had 8 sacks in the first half of the season, but just two in the second half.
SHANE RAY: **The toe problems that have dogged Ray since a pre-Combine workout should not be an issue when training camp begins. The Broncos took it easy with his recovery from the injury, for which he did not require surgery, and eased him into work during OTAs. He finally took the field during seven-on-seven and team periods in the last week of OTAs June 15-17.
Ray closed strongly, Ware noted, with "a couple of sacks" during the June 16 OTA.
"He got back from his [toe] injury, and now you can see the confidence back," Ware said.
Before that last week, Ray's work was limited to mental repetitions. He spent practices standing next to coaching intern Thad Bogardus, who would quiz him on the playcall and his responsibility in it.
Ray is up to speed mentally; now he must channel that into his play.
"For a rookie, I think it's exceptional that he's learned a lot of things as quickly as he's learned them," Phillips said during minicamp. "But live action on the field -- even though you know the X's and O's of it, sometimes your reaction is a little slower."
LERENTEE McCRAY: **In the early part of the season, McCray was able to give Miller respites during the Pro Bowler's final stages of recovery from his torn ACL. And when he played extensively in the regular-season finale, he delivered the strip-sack fumble that Tony Carter recovered and returned for a touchdown.
McCray and Shaquil Barrett will likely have one of the best battles of training camp for the spot behind Miller.
SHAQUIL BARRETT:Depending on how the inside linebacker competition shakes out, the Broncos could keep anywhere from four to six outside linebackers. The specific numbers will depend on special teams, so how well Barrett plays on kickoff coverage and in other special-teams roles will be crucial.
Barrett's strength is as a pass rusher, but how well he defends the run could determine the difference between McCray and Barrett in practice and throughout the preseason.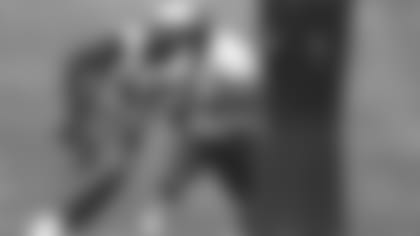 CHASE VAUGHN:Injuries doomed the Aurora native's bid to make the roster last year, but the former CSU-Pueblo standout and ex-Arena Football star gets another chance. The persistent Vaughn was explosive off the edge during last year's camp, and the 3-4 alignment might serve him better, giving him a bit more chance to work in space.
DANNY MASON:Like Vaughn, Mason detoured to 50-yard indoor football before getting his Broncos shot, playing for the Texas Revolution and Colorado Ice (now re-named the Colorado Crush) before a successful tryout with the team last December. Mason has good straight-line speed, reads and reacts to the play well and is versatile; he's as effective in coverage as he is rushing off the edge.
GERALD RIVERS:A practice-squad defensive end in last year's 4-3 alignment, the Broncos hope the 258-pounder can make the transition to 3-4 outside linebacker. Rivers has multiple moves, but his bread is buttered with speed: he's been timed at 4.56 seconds and displayed that quickness off the edge during OTAs.
MORE TRAINING CAMP PREVIEWS: