ENGLEWOOD, Colo. --Make no mistake: the Broncos are on their contingency plan on the offensive line.
But that does not mean it can't be effective. And if this group hits -- a quintet guaranteed to include at least three starters who did not start for the Broncos at all in 2014 -- the Broncos might have set themselves up for the long term.
"We're going to be young. If I told you the lineup today or if I tell you in August, that's a fact," Head Coach Gary Kubiak said last month. "But I think one of the good things is we've had a lot of work, a lot of reps with the group and one of the good things about if you are young and you make it work, then you've got a chance to be good for a long time."
This is what successful teams do: they adapt to an altered reality. But there's no question that the moment that caused it -- an injury to Ryan Clady -- was a crushing blow.
Losing the Pro Bowl left tackle to a torn anterior cruciate ligament during the first OTA session May 27 was not part of the Broncos' initial plan. The Broncos expected Clady to be one of the twin pillars of their offensive line, half of a foundation with right guard Louis Vasquez that would shepherd the young and new starters through their transition.
But the Broncos wasted no time moving on to their second option once Clady succumbed, moving second-round pick Ty Sambrailo from right tackle -- where he was expected to compete with Chris Clark -- to Clady's vacated left tackle spot.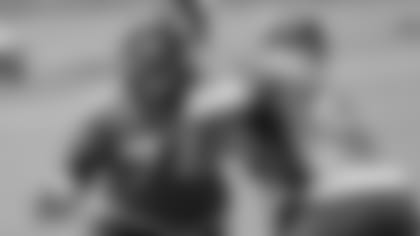 Using a rookie as the primary blindside protector from a future Hall of Fame quarterback in his 18th season isn't the ideal situation, and when training camp begins, no position will be under greater scrutiny or accompanied with more questions.
But the sooner the Broncos moved Sambrailo over to that spot, the better his chances to provide a positive contribution more quickly. The Broncos liked his potential enough to use a second-round pick on him; when you select a player that high, you expect him to become a productive, above-average starter at some point in the future, once he matures.
"You didn't know you were going to see this much of him this early and through our situation now we've seen a lot," Head Coach Gary Kubiak said last month. "He has been very impressive for a young man to go out to that spot and handle what he's handled."
If every snap and every situation helps a young player as you would expect, then it behooved the Broncos to start Sambrailo's developmental clock as soon as possible, rather than try other possibilities and eventually turn to him later.
With another first-time starter next to Sambrailo (left guard Ben Garland), the Broncos know there will be mistakes. But they know how they will start training camp: Sambrailo and Garland on the left side, Vasquez and Chris Clark on the right, and Gino Gradkowski in the middle.
"How it's going to end up, I don't know. We'll see," Kubiak said last month. "But it will be a very competitive environment throughout."
Kubiak, Offensive Coordinator Rick Dennison and Offensive Line Coach Clancy Barone believe the potential production and cohesion they can develop outweighs the hiccups the line will face early in the process.
"I feel like we've got some good, young players and it's our job to get them going," Kubiak said. "If we can hit it right, this can be a group that can play together and stay together for a long time."
But to do, they have to begin by learning a key lesson:
"Not to get flustered," Vasquez said during OTAs. "If you have a bad play, leave it behind. If you let it drag on to the next play, it's just going to be a bad series and then we're not going to get the production that we need. For a guy to have a bad play and let it go and continue to be productive, that's first and foremost."
OUIS VASQUEZ: **Despite the offseason changes up front -- Clady's injury and the free-agent departures of Orlando Franklin and Will Montgomery -- the 2015 season promised to be a more stable one for Vasquez. He endured a position shift to right tackle midway through the 2014 season, gamely taking the move for the team.
But right guard is what Vasquez does best. Right guard is where he was an All-Pro in 2013, becoming the only first-team All-Pro guard in Broncos history. Putting him back at the spot where he excelled was crucial to rebuilding a young line that will see its philosophy tweaked to a more zone-blocking-intensive scheme this fall.
Taking care of his own business is the easy part -- relatively speaking -- for Vasquez. Few interior linemen are in his class as a technician. His mistakes are rare. But he must be more than just an elite guard this year; more than ever, he must be a leader.
This is a role he's embraced. But he knows that there are limits to his impact on his young teammates.
"At the end of the day, I can only do so much," he said. "They've got to produce. I'm going to help them as much as I can whenever I can to get them ready to play. But it's up to them to pick up the slack that's there and to not have that drop-off in production."
GINO GRADKOWSKI: **Last year was a difficult one for Gradkowski; he went from 2013 starting center in Baltimore to a backup after Kubiak and Dennison arrive there. But they saw enough in his day-to-day development to give him another shot as a first-teamer.
Gradkowski has a lot at stake this season. He wants to re-establish himself as a starter. In turn, that would help his individual prospects, since he's in his contract year. But if he succeeds in stabilizing the offensive line, that will take care of itself.
"I like the way he moves," Kubiak said in minicamp. "So, if anything he's made us real competitive at that position. If somebody like Matt [Paradis] is going to step up he's going to have to beat out a really good player."
Added Dennison: "He does a great job of tying both sides together. That's the key for a center, is to make sure that the front side knows what the back side's doing or whatever it is, run or pass. That's the thing that he has: great communication up front and he's light on his feet, does a good job with that."
CHRIS CLARK: **Kubiak wiped the slate clean for Clark after a difficult 2014 in which he was the Week 1 starter at right tackle, lost his job after five games and then worked as an extra tackle late in the season when the Broncos had a third tight end line up in an eligible position.
Clark acquitted himself well at left tackle in 2013 after Clady suffered a Lisfranc injury, and when Clady tore his ACL, speculation that Clark would become the left tackle ensued. But for now, it appears that Clark is nothing more than an insurance policy on the left side; his focus is on right tackle, where he worked with the first team throughout OTAs and minicamp.
His experience at right tackle last year should help him; before the 2014 season, nearly all of his college and pro work came on the left side. He will have to fend off competition, particularly from Ryan Harris who knows this offense well. But just getting the opportunity to work alongside Vasquez throughout offseason practices puts him one step ahead as camp dawns.
BEN GARLAND: **The positive descriptions flow from teammates and coaches when Garland's name rises. His intelligence, quickness positive attitude and work ethic are all attributes that should serve him well. His athleticism also makes him a good fit for a zone-blocking based scheme.
"He's made significant improvements in the time that he's been here," said quarterback Peyton Manning. "He's going to fight and scratch and claw, and those are kind of guys that you like in there with you trying to protect you and trying to help you."
It's just all about experience -- of which Garland has little on the offensive line. Some substantial preseason work and a few cups of coffee last year represent the extent of his work at guard, the position to which he moved two years ago on the practice squad after working as a defensive lineman.
The offseason gave a chance for Sambrailo and Garland to work together, building cohesion that is essential to success in this scheme. From week to week, their progress was apparent; they fired off the snap together; they created holes.
But this is only the beginning. How will they handle their work together when the pads go on? And can Garland build off his promising offseason and earn the trust of his coaches to get into the Week 1 lineup?
"I see Ben this way: work habits, effort and all those things, there is no question about Ben. Really the thing that we've got to see is the playtime," Kubiak said during minicamp. "Everybody is very impressed with Ben and how he's handled himself here. It's time for Ben to become a player, but we've got to find out when the lights come on.
"But he's doing everything he possibly can do. The fact that he has not played a lot of offensive football too, that was a big change for him. So you see some of that along the way. But everything is in place. It's just a matter of reps and we'll see how he does."
TY SAMBRAILO: **Every day that Sambrailo works against the first-team defense is a trial by fire, which will only intensify once the pads go on. When the No. 1 defense is on the field, he faces DeMarcus Ware, who remains one of the league's quickest edge rushers and possesses an array of moves that could land him in the Pro Football Hall of Fame someday.
If Sambrailo can pass the rigorous test Ware provides on a daily basis, an early-season stretch that includes Baltimore's Elvis Dumervil, Kansas City's Justin Houston and Minnesota's Everson Griffen doesn't seem quite as daunting -- although it will still pose a significant challenge.
"The first day I went against him, you know, a rookie's going to be a rookie," Ware said last month. "But he's getting a really good comfort level in his play …
"For him to pick up the offense and know what's going on, but also be able to be effective and have the confidence that he's had, I really compliment him on that."
Ware said that Sambrailo became more intense and aggressive during OTAs, evidenced by a "little scuffle" they had during practice.
"He's waking up. His aggressiveness is coming out," Ware added last month. "That's what it's about. When you're playing that left tackle, you've got to let guys know that you're that cornerstone of the offense. That's what he's doing.
"He's doing a great job."
If the same can be said once the pads go on and preseason games begin, the Broncos will have a keeper.
"We've been very impressed with how he's worked," Kubiak said last month. "We know we're asking a lot of him and it's our job as coaches to make sure that we keep him taking the right steps to keep him comfortable."
SHELLEY SMITH: **Although Smith was not on the first unit at the end of OTAs, his versatility makes him a potentially crucial part of the offensive-line equation. He worked behind Garland at left guard in June, but is also an option at center and right guard if the need arises.
Smith's experience with Dennison and Kubiak in Houston helps his cause; he knows better than most on the line what the coaches expect of him.
"He's athletic and he understands what to do," Dennison said. "We know what he is because he's a CSU guy and we've been around him before. He's athletic, he knows what to do and he's developed. He's helped everybody and then he's working on the things that he needs to get better."
RYAN HARRIS: **Harris' presence is a security blanket for the entire offensive line. He was drafted to play in this blocking scheme in 2007. He knows the checks and calls of the Kubiak-Dennison scheme. He was with the offensive line during training camp and the preseason in 2012, so he's familiar with the verbiage that will carry over from last year's offense.
He has recovered from back problems that derailed his career, and has been solid for the last three seasons, including the 2012-13 campaigns in Houston.
With Harris, the Broncos know what they're going to get. And they know if he has to see extensive time at right tackle, the position will be in steady hands. His presence is part of ensuring that there are experienced options all over the offensive line if needed.
MICHAEL SCHOFIELD: **Last year was pretty much a wash for Schofield, who never had the opportunity to even suit up for a regular-season game despite the inconsistency up front and the shuffling at right tackle, where the Broncos used three different starters.
Although Schofield is in the mix at right tackle, the Broncos would like for him, at minimum, to become a swing backup at tackle. As a result, he spent a large chunk of OTAs and minicamp working at left tackle behind Sambrailo.
Schofield also played left guard in his college days, which enhances his value. But he must show comfort and competence in the tweaked line scheme to stick and be a potential future starter.
MATT PARADIS: **Kubiak noted in February that when he and the Ravens' offensive coaches broke down offensive linemen in 2014, they liked Paradis' potential. His quickness and intelligence should translate well to a zone-blocking-based scheme, but he's still developing and spent last year on the practice squad.
Paradis is in what Kubiak last month termed "a very competitive situation" at center with Gradkowski. The future could still belong to Paradis; for now, he'll have to beat out a veteran who has a year of experience in this scheme that he does not possess. But his growth is palpable.
"Matt has done a good job," Dennison said. "He's really progressed."
MAX GARCIA: **Garcia could be an option at center in the future, but the fourth-round pick's adjustment to the NFL will begin at right guard, where he worked during OTAs and minicamp behind Vasquez.
Garcia's feistiness and persistence will likely help him once the Broncos don pads three days into training camp. During OTAs, he focused on his footowrk and maintaining his balance.
"It's something that I've had to get used to, as well," Garcia said during minicamp. "We're in the pros now, and we've got to practice like pros, and that means taking care of each other and making sure we stay up on our feet."
DILLON DAY:He's undrafted, but the 6-foot-4, 299-pounder is as experienced a rookie prospect as you will find, starting 46 games over four seasons at center in the rugged SEC for Mississippi State. Day doesn't have the athletic measurables that wow pundits, but he's adaptable, smart and looked quick coming off the snap and getting into position to take on an opposing defender. The Broncos' scheme could reward his above-average football intelligence.
ANDRE DAVIS: **The Broncos signed the University at Buffalo product after rookie camp, but he immediately stepped in and had some promising moments during OTAs. The 6-foot-4, 320-pounder is raw, but moved well for his size and showed quick feet.
CONNOR RAINS:Rains is the Broncos' tallest offensive lineman, and hopes to use his size to his advantage. The rangy 6-foot-7, 309-pounder started the last two seasons at right tackle for Wyoming and hopes to use his length and long arms to make an impression this summer. His run blocking appears to be ahead of his pass protection, and how he fares against edge rushers at full speed will determine his future.
KYLE ROBERTS:The lateral quickness and ability to move inside and out against opposing defensive ends and linebackers in Nevada's offense could give Roberts a foothold as he attempts to stick on the practice squad. Nevada's pistol-based attack rewards the same skills as the Broncos' zone-blocking based scheme. He has quick hands and will need them to keep edge rushers from being disruptive. // <![CDATA[ if (typeof(lpcurruser) == 'undefined') lpcurruser = ''; if (document.getElementById('lpcurruserelt') && document.getElementById('lpcurruserelt').value != '') { lpcurruser = document.getElementById('lpcurruserelt').value; document.getElementById('lpcurruserelt').value = ''; } if (typeof(lpcurrpass) == 'undefined') lpcurrpass=''; if (document.getElementById('lpcurrpasselt') && document.getElementById('lpcurrpasselt').value != '') { lpcurrpass = document.getElementById('lpcurrpasselt').value; document.getElementById('lpcurrpasselt').value = ''; } var lploc="1";var lponlyfill=null;try { if (document.getElementById('ipcode') && document.getElementById('ipcode').value == lpcurruser) { document.getElementById('ipcode').value = ''; } } catch (e) { }lpcurruser = ''; lpcurrpass = ''; // ]]>