ENGLEWOOD, Colo. --You hear Bill Kollar long before you see him.
The newly constructed hill on the west side of the practice fields isn't enough to keep his voice from echoing to Broncos Parkway and beyond. His sentiments borrow from myriad influences culled from over three decades as a coach and eight years as a player in the NFL, where he played under renowned line teachers Chuck Studley in Cincinnati and the loquacious Abe Gibron in Tampa Bay.
The result is two parts drill sergeant, three parts professor and one part caustic comic.
"Bill is loud, but he's got a great knack for getting on people, getting them to go harder, but for them to like him," Defensive Coordinator Wade Phillips said. "Normally a guy that's as loud as he is, that hollers at you, you think, 'Wow.' They know it's in their best interest when he gets on them.
"Now, he gets on them, and they know he means it, but he's got a great knack for that, and that's coaching. Everybody coaches different ways, and I think his style is really good for defensive linemen. It fits well with those guys."
It also makes him the best defensive line coach in the game today.
"Bill Kollar is going to get the most out of every player," added Phillips "He's done that throughout his career."
And that means getting the most on the practice field, not just during games.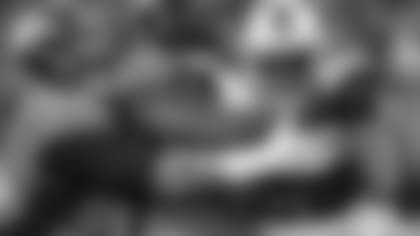 "I think just him having us run to the ball every play or just expecting the most out of us no matter who it is -- no matter if it's me, [Derek] Wolfe, Sly [Sylvester Williams] or Marvin [Austin Jr.] to the youngest guy," Malik Jackson said.
"I think he demands respect and top effort. If you can't give it to him, he's going to let you know that he'll cut you. I think it's one of those things where you've just go to keep working and get it together."
Kollar and the Broncos into training camp with four known commodities based upon their work in OTAs. The first two are defensive ends Derek Wolfe and Malik Jackson. Both are ideal size and skill-set fits to play three- and five-technique defensive end in the newly installed 3-4 alignment. The improvement of Sylvester Williams at nose tackle and the flexibility of lineman Vance Walker gives the Broncos a solid core from which to build.
"I think we have four guys that have really shown up real well, but we still need a couple more to step up," Phillips said during minicamp. "You need six, maybe seven, and we've got some other possibilities."
MALIK JACKSON: **Among 4-3 defensive ends, only Miami's Cameron Wake and Seattle's Michael Bennett had higher ratings in ProFootballFocus.com's metrics last year than Jackson, who had near equal effectiveness against the run and in the pass rush. Jackson's development, versatility and still untapped potential ensure that his contract status will bear monitoring this year. If he builds off his 2014 performance in transitioning to the 3-4 alignment -- which could better suit his skills -- he could be a coveted commodity if he hits the open market.
But Jackson insisted last month that his contract wasn't on his mind.
"I haven't heard anything about that. I'm just worried about -- seriously -- just going out there and doing my part, and making them give me as much as I feel like I deserve," he said. "Right now, it's not about the money -- which would be nice, I'm not going to lie. But right now it's about going out here and just trying to earn it."
DEREK WOLFE: **Wolfe, like Jackson, is in the final year of his first contract, and faces the same kind of crucial season for his individual career path. It also gives him a chance to put another year between him and his difficult, injury-plagued 2013 season.
"I bounced back health-wise, but just the way I move, my movements and stuff—you still subconsciously hesitate a little bit just because you're protective of certain areas," he said during offseason work. "Really, that's completely out of my mind now. I'm not even thinking about it. I'm getting back to playing the way I like to play."
Of equal importance is that this will be Wolfe's first chance to play in the kind of scheme for which he appears best suited. When the Broncos selected him in 2012, it was a bit of a surprise to some pundits because his size and skills appeared better suited to playing a three- or five-technique end in the 3-4.
"Really, that's where I thought I was going to end up—with a 3-4 team. It is nice to be in my natural position," Wolfe said.
As with Jackson, the Broncos moved him between end and tackle in the 4-3 depending on the down and distance. In the 3-4, Wolfe can settle in at one spot, and that should help him flourish.
"I'm not really a speed rusher. I'm not really a big 330-pound defensive tackle either. I'm kind of a 'tweener, and that's really what you need at the 3-4," Wolfe said.
SYLVESTER WILLIAMS: **Given his first-round pedigree, the Broncos expect more from Williams than he's delivered during the first two seasons of his career. At the end of last season, Williams was relegated to reserve status, with Jackson starting in his place at defensive tackle.
But a new year, a new scheme and new coaches appear to have invigorated Williams. With the Broncos going to a 3-4 alignment and Terrance Knighton having moved on to Washington on a one-year contract, Williams knows he must capitalize on this fresh start and deliver on his first-round promise.
"I think Sly has done an exceptional job. I feel real good about him," Phillips said.
Williams has recommitted himself on the field, in the classroom and in the cafeteria. He changed his diet this offseason, focusing on "proteins, greens and a lot of water," he said in May. The net result is that he has made the nose tackle position his own.
"Sly has been exceptional," Phillips said. "I think he's really taken over the nose guard position. I think he can play a three-technique, but I think he's done really well. I'm really pleased with where he is."
VANCE WALKER: **Versatility makes Walker a perfect fit along the defensive line. He can play any of the three spots, making him an ideal rotational component to keep the starters fresh.
"It's huge," Walker said. "The biggest thing is if someone goes down or just you personally wanting to play more, if you can help the team, I think it's huge. You've got guys now in the league that there defensive ends are coming in inside and vice versa. Offense aren't used to that. They're not used to seeing bigger guys at ends and vice versa. The guards can't handle the speed. I think a lot of it works in our favor."
He also does better with more playing time, so he can play 20 to 40 snaps in a game all over the line and find a groove.
MARVIN AUSTIN JR.:After beating out Kevin Vickerson for a roster spot last year, Austin settled into the defensive line rotation, and had a steady season in which he had the best health of his career. He missed some OTAs during injury, which held him back a bit, and will have to fend off rookie Darius Kilgo.
ANTONIO SMITH:His potential contribution remains dependent upon the resolution of allegations against him that came to light just before the start of OTAs. Head Coach Gary Kubiak excused Smith from work until his situation was resolved, and over a month later, his status remains unchanged. If he returns, he should fit as a rotational three- and five-technique defensive end who sees the majority of his work in pass-rush situations. Those were his forte in Houston under Kubiak, Phillips and Kollar, and in Oakland last year working inside in the Raiders' 4-3 alignment.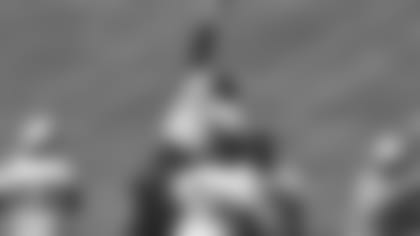 KENNY ANUNIKE:When you get to the second and third teams and you try to differentiate players in order to pare the roster to 53 players, the answers to two questions help determine who stays and who goes:
Do you bring a unique skill set that no one else possesses?
For Anunike, who moves inside to a three- and five-technique role after missing his rookie season with an elbow injury, the extent of the answer to the first query will be determined during full-pad work in training camp and the preseason.
But the answer to question No. 2 is the most intriguing aspect, because the converted 4-3 defensive end is the lightest defensive lineman on the roster by a 10-pound margin -- but could also be the Broncos' quickest.
Certainly Anunike hopes to use his size to his advantage. During the June 15 OTA, he saw more playing time with Walker sidelined, and he capitalized, batting down multiple passes and bursting through the offensive line and into the backfield with consistent efficency.
"It's been huge," Anunike said. "Instead of being able to play in space, you're inside tight, so you've got to change up your rushes a bit, because you've got a guard and a tackle that are bearing down on you. You've got a lot higher percentage of slip blocks, scoops and double-teams.
"I'm definitely getting adjusted to that life, gaining a little bit of weight so I can handle those, but then also keeping my speed at the same time so I can do my job."
DARIUS KILGO: **In a fight for snaps at nose tackle, the sixth-round pick had some flashes of brilliance during OTAs and minicamp, and looked quicker and more explosive off the snap and as a pass rusher toward the end of the Broncos' offseason work.
"I think he's really come on," Phillips said during minicamp.
But Kilgo, along with the other rookies up front, will have to make a major impression during training camp to stick on the 53-man roster, outplaying at least one one veteran, if not two, in order to get regular-season playing time.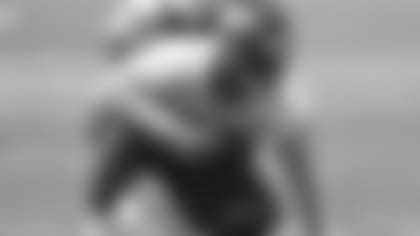 CHUKA NDULUE:Oklahoma moved Ndulue around its four-man defensive line, giving him the kind of versatility he will need if he is to stick on an NFL roster. Ndulue looked agile and fluid during OTAs and if he can translate that to the work in pads, he could stick on the practice squad.
JOSH WATSON:A rotational defensive lineman at Clemson the last two years, the athletic Watson could be a diamond in the rough if he can translate his Pro Day work -- a 4.96 40 and 37 bench-press repetitions -- into pro performance. He's the kind of athletic, high-ceiling player who's worth a roll of a dice on the undrafted market.