ENGLEWOOD, Colo. --In recent years, the Broncos have found plenty of personnel solutions from within.
When they needed a No. 3 cornerback in 2011, they turned to then-rookie Chris Harris Jr., who took the chance and sprinted with it -- all the way to back-to-back Pro Bowl selections. When they needed help at running back in 2014, they turned to undrafted C.J. Anderson, who galloped through defenses and is the NFL's most productive late-season back the last two years.
At center last year, at 4-3 weakside linebacker in 2014 when Danny Trevathan was injured, the Broncos ultimately rode the internal options, and Matt Paradis and Brandon Marshall both delivered, respectively.
There is time for the Broncos to add another veteran to the mix at inside linebacker to replace Trevathan, who departed for Chicago in free agency two months ago. But for now, Todd Davis, Corey Nelson and Zaire Anderson are the options, with no others added during the draft.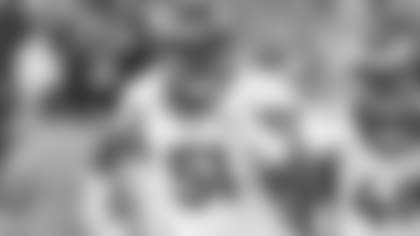 Seeing the draft pass without any new inside linebackers buoyed the spirits of the young players on hand.
"It felt good. It just showed the linebacker corps that they have faith in us," Davis said. "All the linebackers they have here, they feel like they have a complete group, and they'll move forward with the season."
Over the last five seasons, the Broncos have supplemented the linebacker corps with veteran imports: Keith Brooking (2012), Paris Lenon (2013) and Reggie Walker (2015). But last year, the team opted for youth and released Walker in the preseason.
Further, few teams have had more success finding linebackers for low investment than the Broncos. Trevathan was a sixth-round pick in 2012. Marshall arrived as a signee to the practice squad in 2013; he was promoted to the 53-man roster at the end of the season.
That leads to Davis -- another below-the-radar pickup. He joined the team midway through the 2014 season when the Broncos plucked him off waivers when the Saints were trying to move him back to their practice squad.
When Marshall and Trevathan were injured, Davis made three starts late in the 2014 season, including that season's divisional-round loss to Indianapolis, when he split repetitions with Marshall, who played on an injured foot that required surgery.
Davis made two more starts last year in relief, notching 19 tackles and breaking up two passes.
The scheme had changed from a 3-4 to a 4-3 between the seasons, and his role changed along with it, as he moved from the weak side to an inside spot, where he had to contend with guards trying to reach the second level. But he felt more comfortable for two reasons.
First, there was film study.
"I think I learned situational offenses a little better," Davis said. "Kind of what the offense wants to do, and the position they want to put themselves in. I feel like being able to get those starts helped me understand their game plan a little bit better."
Then there was the work last offseason, when Marshall and Trevathan were both injured, giving him first-team repetitions from May through early August.
"Being able to have those offseason reps with the first team, it definitely helped and it transferred over into my game," Davis said. "And this year, being able to build on those reps, I feel like it will only be helpful, and then help me as I play next season."
First, Davis must win the job. With Nelson and Anderson also battling, he could be in the thick of the most heated competition on defense.
But it won't be personal. Despite the scrum for playing time, the players in the competition get along well.
"There's a bond that we created last year all working together," Davis said. "We all love each other, and we're all going to push each other to compete, so whoever wins the job is definitely going to be the one who outcompeted everybody, and we're all going to understand that and know that."
Davis and the Broncos do not yet know for certain who will replace Trevathan, and the door isn't even closed on the team adding someone else to bolster the competition. But they know whoever he is, he'll be tested and ready because of the work over the next four months.