DENVER -- **Undefeated teams don't usually have chips on their shoulder like the one that rested on the Broncos heading into Sunday night.
They heard it all: they faced a soft schedule, they were just barely beating opponents with losing records, their offense was struggling, and, finally, they were home underdogs against a team with the same record, opponents who were just one game better collectively than the Broncos, and only half as many road wins as Denver already had.
"Underdog? That [ticked] us off, I'm not going to lie," said Chris Harris Jr. "That made us mad."
"Being an underdog, undefeated, No. 1 defense in the league, at home? That's even more motivation."
In throttling the Green Bay Packers 29-10 Sunday in a game that wasn't as close as the score indicated, the defense took the poor preception personally.
Six games of dominance wasn't enough to move the needle outside of Denver. This defense would have to do that itself.
For two hours and 52 minutes, the Broncos pressured Aaron Rodgers from up front, then blanketed his receivers in coverage. Perhaps the best quarterback in the game today endured arguably his worst night -- and certainly his least productive, with just 77 yards on 22 attempts -- and when sacks were factored in, a net of just 50 yards from 25 pass plays.
Think about that for a moment. Fifty net passing yards.
Since 2010, it had happened 15 times, but the quarterbacks who endured such games represented a rogue's gallery of busts, has-beens, never-weres and flawed talent: Charlie Whitehurst, Geno Smith, Ryan Lindley, Todd Collins, Chad Henne, Tim Tebow, Jimmy Clausen, Brodie Croyle and Christian Ponder -- twice.
Sure, Rodgers fits in that group -- about like a 10-carat diamond ring in a dollar store.
This type of game just doesn't happen to Rodgers. Not now, not ever. And the Broncos did it.
"People don't realize: this is Aaron Rodgers that we just held to 50 yards," said cornerback Chris Harris Jr. "You've got to know that we're the real deal in the secondary."
Rodgers evaded pressure, as he often does. His footwork under duress evokes Nureyev and Baryshnikov. He doesn't so much escape as he dances out of trouble. His feet tap, and he moves, all the while keeping his eyes downfield, waiting for a receiver's broken-off route to result in just enough separation for him to fling a pass.
Those opportunities never materialized.
Just two of Rodgers' 14 completions covered mustered double-digit yardage. His receivers were covered. Harris, Aqib Talib and Bradley Roby rarely let them break free.
"The coverage was unbelievable," said defensive end Antonio Smith. "I'm going to tell you, sometimes it's hard to get to him because he's scrambling so much, and you don't want to let him out, so you stand on the line of scrimmage, and he's holding the ball 10 seconds, and nobody still got open.
"Our [defensive backs], man, you've to tip your hat off to them. They did their thing tonight."
And they couldn't have done it without the offense turning in its most consistent performance, and reversing the struggles of an October in which it struggled to sustain drives.
In three games last month, the offense went three-and-out on 10 of 37 drives, and failed to chew up at least two minutes of the clock on 20 of 37 series. Time and again, the defense barely had a chance to catch its breath before buckling its chin straps and going back to work.
Sunday against the Packers, the offense never went three-and-out. All nine Denver possessions took at least two minutes. Six of the nine series consumed at least eight plays.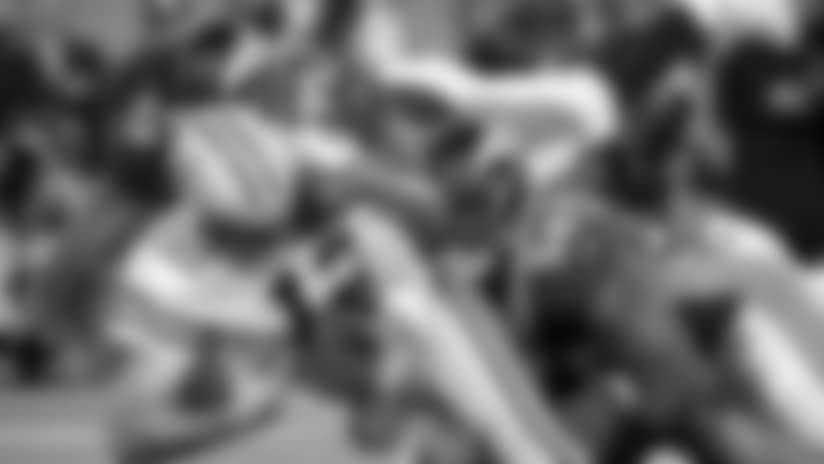 Without the rest the offense gave the defense, there was little chance that the cornerback could have held their integrity in coverage on play after play as Rodgers bought five, six, seven, even eight seconds.
"Other games, man, you kind of do feel tired, because you're out there a lot, and today, man, they gave us great rest," Harris said. "I always felt fresh going onto the field.
"[It was] a tribute to the running game, man, they did a great job running the ball. C.J. [Anderson] and Ronnie [Hillman], and Peyton, man, he was Peyton Manning. He was great tonight."
And befitting a symbiotic relationship, the defense helped the offense -- and its quarterback, as well.
Upon being informed that the defense held Rodgers to 77 gross passing yards, Smith had one question.
"And what did our quarterback get?" he asked.
More than 300, he was informed -- 340, to be exact. Smith smiled at this information.
"When it came down to it," Smith replied, "Peyton won the battle of quarterbacks."
"I don't look at this like a 'I told you so' moment because I don't really listen to what you say in the first place," Manning would add later.
But all that said, the questions won't completely stop -- not until the end of the season, if the Broncos are holding the Lombardi Trophy.
"That's cool. That's what the NFL is all about, right? Week to week," safety T.J. Ward said. "That's why we take it one week at a time. "
But this week was one that ran the emotional gamut: anger over being perceived as an underdog, joy over Pat Bowlen's induction into the Ring of Fame, sadness that he could not be at Sports Authority Field at Mile High to witness it, and then, finally, jubilation over one of the Broncos' most comprehensive wins in recent memory.
"If nobody ever challenged us, if nobody ever doubted us, you would never press on to be better or greater than you are," Smith said.
And if the chip on the shoulder helps them play better, there it will remain.
"I welcome the adversity and the haters and the naysayers," Smith said. "It's just going to make us better."
The Broncos ran away with a double-digit lead to triumph over the Packers, 29-10.