ENGLEWOOD, Colo. --Last year's Broncos defense was among the league's leaders in yardage allowed per game and per play; so is this year's, which sits atop the league in both statistics after three weeks.
But this year's defense creates more havoc with its pass rush, setting up the primary difference between the units, besides the scheme itself: takeaways.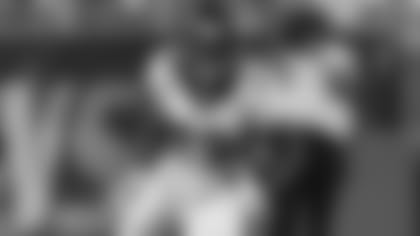 With six interceptions and four fumble recoveries, the Broncos end September ranked second in the league's takeaway rankings; only the New York Jets have more.
This was accomplished with mostly the same players; eight of the 10 takeaways have been made by players who spent time on the 53-man roster last year, including Aqib Talib with two interceptions and Bradley Roby with an interception and a fumble recovery.
During the 24-12 win over Detroit, Roby and David Bruton Jr. intercepted Lions QB Matthew Stafford. Both picks were set up by pressure: interior pressure by Malik Jackson on Roby's interception, and edge pressure from Von Miller on Bruton's.
Miller was also indirectly responsible for the pressure on Roby's interception, as he steered Lions right tackle LaAdrian Waddle outside and wide, setting up a one-on-one matchup between Jackson and Larry Warford. Jackson pushed Warford nearly all the way back to Stafford's feet, forcing the errant throw.
It was a case study of how exterior pressure opens up interior lanes -- and then how any kind of pressure creates the takeaway.
"It opens up a lot because they're rushing around the edge," Those tackles are just getting out of there. It allows us just to kind of have me and [DE Antonio] 'Tone' [Smith] just get off the ball and have a wide B gap or A gap depending on which side the center slides.
"It helps us out because it just opens the gap for us and just allows us just to kind of maneuver more freely and be able to just to have more space to do things."
But it takes having good hands and awareness on the back end to turn pressure into takeaways. That's where the work in practice comes into play.
Bruton believes that there may be "a little bit" more work on takeaway drills in practice than in previous years.
"Not saying that we didn't work on it in years past, but guys have definitely taken it a lot more seriously," Bruton said. "[We] know that we can win games. Especially throughout these first three weeks, being able to force 10 turnovers, we know what we're capable of."
Added Jackson: "I think there's an emphasis. I don't think it's been greater. I think we've just been kind of getting it out. It's one of those things where we're just ball hawking and doing our thing.
"I don't know if it's been like, 'Get it out, get it out, get it out.' In the games, we just turn that switch to where whoever has the ball, people are coming in and tackling and somebody's coming in and ripping it out or just going for the ball."
Whatever it is, it's working.
"It's been special," Head Coach Gary Kubiak said. "We have a long way to go, but it's been special because it's been deep with a lot of guys playing and it has a special thing about when it gets its hands on the football, which it does a great deal. It makes big plays."