HOUSTON --Three things to watch as the Broncos face the Houston Texans in the second preseason game at NRG Stadium on Saturday:
1. PEYTON MANNING'S FIRST GAME IN THE NEW SCHEME.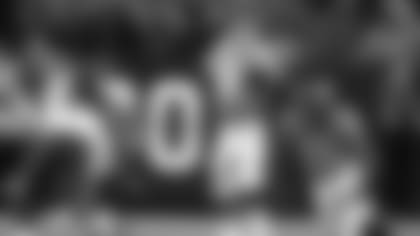 The sight of Manning under center, executing play-action and on the move has become more frequent during practices since July 31. Now he gets to execute this offense for the first time -- and with Demaryius Thomas as a target, since the sixth-year wide receiver is expected to make his 2015 preseason debut after sitting out last week.
But at least as many eyes will be on the offensive line, particularly if Houston's über-athletic, often-unblockable J.J. Watt plays.
"They [the offensive line] will probably have some wide eyes when they walk out of the huddle, but J.J. is a pretty good player. He plays everywhere, too, so when you game plan in the regular season, there is no way you know exactly where he is going to play. He's very disruptive, but that's good for them. It's kind of like going against DeMarcus [Ware] and Von [Miller] on a regular basis, and now they get to go look at him. That'll help you get up to speed real quick."
But will the young line get that chance?
The Texans limited his preseason work last year (he played nine snaps in the third preseason game at Denver, traditionally the week when a starter would see his most extensive work), and didn't play him at all last week. In fact, as the Houston Chronicle noted, he has played just 21 preseason snaps since 2012.
So it's possible the offensive line will not get the trial by fire that Watt provides. That might elicit a sigh of relief in some circles, but it would also be a missed opportunity from an evaluation perspective.
But the Texans have a strong front seven even without Watt and the still-healing Jadeveon Clowney, who is completing his recovery from a torn ACL suffered last year.
FORCING THE ISSUE ON DEFENSE.**
Last week, pressure from up front harassed the Seahawks into mistakes throughout the game. Saturday, the Broncos will attempt to inflict the same sort of discomfort on the Texans.
The defense will be much closer to full strength; OLB DeMarcus Ware and ILB Brandon Marshall will make their 2015 game debuts, and CB Chris Harris Jr. could play after missing last week because of a hamstring injury; he practiced all week and saw his repetitions increase daily. The absence of DE Kenny Anunike, who had his knee scoped Thursday, will hurt the depth up front as the game progresses; more pressure will have to come from second-team OLBs Shane Ray and Shaquil Barrett and reserve defensive linemen Darius Kilgo, Josh Watson and Chuka Ndulue, among others, to compensate.
It would be a stretch for the Broncos to match their seven-sack effort in Seattle last week, but this defense could still make Ryan Mallett, Brian Hoyer and Tom Savage uncomfortable. But preseason is also about development and experimentation, so it would come as no surprise if Defensive Coordinator Wade Phillips tossed a few more wrinkles into his tactics, whether the first, second or third unit is on the field.
SPECIAL TEAMS STOCK WATCH.**
It wasn't all bad last week, and the unit's coordinator, Joe DeCamillis, knew it. The placekicks were perfect. Some of the kickoffs were covered well. But allowing three long kickoff returns and muffing two punts represents the kind of performance in which the special teams loses the game for the team.
Better that happen last Friday than later. But we're eight days closer to the regular season, and DeCamillis wants progress above all.
"You have to put the ball [on kickoffs] in manageable space. We didn't do that a couple times," DeCamillis said. You have to get off blocks and make the tackle. We didn't do that. It's an emphasis this week and we'll do better this week."
Omar Bolden could get a long look on punt and kickoff returns after sitting out last week. While his ability to return kickoffs is proven, his punt-return skills are not, and he bobbled too many punts early in training camp. But he has improved since then, and some game work would offer an opportunity to gauge his progress.
"I sure hope so. It'd be nice. It'd be nice to see him back there for sure," DeCamillis said this week. "We'll see how it goes."
It will also be fascinating to see how kickoffs, punts and placekicks are collectively dispersed among Brandon McManus, Connor Barth, Britton Colquitt and recent waiver claim Spencer Lanning. Barth and McManus split kickoffs last week, but during the most recent kickoff period in practice, McManus and Lanning divided the work.
"It's a competition, all of it, the whole thing," DeCamillis said. "We had it like that from the start. I think [Executive Vice President of Football Operations/GM] John [Elway] set it up like that from the start and that's how we're going to finish it."