DENVER --So they meet again.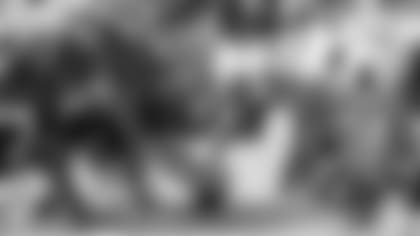 For the 10th time in the last dozen years, the Broncos and Cardinals will wrap up their preseason slate against each other. Geographic proximity is a big reason why; among NFL cities, only Kansas City is closer to Denver, and you'd rather not have a divisional foe in your final warm-up game. For the Cardinals, the trip is easy in, easy out. They're back on Arizona soil before 1 a.m. Phoenix time if all goes well.
But there's little familiarity between the players who will see the most action Thursday. This one will belong to the backups. Most of the players who saw extensive action when the teams dueled in Week 5 of the 2014 season will be on the bench.
"The plan right now is to play all our young guys," Head Coach Gary Kubiak said. "We do have a few guys [who] we'd like to get a few snaps, but we're going to go up and talk about it right now. For the most part, we'll be playing our young guys."
And that's where we start our look at items to watch tonight:
LOTS OF WORK FOR THE BACKUP QUARTERBACKS.**
The starting assignment and the first half will belong to Brock Osweiler. But at some point -- perhaps right after halftime -- Trevor Siemian will take the reins. It's a massive night for Osweiler; if Peyton Manning stays healthy, this would be his last chance to put a big performance on film before he is eligible for free agency in March 2015.
This game marks the third consecutive preseason finale started by Osweiler, who has enjoyed incremental improvement. He vows that he won't head into the season thinking about his long-term future -- or his contract that expires after the season.
"I think the most part anytime you're able to step foot on the football field and play in a game, you need to enjoy the moment because you don't know the next time it's going to come," Osweiler said. "I treat every week like that. I'm living the dream playing quarterback in the National Football League."
So is Siemian, who has burst to the upper echelon of preseason quarterbacks this year with a rating well above 120, key completions and an unruffled inside-the-huddle presence that is hard to duplicate.
SEPARATING THE WIDE RECEIVERS.**
Demaryius Thomas and Emmanuel Sanders are the known commodities atop the depth chart; they are returning Pro Bowlers, blessed with experience and success. Their roles appear to be set, even with Sanders limited throughout August by a hamstring injury that cost him the entire preseason.
Cody Latimer worked extensively with the first team in Sanders' absence during training camp and while Thomas missed the offseason because of an unsigned franchise tender; although Latimer has much to prove against top-level competition, he appears likely to receive plenty of chances in three-wide receiver packages.
But beyond the top three, the Broncos' depth chart is fluid because wide receiver is one of the most wide-open positions on the roster. All can make catches, but who can help the most on special teams? That could determine who Kubiak keeps.
"It's huge. We could be a five-, six-, seven-receiver football team depending on how things play out here over the weekend," Kubiak said.
"WR Andre] Bubba's [Caldwell] been a good special teams player and [WR] Bennie [Fowler] has been good. Bennie's been nicked a little bit. He's got a sore hip, so I'm hoping he's ready to go Thursday. It will be a big part. You'll see [WR Jordan] Taylor play a lot more special teams in this game, also."
Throw in the expected work for Corbin Louks on returns, and you have a position group of tightly bunched players who need to make a thunderous impression when they don't get the football. Special teams is the place to do it.
SORTING THROUGH DEPTH AT STRONG POSITIONS.**
Wide receiver isn't the only spot where the Broncos will have some excruciating decisions in the coming days: cornerback, inside linebacker and running back are among the other spots where the team will have some tough choices, and a good performance Thursday could be a tiebreaker between two players held in equal regard.
At running back, Montee Ball and Kapri Bibbs are expected to receive "the bulk" of the repetitions, Kubiak said.
"They both deserve plenty of touches and they should get them coming out of this game, and they will both play special teams a great deal, too," Kubiak said.
At inside linebacker, Steven Johnson, Todd Davis, Corey Nelson, Zaire Anderson and Lamin Barrow will all look to distinguish themselves. At cornerback, the Broncos hope for some separation among Curtis Marsh, Lorenzo Doss, Taurean Nixon and Tony Carter, although Carter did not practice this week because of a lingering hamstring injury.
Other similar competitions dot the roster. The preseason finale might not constitute the entire spectrum of information that goes into a decision, but it can break ties.
"Hopefully we've got about three or four guys that play in a way that make us say, 'You know what? I'm not sure this is right,'" Kubiak said. "Obviously, you've formed an opinion up to this point, and I know every year it seems like you come out of this game changing your mind about a couple players. It's up to them. I'm looking forward to watching the young guys play."