DENVER --For many years, the Broncos and 49ers had a preseason rivalry -- as absurd as that collision of words may be. It was called the "Battle of the Best in the West," and the sides competed for a trophy that sits in the front lobby of the headquarters building at what is now called the UCHealth Training Center.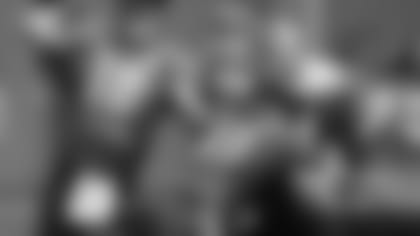 The plaque at the trophy's base has not been updated since 2000, when the Broncos defeated the 49ers 28-24 to close that year's preseason at 4-0. They've met in the preseason seven times since then, with the Broncos winning four, but never again has the winner of the preseason series been called the "Best in the West."
Nevertheless, the connections between the clubs have never quite faded. And now, with former 49ers quarterbacks coach Gary Kubiak now guiding the Broncos, the clubs will spar Saturday, capping a four-day period that included two joint practices.
What are the storylines worth watching on Saturday?
GETTING THE OFFENSE INTO RHYTHM.**
Last week, two penalties and two dropped passes were the blown fuses that kept the offense from working as intended. The infractions helped contribute to the long-yardage situations the Broncos faced: first-and-20, second-and-17 and third-and-10, among others. The drops, both of which came on third down, scuttled drives and ensured that the No. 1 offense would average just 4.75 plays per series, including two three-and-outs.
"I just want to see us continue to get better," Head Coach Gary Kubiak said. "Last week, we were poor on third downs. We were poor in short yardage. One thing about this league, it's probably always something every week. We need to go make some plays. We've been moving the ball. We need to stay on the field better."
That being said, Executive Vice President/General Manager John Elway knows that there will be some hiccups before the offense reaches its potential.
"It's going to be a work in progress through the year, too. We're not going to be kicking on all cylinders. We'd like to, but ... we know it's a work in progress for this offense and people are going to continue to get more and more comfortable with it, even after we start the regular season. I think the progress of where we are right now is good."
Individually, the Broncos would like to see continued growth from young offensive linemen Ty Sambrailo, Max Garcia and Matt Paradis. Even though Garcia is expected to be supplanted by Evan Mathis after he's up to speed, these snaps will help Garcia, who still projects as a long-term starter.
WR Cody Latimer could also use a breakout game after his involvement was mostly limited to blocking last week, when he caught one pass for eight yards.
"You just want to see him making plays," Kubiak said. "He's a hard worker. He does the right thing. He's in the right place, but it's time for him to start making plays on the ball, coming up with big plays. The good news with him is he has worked as basically a starter from OTAs through camp and everything. Everything's in place for Cody to grow up and have a big year. I like the way he works. [He] just needs to keep coming."
DEALING WITH A MOBILE QUARTERBACK.**
One of the most valuable aspects of this week's work was the exposure to 49ers QB Colin Kaepernick, a fleet-footed passer who can extend plays and leads an offense that utilizes the zone-read option to catch foes off-balance.
"It's something our guys obviously don't see from us," Kubiak said. "You're always trying to put yourself through those situations."
Denver's defense is blessed with speed, particularly on the edges. Sometimes that leads to over-pursuit and getting caught out of position. But the Broncos' linebackers were savvy enough to avoid that during practices Wednesday and Thursday, and similar success Saturday will help them in the regular season, when four opponents will likely be led by quarterbacks who were among the NFL's top 10 rushers at the position (Alex Smith in both ends of the Chiefs series, Minnesota's Teddy Bridgewater and Indianapolis' Andrew Luck.
With the starters expected to play to at least halftime, the hold-your-breath period of the game will last longer than at any other point this month. The Broncos have not hit this point unscathed; Ryan Clady's torn ACL means that their man-games lost to injuries by starters this year will be no fewer than 16, and Emmanuel Sanders and Chris Harris Jr. missed time with hamstring injuries in the last three weeks.
But Harris played last week and was back at practice this week before sitting out Thursday's work. Sanders' target is Week 1, and he could see some practice time next week. Inside linebackers Danny Trevathan and Brandon Marshall will line up together in a game for the first time since last Dec. 14; Trevathan is expected to see approximately 20 snaps of work.
Nothing matters more than the health of the team. Emerge with no further injuries, and the team can call the night a success to some degree, no matter what the scoreboard reveals.