ENGLEWOOD, Colo. --The San Francisco 49ers descend on the UCHealth Training Center for two days of joint practices that begin late Wednesday morning, marking the second consecutive year that the Broncos have hosted their third preseason opponent for practice.
"I've been a part of some really good ones and [have] been a part of some that are not so good," Head Coach Gary Kubiak said.
What can we expect from the two days of work?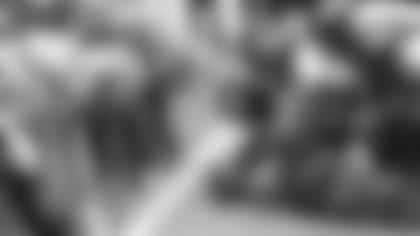 1. COMPETITION -- BUT NOT TOO MUCH OF IT:
Although a little animosity and fire is to be expected, neither coaches nor players want the action to descend into brawls like the ones at the Washington-Houston and St. Louis-Dallas practices in recent weeks. Skirmishes also flared between the Broncos and Texans last year during their joint practices at Broncos headquarters after D.J. Swearinger became overaggressive, and the Broncos hope there won't be a repeat.
"You've got to be smart," RB C.J. Anderson said. "You hear about the joint practices and people fighting and getting hurt. You've got to be smart, because you're going to see them at the end of the week, but, yeah, you will get that game work and you will be pretty familiar, so it should be amazing when you get out there.
Protective gear will be limited to helmets, shoulder pads and shorts; there will be no full-pad sessions. "Keep Your Feet," the mantra of the Broncos throughout the offseason and training camp, will be repeated to the players over the next two days.
"We'll be physical in practice. [San Francisco 49ers Head] Coach [Jim Tomsula] and I talked. We just want to do everything we can to keep everybody off the ground," Kubiak said.
"I think that's big for both of us," Anderson added. "We have players who we want to keep healthy, and they have players they want to keep healthy going through their season, too. It's practice. We're all pros and we should all know how to practice like a pro."
A TEST AGAINST A MOBILE QUARTERBACK.**
A quarterback like Colin Kaepernick who is as dangerous with his feet as his throwing arm represents a good challenge for a defense that has had its way with opposing blocking schemes the last two weeks, racking up a league-leading 12 sacks and averaging one every 6.75 pass plays.
There is little question that the Broncos will be able to generate pressure, but they will have to deal with dual-threat quarterbacks at times throughout the season, so seeing one of the game's most potent ground threats at his position will help the Broncos manage their pass rush.
3. A LONG LOOK FOR THE YOUNGEST BRONCOS.
The Broncos must be down to 75 players by next Tuesday, and with the starters expected to play into the third quarter Saturday, the next two days of practice could represent the last, best chance for players on the fringe of the roster to make an impression.
That extra work is part of the value of hosting a joint practice; it can be just as valuable as preseason game work in regards to evaluation.
"We plan on practicing our young guys a great deal over the course of the next two days," Kubiak said. "It's almost like them getting to play another game in a lot of ways because their reps are going down this week in this preseason game."
The Broncos took to their first practice since training camp ended and since their second preseason game on Saturday.