OAKLAND -- **A quick look back at how the pregame Three Keys turned out during Denver's 16-10 win over the Raiders.
1. CONTAIN OAKLAND'S PASS RUSHERS.
On the outside, the Broncos' protection scheme held up. Khalil Mack, Justin Tuck and Aldon Smith rarely got to Peyton Manning, and Manning did a good job stepping up and out of trouble from the edge.
But Oakland knocked the offense off-kilter with rushes from Malcolm Smith. His blitz up the middle forced Manning into an errant red-zone pass late in the first half that Charles Woodson intercepted. A second-half blitz by Smith outside of right tackle Michael Schofield led to one of Oakland's two sacks.
Smith's rush caused problems, but the Broncos' ability to consistently neutralize the Raiders on the outside kept the offense's struggles from being more pronounced. Manning was hit just three times Sunday, and none came from Mack or Tuck, with just a half-sack from Smith representing the edge rushers' entire sack tally.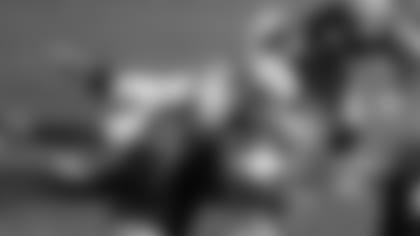 In the end, this was THE key to the win.
It wasn't a seven-sack performance like the Broncos had last week, but even with DeMarcus Ware missing most of the game because of a back problem, the Broncos sacked Derek Carr four times -- including Von Miller's third-quarter strip-sack fumble -- and set up Chris Harris Jr.'s game-turning pick-six with a six-man rush.
Shaquil Barrett replaced Ware on a majority of the snaps, and was effective working off the edge, finishing with a sack and a tackle for a loss.
"It's those types of players that make us a great team," Miller said.
3. DON'T LET THE RAIDERS BELIEVE.
The struggles of the offense ensured that the Broncos would never be able to pull away when they had chances -- and in fact, the Broncos were fortunate to maintain a fragile 9-7 lead early in the fourth quarter, with an assist from two missed Sebastian Janikowski field-goal attempts, one of which was blocked by Sylvester Williams.
Oakland's defense and the Broncos' offensive struggles gave the Raiders' fans reason to believe an upset was possible. But the Broncos' defense seemed to be in "mind control" mode for most of the game, and allowed only the Marcel Reece touchdown catch in the second quarter.
Denver's defense has allowed just 65 points through five games -- an average of 13.0 per game. If it can maintain that pace, the offense doesn't have to be spectacular -- merely consistent.
But the offense has accounted for just 18.4 points per game, with a high of 24 in Detroit and a season-low nine points via three Brandon McManus field goals representing its entire day's work.
"We've got to play a [heck] of a lot better," Head Coach Gary Kubiak said. "I mean, it starts with me and the offensive coaches. We've got to get better offensively. The sad thing is, we do some good stuff and we don't finish anything. That's what's disappointing.
"And then everything keeps going back to 18 [Manning]. That's not fair. We've got to get better running the football. We've got to get better protecting him. And if we do those things, then we'll play better offensively. Obviously we're very, very fortunate."
Fortunate that their defense is so powerful and can pick up the offense when it struggles.
"The Broncos won the game today," Manning said. "Everybody wants to divide it, right? You have Broncos offensive commentary, defensive commentary, Broncos special teams … but we kind of lump it all together as a team win."