DENVER --This was a three-phase win -- although it started off on the wrong foot, as a potential three-phase letdown.
In the first three minutes and 36 seconds Sunday night, errors on offense, defense and special teams led to a 23-yard Tom Brady-to-Rob Gronkowski touchdown that gave the Patriots a 7-0 lead so fast it made onlookers dizzy.
But after the deficit ballooned to 14 points, it was the efforts of all three phases that brought the Broncos back from that early abyss.
"In the past, Brady would have finished us," said cornerback Chris Harris Jr.
Sunday night, he didn't, because piece by piece and play by play, the Broncos climbed back into the game, although they wouldn't finally overcome the deficit until just one minute and nine seconds remained in regulation.
They kicked and screamed, and turned defeat into one of the most memorable wins in the 15-season history of Sports Authority Field at Mile High when C.J. Anderson galloped 48 yards to seal the 30-24 final result that clinched the Broncos' fourth consecutive winning season and their 28th overall.
The Broncos lost safety T.J. Ward and nose tackle Sylvester Williams to ankle injuries on the same play and later lost right guard Louis Vasquez to a groin injury. That forced Evan Mathis back into the lineup even as he struggled with an ankle injury of his own.
"It's just next man up, man. Everybody prepared well," Harris said. "When you play the Patriots, they test your whole defense. They test your communication. And we had great great communication all day today. Everybody is on the same page, and that's what it takes."
How did the Three Keys turn out?
The Broncos used a variety of defenders on New England's prolific Rob Gronkowski, but rarely double-teamed him. There were occasional examples of bracket coverage, such as one play early where Brandon Marshall and Danny Trevathan covered him from an inside alignment off the line of scrimmage, but most of the responsibility went to the safeties and cornerbacks.
The results were mixed; Darian Stewart went for the big play on the first series and got burned, with T.J. Ward's subsequent missed tackle leading to Gronkowski's 23-yard catch and run. But the Broncos were able to generate enough pressure and guard him tightly enough to keep him in check, and while he had an effective game -- six catches for 88 yards and the first-quarter touchdown -- he didn't single-handedly doom the Broncos' efforts.
"We switched it up a little bit," Harris said. "He caught us a lot when we were singling him. We didn't double-team him a lot -- not as much as other teams have -- so we just played our defense, we had other guys fighting and we were able to make those plays."
But after he was injured, the defense pinned back its ears and attacked without hesitation. The pressure sent the Patriots skidding backwards in overtime, with a Von Miller sack and a Shane Ray hit that led to an incompletion and finished the three-and-out that saw the Patriots lose seven yards.
"We were just like, 'We're going to full-out blitz [Brady],' telling him, 'You're going to have to throw to the corners," Harris said.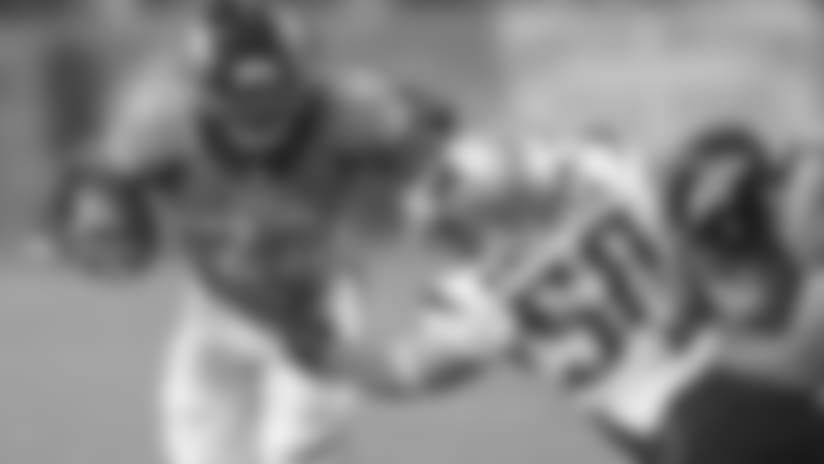 2. Find offensive balance.
With a 14-0 second-quarter deficit to an undefeated team that had the tendency to score as much a 1989 vintage Paul Westhead offense, it would have been easy for the Broncos to lose their nerve and get away from keeping their offense in balance. The injury to Vasquez had the potential to exacerbate their issues.
"It was very difficult," Head Coach Gary Kubiak said. "We're not only down 14-0, [but] as coaches, you're sitting there working through some issues."
But Kubiak and the offense didn't flinch. They kept testing the Patriots on the ground. After an exchange of three-and-outs, the Broncos' first scoring drive saw them run on seven of 10 plays for 44 yards, punctuated by Ronnie Hillman's 19-yard sprint.
As the game progressed, the Broncos found the results they wanted, with a season-high 179 rushing yards on 32 carries and some of the strongest runs toward the end of the game, punctuated by Anderson's 48-yard overtime gallop.
"We preached at halftime that physical was still going to win the football game, and ultimately it did," Kubiak said. "[I am] just proud of the coaches for sticking with it."
Win the turnover battle.**
The Broncos didn't win it, but thanks to Cody Latimer's quickness in taking advantage of Chris Harper's muff to get the ball loose, with 14:15 left in regulation, they overcame the early interception off Osweiler.
That interception -- Osweiler's first in two weeks -- was forced when Jabaal Sheard pushed right tackle Michael Schofield back to Osweiler's feet. That led to the throw under duress that Chandler Jones intercepted.
Osweiler was under fire much of the game and was hit eight times. One left him limping. But that was the only turnover the Broncos had. They didn't win the game via the turnover battle, but a stalemate was enough.
"[Osweiler] is a tough son of a gun," WR Andre Caldwell said. "You know he's going to bounce back up in there every time."