DENVER --For the Broncos, Monday night is about celebrating the past, getting a fleeting glimpse of a potential future that will never happen and stopping the losing streak of the present.
Most important, of course, is the present -- and ensuring that their current losing streak ends at two games. That would allow them to maintain pace in the still-developing AFC playoff race. Although they came into the weekend tied with the Oakland Raiders for first place in the AFC West, the Broncos can scarcely afford another loss -- especially at home -- or they will exhaust their margin for error.
At halftime, it's all about the past, and honoring Simon Fletcher, Jason Elam and John Lynch, who will be the 29th, 30th and 31st members of the Broncos' Ring of Fame.
Each has a unique place in Broncos history. Fletcher remains the club's leading all-time sacker nearly 21 years after his final game; Elam's team scoring record established over 15 years could well be unassailable, and Lynch is the only Bronco to play at least four seasons and make the Pro Bowl each time.
But when the action is under way, the Broncos will see their one-time "quarterback of the future" leading the Houston Texans. For three and a half seasons, Brock Osweiler was the heir apparent, serving a lengthy apprenticeship behind Peyton Manning before taking the reins after Manning succumbed to a foot injury last November. But Manning returned and was re-inserted into the lineup in Week 17, and after he guided the Broncos to Super Bowl 50, Osweiler opted to move on, choosing the Texans' offer over that of the Broncos.
The Broncos, too, moved on, and Trevor Siemian and Paxton Lynch have combined to post a quarterback rating of 92.4 -- 18.3 points higher than Osweiler's season-long rating of 74.1. But last week might have seen Osweiler turn the corner with his new team, as he guided them back from a 23-9 fourth-quarter deficit against Indianapolis. It was a rally reminiscent of the 14-point comebacks he led for the Broncos against New England and Cincinnati last season.
How the Broncos counter Osweiler and Houston's offense will be crucial to their hopes of victory Monday night. But what are the other keys to a Broncos win?
And even though the Broncos are surrendering fewer points -- both in raw total and relative to opponents' averages -- than they did last year, Defensive Coordinator Wade Phillips knows that the early scores are particularly damaging, considering how they can change the momentum and flow of the game.
"It's not good when you get behind early like that," Phillips said. "It's something we're obviously trying not to do. We're giving up the same amount of points, but we'd rather not give them up the first series of the game, where it hurts your team as far as mentally getting behind.
"We're addressing it. It still ends out the same number of points, but ... it's not the way you want to do it."
GET THE GROUND GAME GOING**
Injuries on the offensive line haven't helped, but the production of the last four weeks -- 77.3 yards per game and 3.25 yards per carry -- will not work for the Broncos' success equation, which involves creating offensive balance and being able to execute the play-action. Both of those are predicated on a consistent ground game.
It was in the seventh game last season that the ground game began to find its footing. The Broncos need that to happen again Monday.
"I kind of told myself, 'No matter what it looks like this week, as a playmaker, I've got to make plays,'" running back C.J. Anderson said. "That's in the back of my head too. If it's clean, I'll make plays and if it's not clean, just make plays."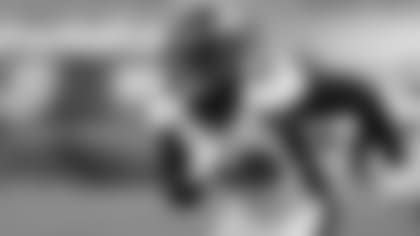 It's not just about getting to Osweiler for the sack, but the possibility of jarring the football loose. Osweiler has fumbled once every 8.75 times he has been sacked in the last two seasons, including one fumble in each of the last two games, when he was sacked a total of five times.
No one has been better since January at getting to opposing quarterbacks than Von Miller, of course. Miller has at least a half-sack in eight consecutive games, including the postseason, recording 12.5 sacks over those eight games, putting him just two shy of Fletcher's team- and league-record streaks.
And on the night Fletcher will go into the Ring of Fame, what better tribute could Miller have to Fletcher than by pushing one game closer to his mark? No one would appreciate it more than Fletcher himself, who wants to see Miller eclipse his franchise sack record.
"The best pass rusher for the Broncos -- ever -- is Von Miller," Fletcher said.
"I watched Von before I knew he was going to come to our team, and I notice his first steps are so quick, he takes one and a half to my one. Speed is about turnover, how quickly you can get your feet on the ground, off the ground, on the ground, off the ground. I said, 'This guy, if they utilize him properly, he will own the record.' And the simpler reason is he's the best because Barney Chavous, Karl Mecklenburg, Rulon Jones, Simon Fletcher -- our numbers are done. They will never change. He's just getting going and the sky's the limit for this young man.
"Von Miller will never own my record. He will own his record. And I'm looking forward to that day. I hope I'm around the day it happens, and I'd like to pass the torch and congratulate him for a job well done."
A look at the matchups that may decide Monday night's game between the Denver Broncos and Houston Texans. (Photos by AP).