ENGLEWOOD, Colo. --For most of the last week, chatter about injuries has overshadowed the actual Steelers-Broncos playoff showdown itself.
As kickoff nears, that's changed now -- on both sides.
For the Steelers, WR Antonio Brown and RB DeAngelo Williams have been ruled out, and all signs point to QB Ben Roethlisberger playing after he had a full practice workload on Friday.
Broncos players and coaches have maintained throughout the week that they don't expect the Steelers' prolific offense to change much without its leading rusher and receiver and with Roethlisberger hindered by injuries to his AC joint and ligaments.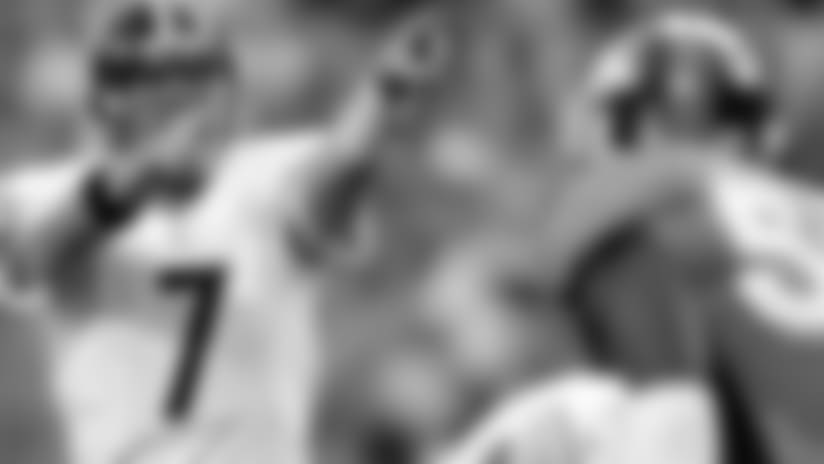 If Roethlisberger can remain unaffected through the pain, he has enough remaining targets to continue to cause problems -- which means pressure and converting it into sacks and disrupted throws will remain key in defusing the Steelers' attack.
"Regardless if you've got the shoulder problem or not, just try to rush the passer as best you can," Broncos defensive end Antonio Smith said. "I think with the shoulder thing and the competitor that I know him to be, it isn't going to make [a difference]. Pain is pain. We all play with pain. You can rest assured that he's going to play with pain."
With the Broncos, safety Darian Stewart and CB Chris Harris Jr. are both probable, and QB Peyton Manning has practiced with no limitations.
Manning appears to be at his healthiest point in quite some time -- perhaps since early in the season. There was a stretch in which Manning played like his old self: from the middle of the second quarter in Week 2 at Kansas City -- when the Broncos re-emphasized shotgun and three-wide receiver sets -- through the third quarter against Minnesota; that was when Manning went 65-of-99 for 703 yards with six touchdown passes and two interceptions for a 98.2 quarterback rating.
If the rest and rehabilitation on Manning's foot allow him to play at that efficiency level, the Broncos should be in good shape. Perhaps the best sign was Manning's performance in Thursday's practice; he dealt with stiff winds, but teammates noted that his passes were on target.
"The wind was blowing and his ball was still zipping through the wind," WR Emmanuel Sanders said. "I think he's been having a good week of practice. I think he's preparing the right way."
Two teams with quarterbacks whose seasons were defined by injuries will now attempt to extend their season, as has happened so many times in NFL history before. What are some keys to ensure the Broncos extend their season at least one more week?
1. Stay balanced on offense.
Much of that will be up to Manning and his ability to diagnose the Steelers' intent before the snap. If he correctly adjusts to plays that take advantage of the Steelers' blitzes and zone coverage on the back end, the ground game will force Pittsburgh's defense to play on its heels.
Denver roared to 27 points in the first half of the teams' Week 15 game not only because of Brock Osweiler's ability to find open receivers, but a creative run game that used a variety of carries -- including an end-around -- to keep the Steelers uneven.
Limit the damage from Pittsburgh's receivers.**
Even though Brown will not play, Markus Wheaton and Martavis Bryant are still capable of game-breaking plays, and each can force missed tackles in different ways: Wheaton with his underneath quickness that is at times reminiscent of Brown, and Bryant with his size (6-foot-4, 211 pounds) and strength.
Missed tackles plagued the Broncos in Week 15. Although Brown led the way by forcing four missed tackles, Wheaton and Bryant combined to slip free of five attempted tackles by Broncos defenders. Bryant is particularly effective of this; he gets a higher percentage of his receiving yardage (45.75 percent) from yardage after the catch than Brown (31.08) and averages 7.0 yards per reception after the catch, 2.81 more than Brown.
For all that went wrong in Week 15, the Broncos might have still escaped from Pittsburgh victorious had they played turnover-free football. Two giveaways set the Steelers up on short fields, and they cashed in for touchdowns that proved to be the difference in the 34-27 final.
Denver won't be perfect. Pittsburgh generates enough pressure on both sides of the line of scrimmage to ensure that. But the key will be to avoid the biggest mistakes: giveaways that force the defense to start work with the opponent already in scoring position.
The Broncos managed to overcome five giveaways in the regular-season finale against the 4-12 Chargers. If they are anywhere near as generous Sunday, they won't be able to recover against a far superior foe.
The Steelers may be without WR Antonio Brown, but they're still quite the formidable opponent, as evidenced in these five individual matchups.