DENVER --The Broncos' showdown with the undefeated New England Patriots will ultimately be defined by the players who take part in the game. But the pregame buildup revolves around those who are out.
For the Broncos, Peyton Manning and DeMarcus Ware won't play. When combined with the season-long loss of Ryan Clady to a torn anterior cruciate ligament, the Broncos head into this game without three starters at premium positions who have a combined 26 Pro Bowl appearances and 13 first-team All-Pro selections among them.
New England's absent players don't have the same star power as the Broncos, but the absences of wide receivers Danny Amendola and Julian Edelman, tight end Michael Williams and linebacker Jamie Collins doesn't help their efforts to match the Carolina Panthers' 11-0 start.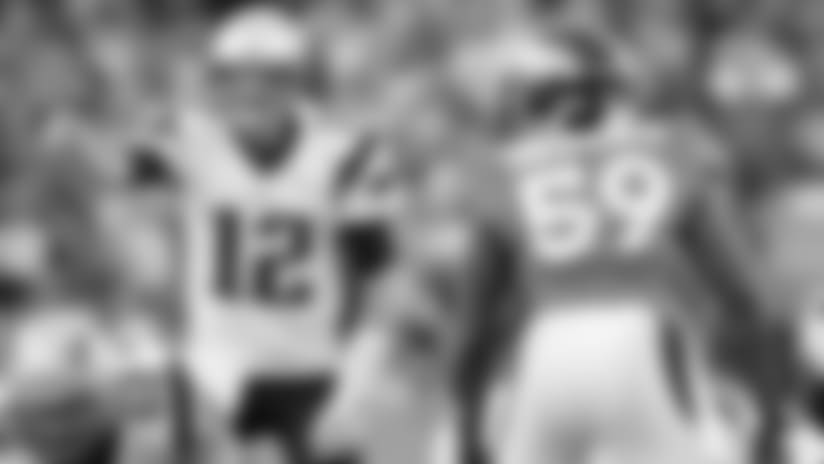 Still, these are the Patriots. Tom Brady has flourished over the years despite absorbing gradual changes to his wide-receiver corps, although his 6-7 record as a starter against Denver (including playoffs) is his worst against any team he's played at least five times, per ESPN.com. New England's defense has steadily improved over the course of this season and has peaked this month.
No team has accomplished more this century. They instill the belief in their opponent that perfection is necessary just to have a chance at success. Motivation would be ample for the Broncos even if the Pats came in with a humble record.
"Just beating them is motivation," RB C.J. Anderson said. "They could be 1-9. But they're just a well-coached football team. And since I've played them, they've always been a one-loss, two-loss football team."
Or, in this case, zero losses.
Let's dive into the Three Keys:
Tight end Rob Gronkowski appears to be at times unstoppable via normal defensive means, leading Aqib Talib to suggest using a "triple team" as a means to contain him.
The injuries to receivers will increase the focus on Gronkowski, but the Broncos will still need to use a variety of players to try to contain him.
"I think our safeties are good cover players," Head Coach Gary Kubiak said. "We've played a lot of three corners with No. 29 [CB Bradley Roby] on the field. We've done a bunch of that this year, so that's not unusual for us to do.
"I'll say this, they're going to get the ball wherever they need to get it. Obviously, you want to do your job on him and do everything you can, but there are a lot of people out there that can hurt you. We have to play good defense. We have to play good, sound defense. They present a lot of problems for you with spreading you out and matchups. That's the most important thing."
Pressuring Brady can help, as well.
Injuries to Amendola and Edelman are crucial, but playing without Williams might have a greater impact, given his role in pass protection. Their offensive line is closer to full health than at any point since Nate Solder's season ended because of a torn biceps.
But at the same time, the best pressure on Brady has to come from up the middle. If it comes from the edges, it's usually too late to prevent him from delivering the football, especially given the preternatural timing he shares with Gronkowski.
"I think with Tom, some of the times he doesn't need to play with the offensive line. He just needs the receivers and Gronk," said Broncos OLB Von Miller. "He could go down the field and play. He doesn't even need those five offensive linemen.
"You can tell in games he's getting the ball, he's throwing it super fast, he makes his decisions super quick," Miller added later. "Hopefully for us, we've got a really good secondary. Hopefully we can slow him down a little bit with that."
Find offensive balance.**
New England's emphasis on man-to-man defense could generate some opportunities for the Broncos if they can execute properly. The wide receivers and tight ends should draw attention from linebackers and defensive backs, which would leave the offensive line to do its job; if it can create holes, Ronnie Hillman and Anderson could rip off some solid gains.
"They're about one-on-one matchups. That's what they do all across the board," Anderson said. "Even up front, they want one-on-one. They want their D-tackle to be better than your guard. That's just what they do.
"Don't get me wrong: they mix it up. But it's what they do -- and they coach it well, and teach it well ... We know we have the talent to do it [against them], it's just about going out there and executing."
3. Win the turnover battle.
Since Billl Belichick became the Patriots' head coach in 2000, they are 128-12 when they have a positive turnover margin, including 75-1 when it is plus-two or better. They have won 64 consecutive games with a plus-two turnover differential, per Pro-Football-Reference.com.
Their last loss in that situation was to none other than the Broncos, who dealt them a 24-16 defeat at Gillette Stadium on Oct. 27, 2002. Perhaps that result is the reason why the Patriots have never worn blue pants with blue jerseys since that day.
The Broncos are one of just four teams to play two games with a minus-two turnover margin in November -- and lost them both. Last Sunday's win over Chicago brought a return to form.
No team has fewer giveaways this season than the Patriots, with eight. Just five teams have more giveaways than the Broncos, who have 19. Although the Broncos found their takeaway touch last week, ensuring they don't have a damaging turnover differential starts with protecting the football as well as they did in Chicago.
Summarizing the top five one-on-one matchups against the Patriots ahead of Sunday's game.