DETROIT -- **You only see teams from the opposite conference every four years, unless you meet them in a Super Bowl. For many players who pass through the NFL, an entire career span can take place in the space between those games.
Fortunately, that won't be the case for Chris Harris Jr. He's established himself as one of the game's best technical cornerbacks, and has the five-year contract and Pro Bowl selection to prove it. But a look back at his last game against the Lions provides an instruction into just how much can change between meetings of two teams whose paths rarely intersect.
It was Week 8 of the 2011 season. An injury to Jonathan Wilhite had pushed Harris into late-game action seven days earlier in Miami, and he responded with two passes defensed as the Broncos completed their unlikely comeback to an 18-15 win over the Dolphins.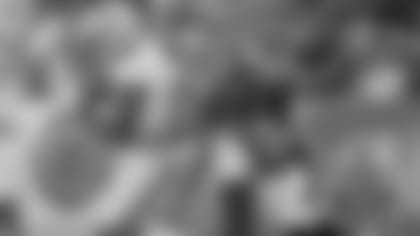 The sun was out, conditions were pleasant and the Broncos were resplendent in their then-alternate orange jerseys. And then the game kicked off, and the Broncos were throttled 45-10, with Matthew Stafford shredding the Broncos for 267 yards and three touchdowns en route to a 130.8 passer rating. One of the scores and 125 of the yards went to Calvin Johnson.
"I remember they used to take a lot of shots, and that's what they did. They would just throw it up to Calvin," Harris said.
But it wasn't just Johnson. The Lions forced matchups that pitted Harris against Tony Scheffler, a 6-foot-5, 255-pound tight end who was a second-round pick of the Broncos in 2006, but was traded to his home state in 2010 and spent four seasons there.
The Lions saw Harris, with 27 snaps to his name and decided to give him the sternest test possible. They threw at him nine times, including three when he was matched up against Johnson and two against Scheffler.
"That's what it was. They came after me from the jump," Harris said. "They know me from then, but I'm light years better now."
His growth from that day began immediately, when he watched the film and regrouped. A week later, he started again in Oakland -- and notched the first interception of his career. Harris did what you hope every rookie does: learn from being beaten and apply the lessons. He was on his way to where he stands today.
"I expect a lot of targets this game," Harris said. "The way they're playing, I'm going to have a lot of targets.
"Golden Tate, Calvin Johnson and their quarterback [Stafford] -- they're all Pro Bowlers," Harris said. "We've got to bring our A-game."
What are the keys to bringing that "A-game" and winning?
1. FIND A RHYTHM ON OFFENSE.
Maybe it will be with some more shotgun, hurry-up and three-wide receiver sets earlier in the game than in Kansas City on Sept. 17. Perhaps it will be by successfully capitalizing off the growing pains of a Lions defense that has been in transition early this season, and getting the running game going early with Peyton Manning under center. Maybe it will be about sticking with the running game long enough to create viable play-action opportunities.
No matter how it happens, the Broncos' first task is to generate smoother, more consistent production on offense. The clearest path to do that is with a diverse approach that keeps the Lions' banged-up defense off balance.
MAKE MATTHEW STAFFORD UNCOMFORTABLE.**
The statistics compiled by ProFootballFocus.com speak volumes: Stafford has completed just 35.7 of his passes under pressure so far this season, the second-lowest percentage in the league through two games. He's been pressured on 35 of his 89 dropbacks, and while he has been sacked just twice, he's thrown two interceptions under pressure.
Tate and Johnson represent a stern test on the outside, but a matchup like this is why you invest in two top-drawer cornerbacks like Harris and Aqib Talib, with Bradley Roby able to supplement them when the Lions go into three-wide receiver sets. If they do their jobs, the rest of the defense can attack Stafford, and Defensive Coordinator Wade Phillips can dial up his usual array of blitzes, pressures and disguised intents to disorient the Lions.
DON'T ALLOW EXPLOSIVE PLAYS ON SPECIAL TEAMS.**
The Lions are not shy about using the third phase to get the football into the hands of some of their most explosive playmakers: Golden Tate on punt returns and rookie Ameer Abdullah on kickoff returns. Abdullah ranks second int he league in kickoff return average.
But the Broncos have turned a weakness last year -- and in this year's preseason -- into a strength the last two games. They shut down the Chiefs' dynamic returners last week -- De'Anthony Thomas on punts and Knile Davis on kickoffs. The forced fumble of Thomas was the biggest play in that phase of the game, although the offense squandered the opportunity.
"In the preseason, we struggled on some special teams with some things, but we've settled down," Head Coach Gary Kubiak said. "I think we've really kind of isolated on the people that we're playing, obviously. The good news is our kicker and our punter have been excellent. It will be big this week again, too—really good returners. We'll have to control them to control some field position."