ENGLEWOOD, Colo. --Peyton Manning has completed passes to 88 different targets -- including himself, on one occasion with the Colts -- in his record-breaking 18-season career.
Vernon Davis is a good bet to become No. 89. But first, he needs to learn the offense. So each night this week, he remained at Broncos headquarters for a few extra hours with Tight Ends Coach Brian Pariani, going over offensive concepts.
Then Davis returned to his new home -- he's already found a place, despite being in Denver less than two weeks -- and studied the scheme and his iPad playbook for another 90 minutes to two hours before bedtime.
His days ended at midnight. At 6 a.m., Davis awakened to start all over again.
If Davis is to become a part of the tight-end rotation along with Owen Daniels and Virgil Green, he knows he must get the system down pat.
"I feel like I've been in training camp," he said. "Normally it takes about three weeks to get everything really solid -- signals, calls, all those things, because the more you go in [a system], the more familiar you become. You get acclimated to the system and how Peyton wants things. It normally takes about three weeks.
"But I think I made some tremendous progress as far as learning and just knowing what's going on."
The offense is "extremely different" than what he learned with the 49ers, he admits.
"There's so much more to know in this system," he said. "I don't know if I've ever seen so much stuff in my life, from signals to words, concepts. It's totally different."
The Broncos will continue to ease Davis into work after he played nine snaps last week and was targeted once -- on which he was held as he ran his route, although no call was made.
But with every study session, he gets closer, the Broncos' tight-end complement gets a little deeper, which will lead the offense to having a few more possibilities at its disposal -- which could be essential Sunday if Emmanuel Sanders can't play because of his ankle injury.
Davis could factor into Sunday's game with the Chiefs, but what else will bear watching?
Win the turnover battle.**
The Broncos were able to overcome their spate of giveaways early in the season because their defense was among the league's best at generating takeaways in the first six games.
But in the last two games, the Broncos have a minus-three turnover margin: three interceptions and no takeaways forced. Even with a pressure-intensive defense, you can't count on takeaways every game; the most reliable way to fix this issue is to cut the mistakes.
Including the postseason, the Broncos haven't had a turnover-free performance in 11 games -- their longest such streak since going 20 games from Week 12 of the 2011 season through Week 14 of 2012. That needs to change.
"It's obvious that we have the ability to execute. We just need to do it with more efficiency," LG Evan Mathis said.
2. Pressure Alex Smith -- but then contain him.
Pressure wasn't enough last week against Indianapolis' Andrew Luck. Although the Broncos hit him 16 times on runs and passes, his composure in the pocket and his willingness to wait for the last possible split-second to find an open wide receiver helped the Colts go 12-for-20 on third downs.
Luck also extended plays with his feet, picking up 35 yards on five carries before an end-game kneeldown. Smith has the same capability. Quarterback runs have been an Achilles heel for the defense this year; of the 21 runs of 10 or more yards agains the Broncos, eight have come by quarterbacks.
Those opposing quarterbacks have picked up 117 yards on 15 non-kneeldown runs -- an average of 7.80 yards per carry. Runs by all other players against the Broncos are averaging just 3.10 yards per attempt (592 yards on 191 carries).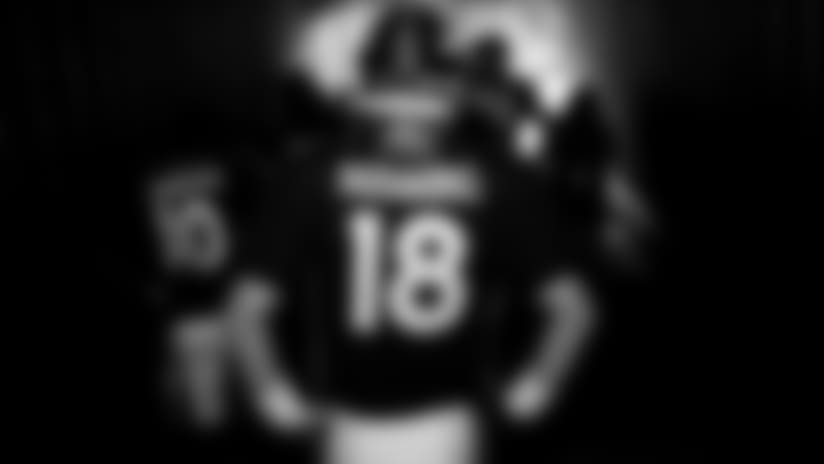 3. Find offensive balance.
And as always, this will start up front. Good blocking read well by the running backs will set up the running game, which in turn enhances the play-action game, which opens up the entire passing offense. This equation worked perfectly against Green Bay, but never came to fruition against the Colts last week.
Once again, the Broncos are expected to shuffle their offensive line from series to series, with Tyler Polumbus spelling Ryan Harris at left tackle and Max Garcia seeing some work for Mathis and Louis Vasquez at the guard spots.
"It's helping the growth of a great young player [Garcia]. It's helping guys that are old as hell, get a few plays off. It helps us stay fresh," Mathis said of his rotation. "Defensive lines are built to rotate; they come in fresh and generate more effort on the pass rush. I think there's a little benefit to doing it on offense."
The argument that shuffling the line prevent the unit from building cohesion holds no merit to Mathis.
"We don't have to play every snap [together]," Mathis said. "We rotate during the week in practice. We all know how to work with one another. The more work we get in games together -- whatever the combination may be -- it just leads to growth that we will make."