KANSAS CITY, Mo. --With one mountain successfully scaled, the Broncos turn to the next peak on the horizon in a Himalayan three-game start to the season: the Kansas City Chiefs.
What are the keys to the game? Read on ...
During last year's 29-16 win at Arrowhead Stadium, the Broncos ran six times on their first possession, an eight-play, 74-yard sprint to a Peyton Manning-to-Demaryius Thomas touchdown pass.
They ran on three of the first four plays of their next drive before calling three consecutive passes; that series also ended in a touchdown. That momentum carried through the balance of the game, and the Broncos finished with 214 yards on 45 carries.
This task will be more difficult Thursday night for myriad reasons: C.J. Anderson's toe injury that left him questionable on the injury report, an offensive line group playing its second game together, and the presence of safety Eric Berry and inside linebacker Derrick Johnson in the Chiefs' lineup; neither played in that Sunday night game last year.
Persistence will be crucial. The Broncos got away from the run against the Ravens as they struggled to mount any forward momentum; by the end of the third quarter, they had 39 pass plays against just 13 carries.
"You don't want to get yourself into a situation when you're only doing one thing," said Offensive Coordinator Rick Dennison. "You want to make sure that the defense is honest and playing all parts of the field, which is what we're built on."
Keeping the defense honest is crucial, because establishing the run will also help Manning operate under less duress than he did Sunday. The Broncos can't afford to have many games where their veteran quarterback absorbs five hits, including four sacks. With Justin Houston and Tamba Hali lurking as edge-rush threats and the Chiefs' ability to blitz through A- and B-gaps with their safeties and inside linebackers, the Broncos need to do whatever it takes to prevent the Chiefs from being in attack mode.
For this offense to work, the ground game must be productive enough to where it can be the quarterback's best friend, as it was in Baltimore, Houston and in Denver for many years.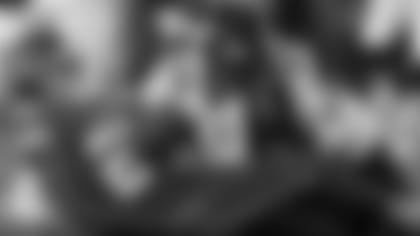 2. CONTAIN JAMAAL CHARLES AND TRAVIS KELCE.
Injury issues contained Charles last year, and he finished with just 71 yards from scrimmage in the 2014 Broncos-Chiefs series. Don't expect that to continue.
Although he has gone five games against the Broncos without rushing for 100 yards, that's only part of his game, and his work last week against Houston (46 yards and a touchdown on five receptions) shows what he can do in space. It will be crucial for the safeties, inside linebackers and cornerbacks to contain Charles and not allow those screen passes and dump-offs to turn into explosive plays.
The Broncos could also have a sterner task trying to stop Charles on the ground with a defensive line that could have just four players if Malik Jackson, listed as questionable on the injury report, cannot play.
"He's a dual threat," Defensive Coordinator Wade Phillips said. "You can stop him running with it -- like last week they stopped him pretty well running with it -- but he caught seven or eight passes. He can do both really well. We have to have two guys watching him all the time. You've got to point him out in the running game and the passing game."
Kelce took another step toward entering the NFL's elite class of tight ends last week with a six-catch, 106-yard day punctuated by an unusual touchdown celebration. While that became a buzzing topic on social media in recent days, his production has been the true story dating back to late last year, with 29 receptions for 390 yards and three touchdowns in his last five games. Those numbers would put him on pace for 93 receptions, 1,248 yards and nine touchdowns when extrapolated to a 16-game schedule.
"He's tall, he's athletic, he's a good receiver," Broncos ILB Brandon Marshall said. "He has quick feet; he runs really good routes. I think he's a complete player as far as a pass catcher. We've really got to be on him."
Marshall knows that containing both of them in space will be his primary task Thursday.
"It's the linebackers' and safeties' jobs to be over the backs and tight ends, because that's where Alex Smith likes to go," Marshall said. "He likes to go to the tight ends. They haven't had a touchdown from a wide receiver in over a year, so it's going to be on us to really neutralize Kelce and Jamaal Charles."
WR Jeremy Maclin also presents a new challenge on the outside, and if the Broncos use Chris Harris Jr. on him, the Pro Bowl cornerback might be tested in a way he wants. Harris lamented the fact that the Ravens rarely threw in his direction Sunday, and when they did, the work was confined to screens and checkdowns. That should change as the University of Kansas product returns to the stadium where he played his school's arch-rival, Missouri.
Arrowhead Stadium has long been among the most deafening environments in professional sports, a bubbling cauldron of noise that has burned many an opponent. That intensity will hit another level for a prime-time home opener that will see Pro Bowl safety Eric Berry make his regular-season return after a bout with lymphoma sidelined him late last season.
A good start will be crucial. Last year, the Broncos extended their Arrowhead winning streak to four games by cranking up the pass rush early, getting two sacks on the first three series, all of which went three-and-out. The offense responded with three scores predicated on effective balance between the pass and the run -- although a timely 13-yard fake-punt run by David Bruton Jr. didn't hurt, either; that extended the Broncos' third series, which ended in a field goal.
By the time each team's third possession ended, the Broncos had more points (17) than the Chiefs had plays (nine) or yards (minus-10). That was a dream start that is unlikely to be repeated, but if the Broncos can establish their authority early, they'll have a much better shot of taking the crowd out of it, being able to operate their pre-snap offense more effectively and, they hope, extending their divisional road winning streak to 13 games.
But if the Chiefs get early momentum -- or keep the game a stalemate for a while -- then the environment could be the most hostile the Broncos have faced in an AFC West game in many years.
That said, some Broncos embrace the challenge of hitting the road.
"I love playing on the road. I'm a road guy. Wherever we get a chance to play on the road, I try to play my best," Anderson said. "Not to say that at home it's something different, but as an offense, you're a lot more detailed, a lot more dialed in on the road just because of the crowd noise, especially when you're playing somewhere in Arrowhead, in a hostile environment like that.
"We'll be a lot more detailed, a lot more on point."