SAN DIEGO -- **It didn't take long for this Chargers season to quickly go off-script.
In the last decade, they've been accustomed to playoff contention. They made the playoffs in six of 11 seasons from 2004-14, and never finished worse than 7-9. Even when they didn't make the postseason, they usually remained in the race until the end.
Injuries and the looming rumors and reports about relocation have torpedoed this season. Even if the Chargers' 31-25 win over the Jaguars last week kick-starts a season-ending winning streak, they won't go to the playoffs unless a scenario conjured up by a mathematician on acid comes true. They cannot win the AFC West, and seven teams sit between them and the final wild-card spot.
But despite myriad injuries and home games that see an ever-increasing percentage of seats filled by fans of the the visitors, the Chargers aren't that far from being in the postseason race.
Six of their eight losses have come by one score. Two of their defeats came on the last snap. In five of the losses -- including three to playoff contenders Cincinnati, Green Bay and Pittsburgh -- the Chargers had the football in the final three minutes with a chance to drive to the game-winning points.
And, of course, quarterback Philip Rivers is having his customary outstanding season; he leads the league in completion percentage (68.5, minimum 125 attempts), is seventh in quarterback rating (101.5) and has a 23-to-8 touchdown-to-interception ratio.
The presence of Rivers ensures that the Chargers can only fall so far, even when injuries besieged their defense and offensive line.
"Their team obviously hasn't had a great year, but he's having a great year," Defensive Coordinator Wade Phillips said. "He's been a great quarterback for a long time. He's obviously a guy we're concerned with."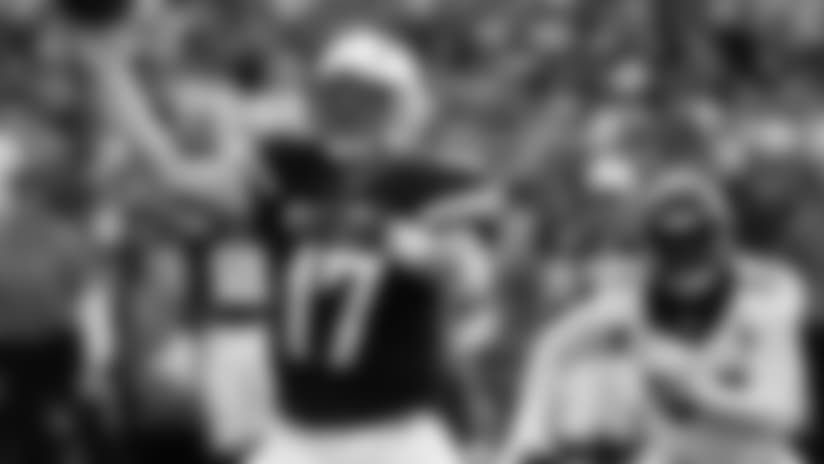 He's capable of winning games by himself, as well. He's done without key targets; wide receiver Keenan Allen is out for the season, and future Hall of Fame tight end Antonio Gates served a four-game suspension at the start of the season.
"We have to stop the run first, as always, but he's one of those quarterbacks I've talked about," Phillips said. "He can beat you throwing the ball."
Of course, Rivers hasn't faced a defense like the Broncos possess. They're No. 1 in yardage allowed per game and per play; they allow first downs on one every 4.27 plays, the best ratio in the league (the league average is one every 3.56 plays) and allow opponents to move the chains on just 24.9 percent of their pass plays, which is also the league's best rate (the league average is 32.2 percent).
But it's a defense that won't have T.J. Ward, Sylvester Williams and DeMarcus Ware. Once again, the Broncos will have to count on their depth against an elite quarterback.
What are the other keys to the game?
Get off to a fast start.**
If the Broncos want to avoid being in a situation where one play or one drive can beat them late, they need to come out firing in the first and second quarters.
The Chargers are capable of coming back; they rallied from a 21-3 second-quarter deficit against Detroit in Week 1 by scoring 30 consecutive points to take control en route to a 33-28 win. But if the Broncos can get the Chargers in a first-half deficit of eight points or more -- as the Packers, Chiefs, Raiders, Vikings and Bengals all did -- they'll be well-positioned to withstand any Rivers-led rally.
You're not going to get to him every time. Although only nine quarterbacks have been sacked more often, his sack rate of one every 18.9 drop-backs is in the middle of the pack, ranking 19th among 36 quarterbacks with at least 100 attempts. (The quarterback immediately above him is New England's Tom Brady; the one immediately below him is New Orleans' Drew Brees.)
What you want to do is put him into situations where he's throwing into tight coverage. Few quarterbacks are better at dropping the football into narrow windows than Rivers, but if he throws enough passes into blanket coverage from the Broncos' cornerbacks, Denver should be able to procure a takeaway or two.
Don't let the defense re-Charge.**
One of the reasons why San Diego has struggled is because its defense has been on the field far too much.
In the 33-3 loss to the Chiefs two weeks ago, San Diego's offense generated one or zero first downs on five of its first seven non-kneeldown possessions; in that same span of the game, the Chiefs had multiple first downs on five of six series, three of which ended in scores.
Three weeks earlier against the Raiders, the Chargers fell behind 30-6 in the second quarter in part because the offense could not stay on the field. The first six series went as follows: interception, punt, field goal, interception, punt, punt. Four of those series ended in three plays or fewer -- and without a first down.By the time the Raiders had a 24-point lead, they'd run 32 plays, racked up 11 first downs and chewed up 16 minutes and 38 seconds; San Diego had 25 plays, four first downs and just 12 minutes, 21 seconds of possession.
The Broncos' ground game is well-positioned to grind down the Chargers; its recent improvement is exactly what a team that ranks dead last in average allowed per carry (4.90 yards) does not want to see.