CLEVELAND -- **Seasons can be transformed at moments like this.
Sure, you might look at a Himalayan November schedule that features the Packers, Colts and Patriots and see that as the point on this expedition that will make or break the 2015 Broncos.
But it's the road games against the foes that are still trying to emerge as playoff contenders that often separate great seasons from good ones. Look no further than last year, when the Broncos went to St. Louis and fell 22-7 to the Rams. They had a stout defense, but also dealt with offensive inefficiency quarterback problems dating back to Sam Bradford's torn ACL earlier that preseason. None of it mattered that day, and the Rams held the Broncos in a sleeper hold from start to finish, putting them a full game and a tiebreaker behind the New England Patriots for the top seed in the AFC. The Broncos would never threaten for the top seed again.
That's why you can't look ahead to what lurks beyond the bye weekend. Not against a team with an improving offense, and not without at least one defensive starter, with Shaquil Barrett scheduled to start for the injured DeMarcus Ware at outside linebacker.
Cleveland's defense offers an opportunity for Denver's wheezing offense to get healthy. The Browns are 30th in adjusted points per possession allowed -- permitting 2.54 points per series -- and 25th in yardage allowed per possession (34.20 yards). By comparison, Denver's defense ranks third and fourth in those categories, respectively.
The Broncos have long-term concerns that go beyond the win-loss ledger, starting with a rushing offense that ranks next-to-last in yardage per carry and first-down rate, moving the chains just once every 6.75 attempts. Improving the viability of their running game helps their chances of success later.
The first priority is to win, even if you can't solve the long-term issues in the process. But the Broncos would like the best of both worlds: a win in which they take steps toward becoming the consistent, balanced attack it needs to be for success in January.
And that's where this week's Three Keys begin: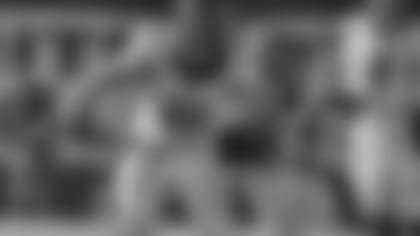 1. GET THE GROUND GAME GOING.
The Broncos have won without it, thanks to their defense, nascent special teams and a passing game that has been effective in bursts and key moments, most notably in Detroit and during the last 35 minutes of the Week 2 win at Kansas City.
But an offense that can't achieve some semblance of efficiency on the ground will not be effective in January. With a sub-3.0-yards-per-carry average in four of five games to date, the Broncos aren't getting the momentum they need, particularly on first-down runs, which force them into second- and third-and-long situations.
Recent injuries on the offensive line added a few more bitter morsels to a bubbling stew already overflowing with injuries and inexperience, both of which have been in the pot since Ryan Clady tore his anterior cruciate ligament during OTAs nearly five months ago.
"We've had some changing going on up front. That's not an excuse, that's football," Kubiak said. "I think that we can get better as coaches scheme-wise. We can put them in a better position, but I have no excuse for you. I know that it [running the football] is something that we have to do better.
When we tend to do it okay, it sure as hell helps our offensive football team. We just have to keep plugging."
In many respects, McCown is the typical veteran quarterback. He's not mobile, but he compensates by knowing how to side-step a pass rush when he can. He's patient enough to wait for late-opening receivers, which also places a greater onus on the secondary to hold its coverage for a second or two longer than normal.
But McCown's patience also creates opportunities for Barrett, Von Miller, Shane Ray and the rest of Denver's complement of pass rushers. The Broncos come into the game with a league-leading 22 sacks, and even without Ware, could be primed to improve on their current rate of 4.4 sacks per game.
Cleveland's pass protection ranks 23rd in quarterback hit rate allowed (one every 4.29 pass plays) and 25th in sack rate (one every 11.44 pass plays). However, the Browns' sack rate is much better with McCown (one every 12.46 pass plays) than embattled second-year quarterback Johnny Manziel (one every 8.8 pass plays).
"They've got a pretty good offensive line group, but they've also given up 18 sacks," said OLB Shaquil Barrett, "and the quarterback holds on to the ball sometimes, and they can't block forever."
3. WIN THE TURNOVER BATTLE.
The equation has been simple for the Browns this season: when they have a negative giveaway-takeaway margin, they lose. When they're even or better, they win.
Cleveland has also struggled to generate takeaways, with none in the last two weeks and just one in the last three since forcing three from the Marcus Mariota-led Titans in Week 2. Peyton Manning has been intercepted four times in the last two weeks; that figure needs to change for the better, or else the Browns could be well-positioned to capitalize.
What will it take for the Broncos to get to 6-0 heading into the bye week? It might begin with these five key matchups.