DENVER --In many ways, the Broncos and the Bengals might as well be staring in the mirror when they stare down each other Monday night.
Both teams are perennial playoff participants: The Bengals have clinched their fifth consecutive postseason trip; the Broncos are one win away from doing the same. Both have done well in acquiring young talent in recent years; both have rosters dotted with elite players.
Both teams have defenses that generate plenty of pressure without blitzing, with balanced pass rushes that combine speedy edge rushers with strong, explosive interior pass-rush threats. Their defensive lines are among the sport's finest, and the two defenses share DNA via secondary coach Vance Joseph, a former Texans assistant under then-coordinator Wade Phillips. Joseph was among the candidates interviewed for their head-coaching position in January.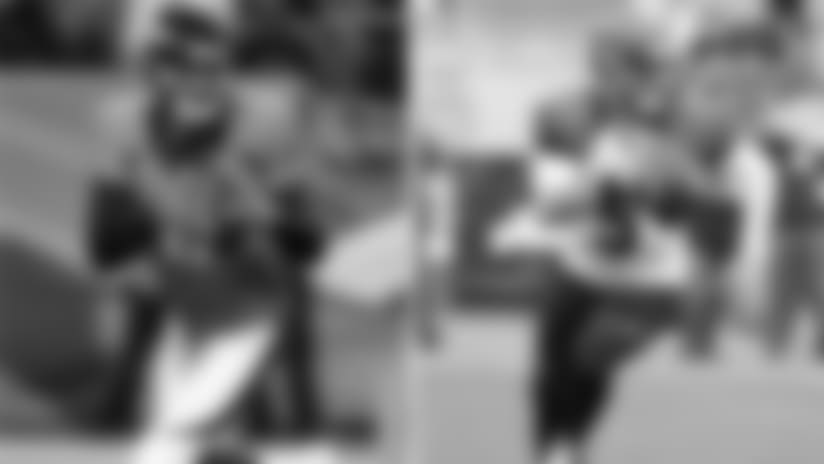 Both teams now have young quarterbacks forced into their roles by injuries.
At the start of the season it would be difficult to imagine that one of the highest-leverage games of the year in regards to playoff positioning would feature Brock Osweiler and AJ McCarron as its starters, but because of Peyton Manning's torn plantar fascia and Andy Dalton's broken thumb, here we are.
And both teams headed into this season knowing that the success or failure of their campaigns was likely to be solely defined by their January results.
This will be the Bengals' seventh postseason trip under head coach Marvin Lewis, and none of the previous six saw even one win -- not even with three games at home following AFC North titles in 2005, 2009 and 2013. They'll have another chance at Paul Brown Stadium in two or three weeks, and the pressure to win hasn't been this high for the Bengals since they had the NFL's best record in 1988.
Gary Kubiak is in his first season stalking the Broncos' sideline, but a major part of his task upon being hired was to improve the Broncos' postseason fortunes. Like the Bengals, the Broncos haven't lived up to their postseason seeding, underperforming it in two of their last three postseason appearances.
The Broncos are chasing the Bengals for a first-round bye; Denver needs a win to reclaim pole position for a potential No. 2 seed and the AFC West crown. A loss means the Chiefs win the AFC West with a win against the Raiders on Sunday. Cincinnati is hoping to stay in the race for the No. 1 seed, and can clinch a first-round bye by defeating the Broncos.
The stakes for these two teams are as high as possible for a regular-season game. What are the Broncos' keys to victory?
Perhaps the best team in the NFL this month is the first-half Broncos, who have outscored opponents 56-16 -- which translates to an average score of 37-11 per 60 minutes. They mounted four scoring drives in each of the last two first halves. They haven't allowed a pre-halftime touchdown since the win over the Patriots on Nov. 29.
But the Broncos are among the worst in the second half; by being shut out 36-0 in the second half, they have the second-worst per-60 minutes, second-half point differential in the league this month, trailing only the Indianapolis Colts, who have been gashed 85-6 after halftime this month.
"[We just have to] find a way to finish for 60 minutes. That's on us," said RB C.J. Anderson. "We don't want to blame anybody. We're just going to blame us and not going to blame the coaches. It's on us to make whatever happens and make it go. Focus for 60 minutes and I think that's the key."
A minus-12 points-per-second-half differential is obviously unsustainable. Per pro-football-reference.com, among the 515 teams to qualify for the postseason in the Super Bowl era, only one -- the 1986 Jets -- had a second-half point differential of worse than minus-9 points per game.
If the Broncos can't find a way to better harness their recent first-half form, they'll find themselves with a three-game losing streak.
In his last two weeks of work, McCarron is considerably less efficient under pressure; according to profootballfocus.com, his quarterback rating drops to 41.3 when he's pressured.
The Broncos have to continue trusting Pro Bowl cornerbacks Aqib Talib and Chris Harris Jr. -- and their solid No. 3 cornerback, Bradley Roby -- to take care of their assigned receivers in man-to-man coverage.
And if T.J. Ward and Darian Stewart return to action following their injuries, Denver can use them to supplement the pass rush from time to time, as well as handling coverage underneath and down the seam.
But ultimately pressure will be predicated on the Broncos' front seven forcing McCarron into throws under duress. If they can do that, they can set up some takeaways that could be the difference in the game.
Stay balanced on offense.**
The best way to defuse the pressure the Bengals can generate -- especially with only a four-man rush -- is by forcing them to monitor the ground game.
Although the Broncos' aerial attack was at its most efficient level this season in the first half at Pittsburgh last week, its ground game helped make that possible with a typical recipe of counters that was supplemented by a jet sweep to Emmanuel Sanders.
Denver's offense functions best with the viable threat of a run; without it, opposing pass rushers have controlled the proceedings.
Five of the biggest individual matchups between the Broncos and Bengals for Monday Night Football, starting with Malik Jackson and Andrew Whitworth.