CHICAGO --Brock Osweiler might feel right at home in his first career start.
Granted, he's never lived in Chicago. But his first NFL game of any kind was here in 2012, when the Broncos opened their preseason at Soldier Field. And the expected conditions -- temperatures in the 20s with winds of 10 to 15 miles per hour -- should suit a kid from Kalispell, Mont. just fine, thank you.
The tallest quarterback in Broncos history hopes to stand tall Sunday.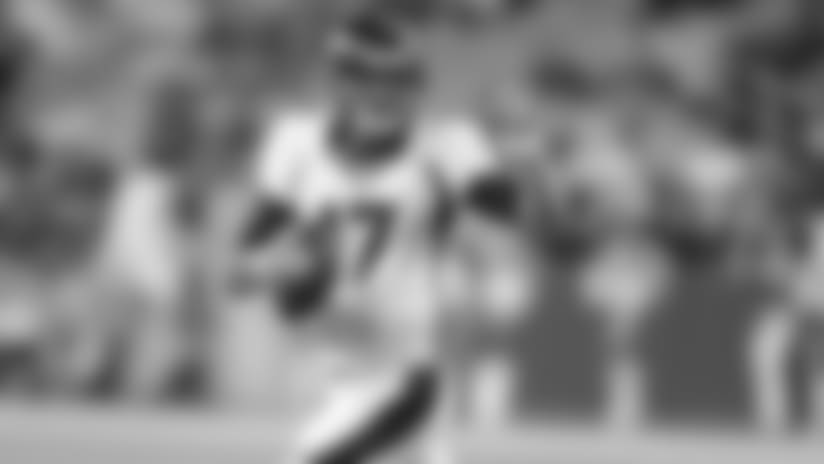 His teammates, one and all, believe he's prepared for the challenge of filling in for the injured Peyton Manning.
"Oh, he's ready. He looks good," ILB Brandon Marshall said. "Brock looks really good. I'm excited, and I think everybody else is excited to see him out there."
"He's the same. He's just like [Peyton Manning]," RB C.J. Anderson said. "He's going to command. He's going to keep us calm, let us know the situation. He does what a quarterback is supposed to do."
But what the Broncos want him to do most is simple: win. How can he make that happen?
1. Put Osweiler in position to succeed.
The advantage of having a week to prepare with the knowledge that Osweiler will be the quarterback is, of course, the ability to craft a game plan around his skill set, taking advantage of his mobility within and outside of the pocket.
But that game plan will not be simplified.
"I could go give him all of the work, mentally, that he needs," Head Coach Gary Kubiak said. "He handles everything well, but I think there is a point where you go back, you study him and you see what he's done and what he feels most comfortable with. As far as volume of game plan and stuff, I'm very comfortable doing anything with him."
It helps that he has a quality team around him.
Many quarterbacks who make their first career starts do so with rebuilding teams, or clubs playing out the string of a lost season. Osweiler doesn't have that. He takes over a team that has one of the league's best special-teams units and the league's No. 1 defense in yardage allowed on a per-game and per-play basis.
Further, he has three and a half years of developmental experience.
"I don't know if there's ever a good spot to throw a young guy in, but I will continue to go back to the fact that, to me, Brock has kind of been raised the way that you used to raise quarterbacks years ago," Kubiak said. "They get a couple of years behind a great player, they were developing and then they got thrown in there. Nowadays, guys get thrown in there very quickly through the draft and stuff like that.
"I think he's had his preparation and he knows that a lot of people are going with him. We have to do a good job for him as coaches."
Contain the Bears' RBs.**
What makes Matt Forte and Jeremy Langford even more dangerous that a typical ground duo is their work in the passing game.
Chicago can set up screen passes and other short passes to get them open outside. Last week, screen passes and swing passes were the Kryptonite to Denver's super defense, with Kansas City's two longest plays coming in that fashion.
The Bears could try to exploit the Broncos on screen passes to try and use their pressure -- particularly from the edges -- against them.
"We work on screens all the time, because teams know that we're aggressive, so we have to be on top of our game. It's just about rallying to the ball," ILB Brandon Marshall said.
"If [defenders] let them go free, turn and run to the screen, because it's going to be a screen play. That's all you can do."
Defending them then becomes about having the awareness to diagnose the screen as it develops and then hustling toward the ball. The hustle part, anyone can do; as Marshall noted, he's been taught to hustle on screen passes since his college days at the University of Nevada.
"It's an experience thing. [Derek] Wolfe did a [heck] of a job on a screen play last week," Marshall said. "A lot of guys -- it's definitely an experience thing. But it's a hustle thing, as well.
"Teams know we're going to blitz. They know we're going to do X, Y, and Z. So we have to be sound in the screen game."
Ride out the ups and downs.**
Jay Cutler, Alshon Jeffery and Martellus Bennett are going to make some plays from time to time. The diverse array of Bears weaponry ensures that Chicago will have some success.
The Bears have hung around with the Packers, Vikings and, before Cutler was injured, the Cardinals. Even if the Broncos play well, they're unlikely to pull away. Chicago's offense will make enough plays to guarantee that.
And there will be some hiccups in Osweiler's first start. Maybe a timeout will be used earlier than would be optimal. Perhaps there will be a false start. If he works under center more, maybe someone trips.
But the Broncos have been, for the most part, a resilient team. Last week was the first time this season that they didn't recover from a deficit; every other time they fell behind, they rallied to at least tie the score. Comebacks and persistence are in the team's DNA, and it won't change just because the man taking the snaps wears a different jersey number.
Sunday's matchup against the Bears features several star-studded matchups, starting with Brock Osweiler making his first start possibly facing OLB Pernell McPhee.