ENGLEWOOD, Colo. --Although Brandon Marshall and Danny Trevathan have practiced together as the Broncos' inside linebackers for nearly a month, they only shared 10 plays in the preseason.
Last year, they lined up together on just 43 snaps as Trevathan was limited to just three regular-season games because of three different injuries.
It's a bit hard to fathom that their on-field work has been so infrequent, because it seems so natural to see them as a tandem. They line up in juxtaposition as the inside linebackers, they rehabilitated from injuries together, they are the Broncos' two most recent leading tacklers and they communicate on the practice field with the innate connection of twins.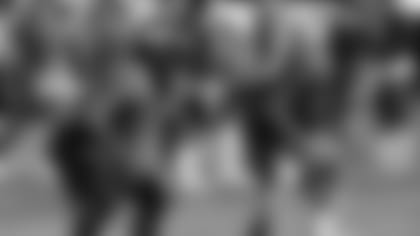 And now, they're ready for a full game together. But most importantly, they're ready to announce that they're healed and back after an offseason defined by hundreds of thousands of small steps toward the leap onto Sports Authority Field this Sunday.
"I definitely think so. I've been practicing every snap," Marshall said. "I've been doing a lot of things and a lot of conditioning, so I think I'm ready.
"As far as my foot, I think my foot is ready, as well. In a game, your adrenaline is going to be going. Your adrenaline is going to be up, so you're not going to feel a whole lot. But I think I'll be fine."
Added Trevathan: "I'm ready to go. It's one thing to say it, but it's another thing to be out there playing. Come game time, I'm going to let my play speak for itself. A lot of people can say whatever they want, but when I'm on that field, I'm going to try and play the best that I can."
In 2013, Trevathan ranked 11th among all outside linebackers in the rankings compiled by ProFootballFocus.com. Last year, Marshall ranked fourth.
Building off performances like those will be "a little tougher" because of the offseason spent rehabilitating, Marshall acknowledged. But he's off to a good start in accepting the new reality he faces playing on a surgically repaired foot with two screws in it.
"My foot -- it doesn't feel good. I'm just going to push through it, take care of it as best I can and try to just manage it, manage the pain," Marshall said. "They [doctors] said it usually doesn't feel really good until a year later. That's what the doctor told me. I'm just going to keep pushing through and I'll be just fine."
Soft-tissue work is now a part of Marshall's daily routine. He said he stays late at the UCHealth Training Center -- "I don't really like waking up that early," he said with a smile -- to receive the necessary treatment to expedite his long-term healing.
The soreness is something he accepts; he knew months ago that pain tolerance would be crucial to his performance this season.
"I'm just getting adjusted to it," he said. "It got better every day at first, but then it kind of just plateaued. I'm trying to just manage it, and make sure I can still do to keep it going."
Trevathan's injury and recovery are different. He consciously avoids being handcuffed by hesitation about the knee and the bones around it that succumbed to injury three times last year.
"I don't think about it. You can't think about it because it's there," he said. "You put in the work and treatment, so it's about you doing your business and not thinking about it.
"So it's there. You'll feel it when it's a little numb after you get a little stinger, but right now I'm not feeling anything. I'm just feeling good vibes and feeling like I'm ready to get back to playing football come Sunday."
And now, after well over 100 days of recovery, that moment is less than 100 hours away. The Broncos are about to find out — finally — what their two tackling machines can accomplish together.
"I'm excited," Marshall said. "I can't wait."