DENVER --A multitude of greats from Broncos history are gathering to celebrate their past, honor the latest addition to the franchise's elite club and, finally, watch the current edition of the Broncos try to maintain its undefeated status.
This weekend is everything that Pat Bowlen would want. It's everything he could have envisioned when he created the Ring of Fame and, as the years passed, when he nurtured Alumni Weekend into a gala event that tied the past with the present.
The rest of the NFL has caught on, with each team now designating one weekend as the "Homecoming." But the Broncos and Bowlen were ahead of the curve.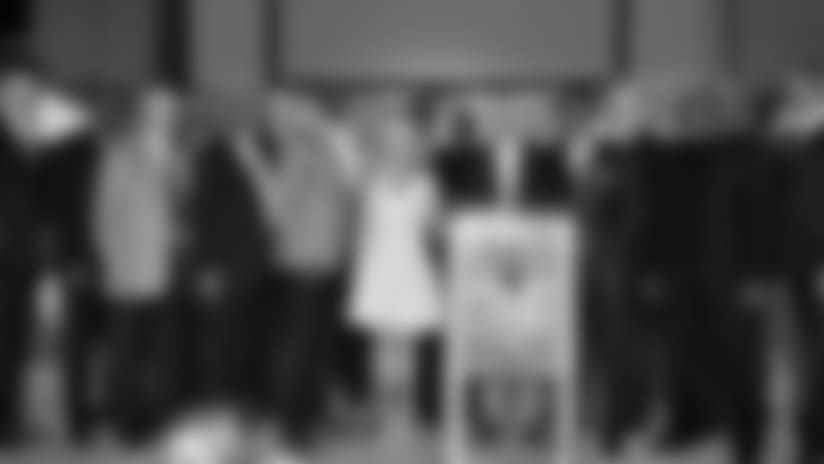 If normal, ideal processes of life had progressed, Bowlen would still be running the Broncos. But Alzheimer's disease forced him to step away from day-to-day administration in July 2014. He was not present Friday night, just as he could not attend the unveiling of his statue in Ring of Fame Plaza 12 months ago, and he is not expected to be at Sports Authority Field at Mile High on Sunday.
Bowlen's absence created a tinge of sadness around Friday's festivities. His presence is profoundly missed. But his spirit, humility and unwavering commitment to making the Broncos the NFL's best franchise abounded in ample quantities, as Broncos alumni from all regions of the country gathered to celebrate his induction into the Ring of Fame.
The memories flowed, starting from Bowlen's arrival in 1984. Back then, he made his first strong impression on a roster that featured many players who were about to get to know their third owner in four years.
"Pat was pretty demanding early on that this team was going to have great success and that his objective was to win Super Bowls," said ESPN analyst Tom Jackson, a Ring of Famer who played from 1973-86. "He didn't want to settle for, 'We're going to win the [AFC West] Championship,' or, 'We're going to win an AFC Championship.' He had his heart on winning Super Bowls. I think that he still actually does.
"That was a major difference because I think that the previous owners were really treading water with the organization to a certain extent. [They were] glad to have the organization in Denver, but I don't know that the thought was, 'We want to go out, we want to win the Super Bowl and I'm going to do whatever it takes to make that happen.'"
Jackson's head coach at the time was Dan Reeves, who was heading into his fourth season on the Denver sideline.
"Even though it was getting ready to change, Pat from day one said, 'I want to do whatever we need to do to win and be world champions,'" Reeves recalled. "Everything you asked for, Pat was willing to do."
In Bowlen's first season as owner, Reeves and Jackson helped guide the Broncos to a then-franchise record 13 wins. Two years later, they were back in the Super Bowl for the first of three visits in a four-year span. Immediately after the third of those appearances, the Broncos moved to their current home, now known as the UCHealth Training Center.
"We had as good of a facility as anybody, which really helped when you got into free agency. He was just so supportive of everybody and so thankful to be the owner of the Denver Broncos," Reeves said. "He loved the city. He loved the people here and the fans here. It was just a great deal to be here with Pat."
The commitment extended to when the Broncos left their home.
"We knew that we were going to stay in the best hotels and we were going to get the best meal prepared. He wanted to remove every hedge and every crutch that we could possibly have on why we weren't succeeding," said Shannon Sharpe, a tight end from 1990-99 and 2002-03 and a 2009 inductee into the Ring of Fame.
"If we didn't succeed on the football field, that was because we didn't get it done. It wasn't because we didn't have the best training, it wasn't because we didn't stay in the best hotels and it wasn't because we didn't have the best food. We knew that we had the best of everything and it was just up to us to go out there and perform. That's the thing that you appreciate most.
"He wasn't meddlesome. He stayed away. He let the guys that he hired to do the job do their job. At the end result, I'm so glad to be a part of the teams that were able to bring Super Bowls in '97 and '98 to the Broncos. Those are probably some of my greatest memories of Mr. B."
The loyalty these Broncos have to Bowlen is unshakable.
"I love that dude. That's my dude," said running back Terrell Davis, a 2007 Ring inductee. "I would run through a brick wall for that man. It's good to see that he's finally going. I know if he was here, he's not the type of guy that wants to take credit for it. He'll shy away from it, but he deserves this night."
Bowlen's teams didn't always win; none can. But by the time he stepped away in July 2014, his Broncos were back in the sport's upper echelon. The Broncos fell short in Super Bowl XLVIII, his last game before ceding the day-to-day reins to President/CEO Joe Ellis. But with an AFC title and three consecutive AFC West titles -- now four -- the franchise's luster had been restored.
"I think that's what he was about. That's what he wanted," said John Elway, a Ring inductee in 1999 who is now the team's executive vice president and general manager. "To be able to get his team back on top is what we've all been working for.
"I think that's how Pat was built. The money was secondary and the resources -- he was going to give everything he could to give us a chance to put the best football team on the field.
"To be able to do that, I think that he'd be more than thrilled."
The pillar honoring Owner Pat Bowlen in Ring of Fame Plaza was unveiled at a sunset ceremony Oct. 30.