ENGLEWOOD, Colo. --For the first time since 2007 and just the fourth time overall, two undefeated and untied teams with at least six wins apiece will meet.
Think about that for a moment. In the history of the NFL, a game like the duel of the 6-0 Broncos and 6-0 Green Bay Packers only happens once every 24 seasons, on average. Fifty-one years passed between the first two such games -- a 1922 clash between the 7-0 Akron Pros and the 6-0 Buffalo All-Americans and a 1973 duel between the 6-0 Vikings and Rams. It would be another 34 years until the second such game.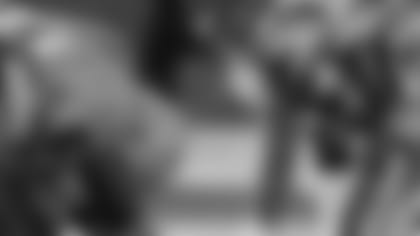 Remarkably, quarterback Peyton Manning has played in two of the games. He was on the losing side in 2007 when the 7-0 Colts fell to the 8-0 Patriots at the RCA Dome. But his redemption story -- both in this type of game, and as he attempts to shake off a rough six-week start to the season -- is only part of what makes this duel unusual, and potentially memorable.
"And to be on Sunday night, hey! Prime time. I'm going to enjoy it," said defensive end Antonio Smith. "I'm going to have some fun out there."
The atmosphere should be electric -- the kind in which the home fans can make a difference, especially given what Packers quarterback Aaron Rodgers does at the line of scrimmage to try and draw opponents offside.
If Denver's fans are loud enough, Rodgers won't have that tool in his drawer.
"The crowd is going to be our biggest ally this week," Smith said. "It's going to be -- I think -- just as important as any part of the game plan that we're going to put in, the amount of noise to generate on the field, to get him out of his snap counts and different things like that and get him to where his predictable, to where there's some type of silent cadence, where some dude head bobs or some dude taps his feet."
Similar critiques can be made of how the Broncos and Packers cobbled together their undefeated starts. Denver's opponents were a combined 13-26 heading into Monday Night Football; Green Bay's were 14-26. The Packers haven't faced a team with a winning record; the Broncos already have a win over one such team (4-2 Minnesota on Oct. 4).
The Packers have the resounding wins the Broncos have lacked; four of their six wins were by double-digit margins, and their plus-63 net point tally dwarfs the Broncos' plus-37, in which just one of their wins was by at least 10 points.
But the Packers have played four games at home; the Broncos just two. And the tight games on the road reveal the type of grit that title-worthy teams must possess.
"In the process of the year, of building yourself to be a Super Bowl-caliber team, you've got to face all types of adversity [and] all types of opposition," Smith said. "It can't be all easy for you.
"There's got to be some times where you get tried and tested, so that when you get later in the year, you get battle-tested, and you'll be able to fight and push through the last weeks of the season."
But this game is rare. It's a team led by Manning against one guided by Rodgers, for just the second time. It's an elite defense against a potent offense.
You know the cliches about this being one of 16. But this one is special.
"I call it the 'flashing lights.' It's when all eyes are on you," Smith said. "It's the good test that this team needs right now, too."