We hope you enjoyed your weekend! Here are five things you should know to start your week off right. 1. The Green Blaze saves Denver
Citizens of Denver can now sleep at night after seven-year old Broncos fan Jack aka the Green Blaze saved the city and thwarted Dr. Destruction's dastardly plans. The Green Blaze followed clues with assistance from his sidekick Miles the Mascot, the duo saved the Blaze's older sister along the way to taking down the villain. After encouragement from wide receiver Emmanuel Sanders, the Green Blaze defeated Dr. Destruction and saved the city.
After taking down Dr. Destruction, the Green Blaze rescued his hostages: Broncos' inside linebacker Danny Trevathan and outside linebacker Lerentee McCray. 
The Broncos partnered with the Make-A-Wish Foundation to help make Jack's superhero dreams come true.
2. Owen Daniels: Tight End/Weatherman
If you're going to present the weather – you might as well do it in style. That's probably what tight end Owen Daniels was thinking on Sunday when he made an appearance on The Weather Channel's WX Geeks in a pair of Nike "Weatherman" foamposites. Daniels' sneaks weren't only legit, but appropriate. Nicknamed "The Weatherman" in college, Daniels majored in atmospheric and oceanic sciences at the University of Wisconsin.
3. Ward hits diamond for celebrity softball game
In what was probably the most stacked lineup *ever, *safety T.J. Ward was among the chosen few to participate in Joe Haden's Celebrity Softball Game on Saturday.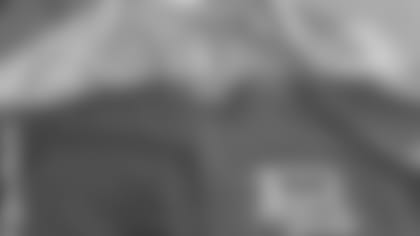 A member of Team Orange (naturally), Ward was joined by the 49ers' Colin Kaepernick and the Cardinals' Larry Fitzgerald, among others. 
Team Orange squared off against Team Black that was led by host Joe Haden of the Browns, the Seahawks' Richard Sherman, the Browns' Johnny Manziel and Deion Sanders, just to name a few.
Kicker Brandon McManus took his new puppy for a swim for the first time.