Good morning, #BroncosCountry!
We hope you enjoy this Father's Day weekend! Here are four buzz-worthy happenings surrounding the Broncos this week.
1. Chris Harris Jr. celebrates first Father's Day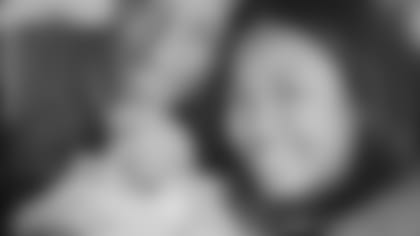 Aria Anatalya Harris was born on Oct. 25, 2014, just two days after Harris tallied an interception in San Diego, aiding the Broncos to a 35-21 divisional win.
The media caught up with the elated Harris Jr. following the game as he ran off the field with a smile.
"Chris — your night's just getting started, right?" asked a reporter.
"I got a baby coming right now!" he exclaimed.
2. Nathan Palmer's first meeting with QB Peyton Manning
Wide receiver Nathan Palmer threw-up a Throwback Thursday this week reminiscing on the time he first met quarterback Peyton Manning – wearing Red and Gold. 
Palmer signed with San Francisco as a college free agent from Northern Illinois.
"#Tbt Rookie year first time meeting Mr Manning face to face when I played in #TheBay! Now he yells at me everyday ✌️lol jk honored to be playing along side a legend!" wrote Palmer.
Sometimes, late-night Twitter is the best Twitter.
Exhibit A: @Broncos and @NFL had a classic GIF off late Thursday night after the league tweeted that despite Denver's transition this season, it remains a Super Bowl contender. Well, obviously we had to agree.
Check out the interaction below:
But really, what does love have to do with it?? Rookie safety Josh Furman posted an epic #TBT this week wearing a fancy Tina Turner wig.