What do you want to learn about the team from your visit to camp?**
I think it's always interesting to see the team chemistry this time of year as they start to build it. How are guys working well together? Where are different pieces of the puzzle fitting? You've got some good position battles to watch, certainly at quarterback and now with the running back situation and the offensive line. I think probably that's where the eyes will be on the offensive side. You kind of know what you're getting defensively. How's this team going to look and how much improved can they be offensively?
2. As a broadcaster, you'll be a part of the production meetings this fall. What do you like to learn about players and coaches in those meetings?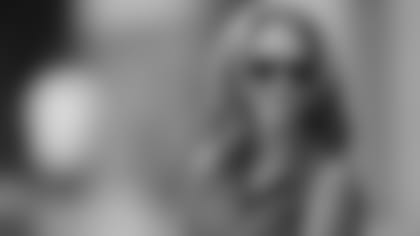 I usually let the analyst kind of take the lead role, and [I see] what's important to him and what is the interplay between the analyst and the coach and if it's a former coach, like a Rex Ryan, that is often really good because there's a built-in respect there and appreciation for the job. And you can get some really good stuff out of a coach and out of a player. They possibly may have even been together on teams before. So I like to just hear the nuts and bolts football, and then I also enjoy particular matchups, strengths and weaknesses and what coaches think are going to be some key spots on the field where they might have an advantage or really have to cover what could be a disadvantage.
3. Sports Illustrated reported that you text pretty regularly with Gayle Sierens, the last and only woman to call an NFL game. What have you learned about her and her experience from your conversations?
I've gotten to know Gayle over the years and we've talked a little bit about that game, because she was coached up a little bit by Marty Glickman, the legendary broadcaster out of New York who was, like myself, a Syracuse University grad. And so she had great stories about Marty and about learning the craft and developing your own style and your own voice, and she said the biggest thing was to try as best you can to make it any other game and to be yourself and to prepare the same way you prepare for any other game.
4. When you're watching a game, who are your favorite broadcasters to listen to, across sports?
I always revert back to the voices [that make me] think of my childhood. Certainly, growing up in the NFL with Pat Summerall and Tom Brookshire and some of the older guys. I loved Keith Jackson, [he] is a guy I loved listening to in college football. Vin Scully in baseball. Dick Stockton and Brent Musberger were voices of the NBA when I was younger. I often think of those guys, and I love going back. Sometimes they're on ESPN Classic and I listen to their old games just to see how they used to do things and to keep trying to get better at my craft.
5. When you're watching a game, do you find yourself paying attention to other broadcasters' inflections or other details of their speech?
Oh, absolutely. I always encourage people, if you ever get a chance to sit in a production truck while a broadcast is going on or come up and sit or stand in the back of the booth, you'll never watch sports the same way again. For all of us that are broadcasters, we always watch, not just the game, but with an eye toward the production of the game. 'Would we have talked about that right there?' or 'He made a great point right there.' 'Wow, that was a really good graphic.' Or 'You know, he cut with this camera instead of that camera and gave it a different look.' So we're always chopping up the broadcast as well as the game.
6. Since news broke that you'd be broadcasting this game, how much have people reached out to you? Do you get lots of letters or emails?
It's been really good support and a lot of encouragement. I've been fortunate over the years that I've had wonderful people around me that believed in me and knew that this is what I wanted to do and you hope over the years you prove yourself and you earn the respect of fans and your coworkers and your bosses and if you're fortunate, and opportunity like this comes up and I certainly want to make the most of it.