ENGLEWOOD, Colo. -- With so much talk surrounding Peyton Manning versus Ed Reed and company, and Joe Flacco versus Champ Bailey and company, it's easy to lose the third phase of the game in the shuffle.
But special teams could play an enormous role for both the Broncos and Ravens come Sunday's matchup.
Based on an average of 22 all-encompassing, special-teams categories, the Ravens rank No. 1 overall so far this season. Denver is just behind at No. 5.
"They're a good special teams squad," returner Trindon Holliday said. "We pride ourselves on special teams, too. So it's going to be a head-to-head battle. Just wait until Sunday to see how it all goes down."
For Baltimore, it starts with returner Jacoby Jones.
The former Houston Texan -- in his first year with the Ravens -- ranks first in the NFL in kickoff return touchdowns with two, and kickoff return average with 33.2 yards per attempt.
He's also 10th in the NFL, averaging 10.7 yards every time he returns a punt. He took one 63 yards for a touchdown in Week 11 to become just the fourth NFL player since 2008 to score a punt-return, kickoff-return and receiving touchdown in the same season.
Wide receiver Matthew Willis, who is tied for fourth on the team in special-teams stops, said the club is fully aware of the caliber of returner it will face on Sunday.
"He's fast and he's quick and he's just got a great feel for the returns, seeing a hole and just hitting it and taking advantage of what's there," Willis said. "That makes any returner deadly. Then you put his size in there, he's going to break tackles. He's a good returner."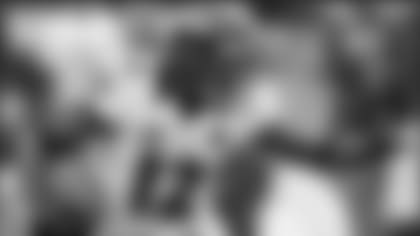 It will be up to the Broncos to make sure Jones doesn't break loose. In Week 14, the Washington Redskins seemed to make a concerted effort to kick away from Jones, but it proved costly on one occasion when a kickoff flew out of bounds, giving Baltimore the ball at the 40-yard line.
Kicker Matt Prater will look to continue his trend of booming the ball out of the back of the end zone. Prater has produced a league-high 55 touchbacks on 77 kickoffs this season. He led the NFL in touchback percentage last season.
Punter Britton Colquitt, meanwhile, ranks second in the league with a 42.8 net punting average, having allowed less than 5 yards per return against him.
But the Broncos have a threat at returner of their own -- another former Houston Texan in his first year with a new team.
Holliday is just the third player in franchise history to record a touchdown on a kickoff return and a punt return in the same season, and his 105-yard kickoff return touchdown against the Cincinnati Bengals represented the longest play in franchise history.
"He is a guy that we all knew had that juice," Ravens Head Coach John Harbaugh said. "Denver picked him up, and what a timely thing. He has had two touchdowns for them and he is pretty much an air breath away every time he touches it. That's a great move. I think their special teams are playing really well. They are one of the most highly ranked special teams in the league right now – top five. They are very solid, very sound. They have a bunch of blue-collar guys that really know what they're doing and they have a physical style. To me, that's been a big part of their success."
Baltimore gave up a 64-yard punt return in overtime against the Redskins in Week 14, which helped set up Washington's game-winning field goal. For that reason alone, the Ravens enter Sunday's matchup with added emphasis on bringing down the returner.
"Our guys are very, very proud of how they cover kicks," Ravens Assistant Head Coach/Special Teams Coordinator Jerry Rosburg said. "And it's something that stung everybody in that unit, and everybody saw what happened, and everybody takes it upon their own shoulders to make sure it doesn't happen again."
In addition to the returners, both teams sport kickers that can put points on the board in bunches, as well.
Ravens kicker Justin Tucker has connected on 24 field goals this season and ranks fifth in the league with 107 points scored. Prater has made 21 field goals this season and is tied for seventh in the league with 105 points scored.
"I think it's going to come down to the special teams to make a play this weekend," Holliday said.
"Especially a game like this where you're playing a great team offensively and defensively," Willis said, "special teams could be sort of that factor that people really don't pay attention to that could change the game."
Stuart Zaas contributed to this report.