ENGLEWOOD, Colo. --It says a lot about C.J. Anderson that the people who knew him best outside of Denver were the ones who pursued him when he became a restricted free agent: Miami and Chicago.
And then, in the end, the team that knew him best of all -- the one that signed him as an undrafted free agent in 2013 out of California -- stepped up to match the offer sheet from Adam Gase's Dolphins, keeping him with the Broncos on a four-year contract.
There were no hurt feelings over the initial right-of-first-refusal tender that the Broncos offered. Tuesday, he was all smiles.
"It's all business," he said. "I understand the running back market and how it works. That's just having a good team telling me what's going on. But I'm excited to be here.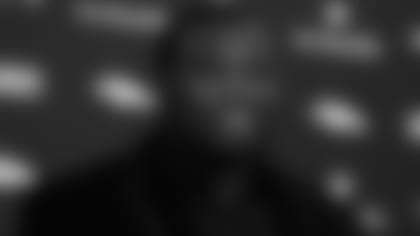 "[Three] years ago, this organization took a chance on an undrafted kid. I looked at them in the eye and told them, 'Hey, man, you're making the best decision.' They're still making a great decision, so I'm glad I get to continue my career here in blue and orange."
Anderson said he wasn't sure what to expect when Executive Vice President/General Manager John Elway called him Tuesday.
"He talked to me literally for four minutes, on and on. I'm sitting there going, 'All right, man, are we going to match, are we not going to match? What's going on?'
"He said some really good things about me that I appreciate a lot."
Anderson is in a unique place. After three seasons, he already has a significant individual accolade, making the Pro Bowl because of his breakthrough late in the 2014 season. Soon he will don a Super Bowl ring, the ultimate symbol of a team's accomplishment, and he had plenty to do with that, scoring half of the Broncos' four offensive touchdowns in the postseason.
With all that already accomplished, some might think that Anderson doesn't have the motivation for go for more.
The chip on the shoulder that was planted by seeing 23 running backs drafted in 2013 without having his name called remains firmly in place.
"People still think you can't do it," Anderson said. "[That] I can't be the bell-cow back, I can't stay healthy, I'm not going to be able to be productive in the system. There are still things going out there that still keep you motivated and hungry.
"And then the best motivation is that when I came in [three] years ago, I told Coach E [Running Backs Coach Eric Studesville] that I want to be the best to ever do it. I want to be the best running back to ever play the game. And to be up there with some of those guys that he's coached, and some of those guys that are in the Hall of Fame, you've got to go to work every day."
Those players didn't just run, of course. They led.
Elway made it clear that leadership and setting an example going forward is part of the job for Anderson. Others will be involved, too, but now he is one of the core players on the team.
If the Broncos are to return to the Super Bowl next February, Anderson will have to be a big reason why, not only with his running, but in using his experience to point the way.
"Coach E told me last year that's something that's just going to have to develop and roll into," he said. "Don't try to be a leader right away. So that's something I've got to learn.
"When I come back during OTAs, I'll start showing by example, and then vocally open up as the season goes, as you start feeling different, because you've got new teammates. So as you start feeling out things, you go from there."
He's watched teammates like Peyton Manning, Emmanuel Sanders and Demaryius Thomas step forward and lead. He'll keep studying Sanders and Thomas. But as time passes, he expects he'll step forward.
"I'll sit back and watch," he said, "and when the time presents itself for me to lead, I'll be ready for it."
C.J. Anderson returned to the UCHealth Training Center to sign his new four-year contract with the Broncos and to do the customary media tour. (Photos by Ben Swanson)