HOUSTON -- **Terrell Davis' long wait is over.
The Broncos' all-time leading rusher and the only player in NFL history to be league MVP, Super Bowl MVP and post a 2,000-yard season joined the sport's legends Saturday night when he was selected for induction to the Pro Football Hall of Fame.
"Terrell Davis has long been recognized as one of the greatest Broncos in team history," Broncos President & CEO Joe Ellis said. "With today's news, he takes his rightful place among the greatest players in NFL history in the Pro Football Hall of Fame.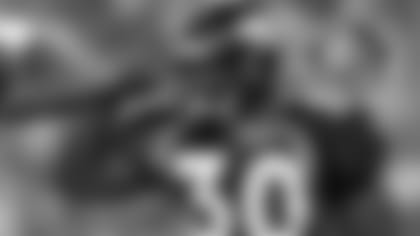 "Our entire organization is extremely proud of 'T.D.' becoming this franchise's fifth Hall of Famer. It's always been very important to our Owner, Pat Bowlen, to make sure the Broncos are well represented in the Hall of Fame, and Terrell was one of his favorite players."
While Davis was selected, Ring of Famer John Lynch and two-time Broncos Pro Bowler Brian Dawkins were not. The two safeties will remain the only Hall-eligible players with at least nine Pro Bowl nods and two first-team All-Pro selections who are not in the Hall of Fame.
Lynch, a four-time finalist, and Dawkins, a first-time finalist, were hoping to become the first pure safeties to have played since 1981 to join the Hall of Fame. That distinction now goes to Kenny Easley, a Seniors Subcomittee nominee who will be a part of the 2017 Hall of Fame class.
But for Davis, the selection rights a persistent wrong. Brilliance and longevity are not one and the same, and the Selection Committee's willingness to see beyond career length this year finally helped push Davis into the Hall.
Davis will become the fifth member of the Broncos Ring of Fame to join the Hall of Fame, where his bust will sit alongside those of John Elway, Gary Zimmerman, Shannon Sharpe and Floyd Little.
"Terrell's selection to the Pro Football Hall of Fame couldn't have happened to a better player or a better guy," Elway said. "He was an integral part of our championship run in the late '90s, and I am so happy for him to now join the all-time greats in Canton. It's a tremendous honor for 'T.D.' and one that is very much deserved. It's nice to see the players who have been so great for the Broncos get the recognition that is due to them."
His selection and induction this summer is the justified reward for a career that was cut short by injuries that began in Week 4 of the 1999 season, when he tore multiple ligaments in his knee while making a tackle on an interception in a loss to the New York Jets.
For the three-plus seasons up until that moment, Davis was not only the league's best running back -- but perhaps its best player, period. He racked up three consecutive All-Pro selections from 1996-98, a period that also saw him establish his reputation as the best postseason running back in NFL history.
Davis broke the 100-yard mark in seven consecutive postseason games during the Broncos' Super Bowl runs in the 1997 and 1998 seasons. No player in NFL history has more 100-yard rushing performances in the postseason than Davis. Emmitt Smith has just as many, but took 17 games to reach that mark; Davis did so in just eight contests.
The postseason work of Davis helped him average an astounding 101.7 rushing yards per game for his career, including the playoffs. Among all running backs with at least 6,000 rushing yards, only the legendary Jim Brown had more yardage per game.
Davis wasn't simply a playoff marvel, of course. He racked up 34 100-yard games in the regular season, and his career total of 41 makes him one of 23 players with at least 40 100-yard games in his career. But all of those other players needed at least 110 games to reach that milestone; Davis did it in just 86 games.
Now, Davis' amazing efficiency and spectacular play finally has its ultimate award: immortality in Canton, Ohio.
Check out the best photos of Terrell Davis, a 2017 finalist for selection into the Pro Football Hall of Fame.