ENGLEWOOD, Colo. -- Broncos Ring-of-Fame running back Terrell Davis watched plenty of coin tosses during his eight-year NFL career.
Thursday, he'll be the one delivering the coin before Denver's season opener against Baltimore.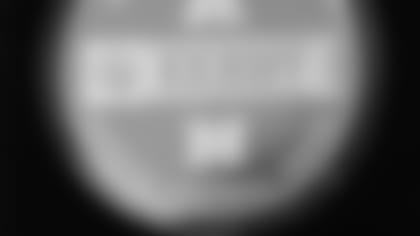 "For me it's always an honor to come back to Denver, a place where the memories are so deep," Davis said. "To come back and flip the coin to kick off the season – hopefully it's a start of a season that culminates in a championship for Denver. Not to get too far ahead of ourselves, but hopefully they can go ahead and take care of business that first game."
Being asked to flip the official game coin was an honor that Davis was quick to accept.
"For me, I'm always welcoming a chance to come back to Denver and be in front of the fans at Sports Authority Field and be a part of something that I think is going to be special this year," Davis said.
Davis was inducted into the Broncos Ring of Fame in 2007 after establishing himself as the team's all-time leading rusher in his eight seasons with the club. Originally a sixth-round pick out of the University of Georgia, Davis topped the 1,000-yard mark in each of his first four seasons, including the 1998 campaign in which he totaled 2,008 yards and earned league MVP honors.
As a player, Davis said he always looked forward to Week 1 after a long offseason – especially when that first game came at home.
"I always thought that the season opener at home was important for us just to start off the season on a good note," Davis said. "You've prepared in the offseason, you've gone through training camp and everything you've done has been geared toward that first game."
While Davis said the first game doesn't necessarily make or break a season, the result can set the tone for the rest of the year.
"Not to say that if you lose it your season is over, but it doesn't sit right when you put that kind of work in that all of a sudden it doesn't count," Davis said. "When I was there, I don't think we lost – I think we lost one game. I think when we won our second championship we lost at home for the season opener, but prior to that, I think we had won a few of those. For me it was always important to get off on the right foot and start off the season 1-0 and try to take some momentum into the second game."