Chris Harris Jr. is still adjusting to his new reality.
He's far removed from seasons at the University of Kansas where he rotated from cornerback to safety to nickel.
He's far removed from the 2011 draft where the do-it-all player went undrafted.
And at this point in his career, he's even far removed from a five-year contract extension he signed in December 2014. 
Gone are the days when opposing quarterbacks would look for him in coverage and fling a spiral in his direction. Harris no longer finds easy passes to intercept headed straight toward him.
But the day before the Broncos board a plane to Jacksonville, Chris Harris Jr. leans against a wall outside the team equipment room and admits it's "been hard" to adjust to the newfound respect — and lack of attention — that teams pay him.
"Teams have definitely adjusted how they played me," Harris says. "They take little short passes, so it's really hard for me to make those splash plays. You've got to pick and choose your battles. Pick and choose when it's your time to go jump something."
Teams have had good reason to stay away. Harris ranks as Pro Football Focus' top cornerback and was No. 52 on the NFL Top 100 list that aired this summer. The 27-year-old defender holds two Pro Bowl and second-team All-Pro selections to his name and now sits one interception away from his career high. 
While he's learning he'll face fewer opportunities to create big plays, that doesn't mean he hasn't found ways to still make an impact. A 75-yard pick-six against Oakland last season certainly qualifies.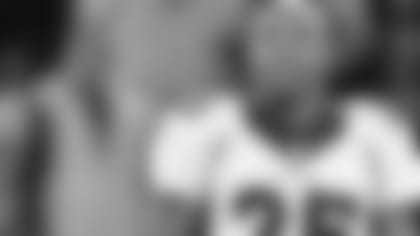 And then there was that Sunday in Jacksonville — where he didn't need to take a chance to wind up with a game-turning interception.
On second-and-5 from the Denver 37, Jacksonville's Blake Bortles unloaded on a deep throw down the left side that was intended for wide receiver Allen Robinson. The pass found Robinson, but the receiver failed to pull the ball in and it hung in the air for Harris. The Broncos cornerback bobbled the ball twice before he secured it and took off down the field.
The interception was the easier of Harris' two this season, but the first — a diving play against Carolina where Harris jumped in front of Kelvin Benjamin — serves as a better example of the situations in which he now finds himself. Though Harris said he continues to adjust to the newfound respect defenses lend him, he expects the opportunities to increase as the Broncos head into big games down the stretch.
Like most good corners, Harris seems to remember the plays he doesn't make more than the ones he does. Against Kansas City in November, Harris had a diving opportunity in the Broncos end zone to intercept Alex Smith and end the game.
The ball slipped through his fingers.
The play would've been an incredible display of athleticism — and one Harris expects himself to make.
"I beat myself up on those plays," Harris says. "Good thing I've got good family because they kind of get me over it fast, 'cause I'll kind of dwell on it for a couple days [about] why I didn't make those plays. It's just something that go back in the lab [to fix]. I've been working on that same play, picking that same ball off every day. [I'm] just trying to make sure my hands are ready and making sure I catch that the next time."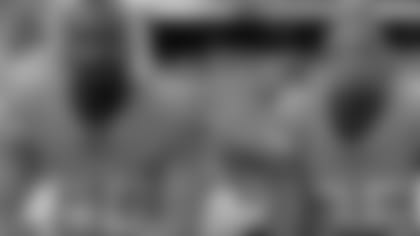 Defensive Coordinator Wade Phillips has seen that relentless preparation from Harris, both on the practice field and off. Phillips says the two-time Pro Bowler doesn't let his teammates catch the ball in practice or when they're simply "throwing it back and forth on the sideline."
"He's a shutdown corner," Phillips says. "You can put him on anybody and he's going to keep them from making plays. … He's a great competitor, he's a smart player — he's all the things you want."
But Harris wants more. In the offseason, he expects to spend time training by a pool where he can contort his body and practice diving for interceptions at a variety of angles. The way quarterbacks target him now, diving attempts are almost exclusively the only opportunities he finds to make splash plays.
Harris doesn't see many opportunities like that anymore — and certainly not to the extent that he did in his second-career start.
That game, a 2011 Monday Night Football showdown against the Chargers, put Harris on the map. The Broncos fought back from a 24-0 halftime deficit, and Harris recorded two key interceptions off Philip Rivers in the fourth quarter.
"I think that's when I realized I could play in this league and be a starter in this league," Harris says. "I always questioned myself my rookie year, but I didn't really know until I actually got a chance to start and be out there on the field."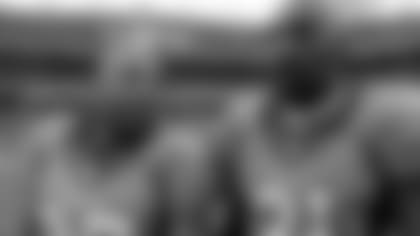 Aqib Talib, however, says he has long believed that Harris could find a place in the league. He says competitive spirit can determine if a player makes it to the NFL, and he's seen Harris' competitive
streak since the two were teammates on a 2007 Kansas team that went 12-1 and won the Orange Bowl. 
"He ain't changed much, but he knows football," Talib says. "That's how he's changed. His football IQ has skyrocketed. … When I had him when he was 18, when he was with me he was just out there [and was] the most-competitive guy in the world. That ain't changed, but now his football IQ is just totally different."
Talib was the star senior back then, and he would later be the first Kansas player to be drafted in the first round of the NFL in 15 years. Harris, meanwhile, found playing time as a true freshman as he started 10 games, ranked sixth on the team in tackles and notched three turnovers.
But Harris laughs as he thinks back to his freshman year in Lawrence, where he first met Talib seven years before they would be reunited in the NFL.
"He was always a big brother, I was just younger," Harris says. "Coming into the league now, I've grown and now he's still a big brother but it's kind of even now since I've been in the league so long. When I was in college, I was 18, a young pup."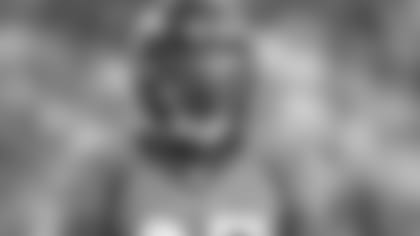 Harris' knowledge of the game has grown exponentially since that time. Talib, Darian Stewart and T.J. Ward all agree Harris is now like a coach on the field in the way that he notices formations, concepts and situational football.
Harris' ability to serve as an extension of the coaching staff is a luxury for Defensive Coordinator Wade Phillips, who says Harris recognizes a wide receiver's splits and "anything that they might give away."
"I just try to make it easier for everybody," Harris says. "Sometimes I can kind of tell them what's coming, and then I know for myself what's coming. I just try to always be the mental guy out there that sees what the offense is trying to do."
What the offenses have done in the past two seasons isn't too hard to determine. They're staying far away from Harris, who said there's little he wants to change about his game as the Broncos close out the season against the Chiefs and Raiders.
"I've been pretty much shutting everybody down," Harris says. "If I get those turnovers to finish the season and help make those game-changing plays, that'll help us win a lot more."
At this stage in his career, Harris knows those opportunities won't just be handed to him.
So he's ready to go take them.