SANTA CLARA, Calif. --"The best five will play."
No five words better sum up the plan for the composition of the Broncos' offensive line than those words, some combination of which Head Coach Vance Joseph and Offensive Coordinator Mike McCoy have repeated throughout the offseason and training camp.
Although Garett Bolles has received the lion's share of the first-team repetitions at left tackle this week, the competition at left guard has intensified with recent acquisition Allen Barbre splitting first-team work with 2016 starter Max Garcia.
Free-agent pickup Ron Leary has been what the Broncos expected him to be, even though he's not at the spot they initially signed him to handle. But he's handled the shift from left guard to right guard with professionalism.
Reserve guard Billy Turner filled in for Leary when he missed time because of a groin injury and delivered some impressive work, showing strength and power, particularly in the run game.
"We've got four or five guys at the guard spot working to be a starter," Joseph said.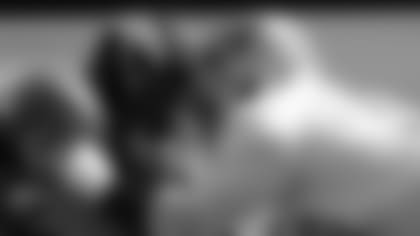 1. McGOVERN'S FLEXIBILITY PUTS HIM IN GUARD MIX
The competition at guard includes Connor McGovern. Most of his work this summer has been at center, since he filled in for Matt Paradis, who has been brought back slowly from two hip surgeries and will not make his preseason game debut until Aug. 26 against Green Bay.
"He's been really impressive playing center for us, directing our offense as far as protections and those things, and then moving to left or right guard and playing well at both spots," Joseph said.
"That's been a real shot for us -- playing well at two positions, especially at guard," Joseph said. "That was a surprise for us."
Given McGovern's background at right guard and Leary's success at left guard with the Cowboys, that spurs an inevitable question -- is it possible that McGovern could work at right guard, shifting Leary back to the left side?
"Very possible," Joseph said. "We're going to play the best five guys, and that's the goal. That's why we're working different guys at certain spots. We want the best five for our football team."
JOSEPH: OFFENSIVE PROGRESS NOT HINDERED BY QB COMPETITION**
Joseph believes that the division to split first-team repetitions between quarterbacks Trevor Siemian and Paxton Lynch has "absolutely not" slowed the development of the offense.
"I've said this over and over again: With the two quarterbacks competing, the wide receivers and running backs and offensive line -- those guys' job doesn't change," Joseph said. "They're blocking their guys, they're running the right routes. So that doesn't change.
"Obviously the QB talk is a big deal, but outside of that, guys doing their job, that's part of it."
And while some saw struggles from the quarterback position Wednesday against the 49ers and in the preseason opener last week in Chicago, Joseph saw something different.
"Struggles? I didn't see struggles. I saw a football practice. It was up and down in practice, but I didn't see struggles," Joseph said. "Speaking of last Thursday, outside of third downs and penalties, it was a pretty good performance."
TAYLOR MAKING A BUSHEL OF CATCHES -- AGAIN**
In what seems to be a training-camp tradition, wide receiver Jordan Taylor continues to make one catch after another. Wednesday, that tally included a leaping red-zone touchdown grab from Siemian on a fade route in the back left corner of the end zone.
In his third training camp, the variety of routes Taylor can effectively run and the types of catches he makes has expanded. Although he remains effective on deep routes, he has also become a reliable target on short slants and intermediate routes.
"He is a crisp route-runner," Joseph said. "He has great ball skills. He's a big target and he's a very, very smart player."
He's also been a special-teams contributor, which goes under the radar and will help determine who ends up providing depth behind Demaryius Thomas and Emmanuel Sanders. In that phase, Taylor has a solid resume, playing 188 snaps last year in a variety of roles.
But it's Taylor's catches that have been -- and remain -- his calling card.
"What he's doing now, I'm not surprised by," Joseph said. "That's what he's been his entire career."
The first day of the Broncos' joint practices with the 49ers was a success, as each side drove the other to hone their skills. (photos by Gabriel Christus, unless noted)