ENGLEWOOD, Colo. --- **The calendar said May 23. The chill in the air and the urgency with which the Broncos practiced made it feel like November as they got their first taste of offense-vs.-defense work for 2017.
What stood out from Tuesday's work?
TUESDAY'S WORK ONE TO GROW ON FOR THE QBs
"Decision-making, accuracy, command of the huddle, consistency -- that's always key with quarterback play," Head Coach Vance Joseph said just after Tuesday's OTA concluded. "So far, so good. It's the first day. Both guys were engaged. So it was a good day."
Trevor Siemian, who started 14 games last year, was up first. He looked comfortable running Offensive Coordinator Mike McCoy's new scheme. After a botched center-quarterback exchange on the first play of the initial team period, Siemian completed his first pass of the day, finding Demaryius Thomas on a short pass across the middle, and he continued from there. Siemian's next pass, in a seven-on-seven period, saw him thread the needle on a pass to tight end Jeff Heuerman that beat two defenders.
At one point, Siemian completed six consecutive passes as he found a groove, showing steadiness while making good decisions. Siemian's passes had plenty of zip, including one during a team period to Emmanuel Sanders.
Paxton Lynch was up second. He settled down after struggling early. His first pass during the initial team period was nearly intercepted by safety Justin Simmons. Lynch completed his next pass but then struggled during the subsequent seven-on-seven period, as he followed a completion to Virgil Green with an errant pass that was intercepted by a diving Brandon Marshall.
But during a later seven-on-seven period, Lynch completed all four of his passes with the assistance of wide receiver Jordan Taylor, who went low to snag a pass just above the grass.
In the final team period, Lynch rebounded after misfiring on an attempt to Marlon Brown with perhaps his best pass of the day -- a downfield strike to tight end Steven Scheu that saw him place the ball perfectly past two defenders. It was the kind of pass Lynch didn't often make last year, and served as a sign of his progress.
"I felt very comfortable. I was confident in my reads and my throws," Lynch said. "That is one thing I feel is a big difference in this year. When I let the ball go, I'm a lot more comfortable with where I'm going with it compared to last year."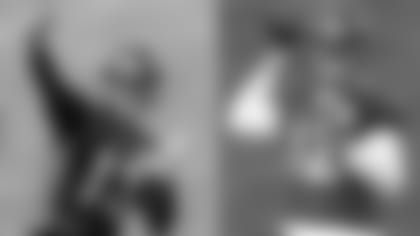 LYNCH WILL TAKE INITIAL FIRST-TEAM REPETITIONS WEDNESDAY
That is part of Joseph's plan for the next three weeks. He plans to alternate first-team days for Siemian and Lynch, with Lynch working with the No. 1 offense Wednesday, Siemian on Thursday and so on.
"It's going to be day by day," Joseph said. "Today it was Trevor's day to work with the first unit; [Wednesday] it will be Paxton." Each quarterback will get five days during the 10 days of OTAs to run the No. 1 offense in team periods, Joseph added.
Lynch did see some work with the first-team wide receivers, tight ends and running backs during the seven-on-seven periods Tuesday.
"I think [Joseph] has done a good job of letting us known when you are going to get your reps with the ones and who is going first or second with the ones," Lynch said.
STEPHENSON UP FIRST AT LEFT TACKLE**
Donald Stephenson was the first-team left tackle for Tuesday's work, with first-round pick Garett Bolles working behind him. Joseph said he was "not sure" whether he would have the left tackles alternate like the quarterbacks.
"I'm not sure. It's a different deal there. Obviously we drafted Bolles in the first round, but he's got to earn his place," Joseph said. "Stephenson's been here every day, between Phase 1 and Phase 2 [of offseason work]. He's a veteran player. He played for us last year.
"So as far as the starter right now, it's Stephenson with Bolles, and we're also working in Ty Sambrailo there. So it's three guys working the left tackle position."
Sambrailo didn't work at left tackle Tuesday, but still "has a chance" to earn that job, Joseph said.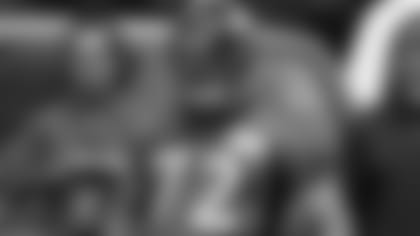 BOLLES MUST WORK HIS WAY UP
It was no surprise that Bolles opened OTAs on the second unit, especially in light of how Joseph's previous team, the Dolphins, got 2016 first-round pick Laremy Tunsil ready last year.
Last year in Miami, Tunsil saw second-team work until training camp, when he moved up to the first team. He remained there for the rest of the season with the exception of two games he missed because of injuries.
Tunsil had to work for his place in Miami's lineup. The same will be true for Bolles and all of the rookies on the roster.
"[Bolles] is a rookie that has to earn his way," Joseph said. "That starts with the classroom, obviously, knowing what to do, and transferring from the classroom to the field."
BUTT STEPS INTO THE HUDDLE
Even though fifth-round pick Jake Butt will not practice until training camp, the tight end will be on hand for OTAs taking mental repetitions. Tuesday, he took that a step further by repeatedly standing in the huddle with the first-, second- and third-team offenses to hear the calls before each play.
"It helps a lot, because for a rookie in this league, knowing what to do is half the battle," Joseph said. "So once he's healthy and getting full, live reps, it's going to obviously pay dividends that he's heard these plays over and over the entire offseason.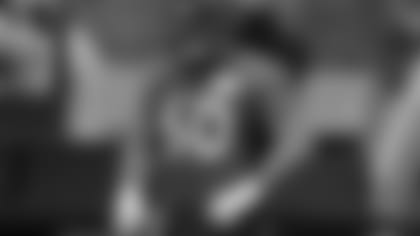 McGOVERN WORKS IN PLACE OF PARADIS
With Matt Paradis out until training camp, Connor McGovern handled all the first-team snaps Tuesday as the Broncos look to see whether the versatile second-year veteran can handle the workload in the middle.
"Just to show that he can play and make the calls," Joseph said when asked what he wanted to see from McGovern. "As a center in this league, [there] is more to snapping the ball than blocking your guy, it's identifying the 'mike' linebacker, it's pass protections, it's making the line calls.
"If he shows he can play, it helps our football team with Matt recovering from his hip injuries."
Joining Butt and Paradis among the players present but not in helmets were WR Kalif Raymond, QB Chad Kelly and RB Jamaal Charles. Charles, Paradis, Butt and Kelly are "on the same plan," Joseph said, with all expected to be at full participation during training camp.
"Those guys have to get healthy before they can help us," Joseph said. "So working those guys in OTAs doesn't make any sense if they can't help us from a health standpoint."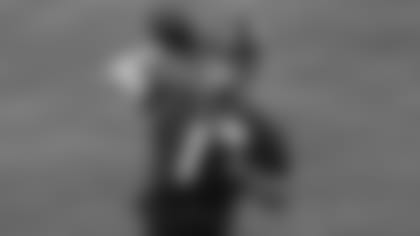 ... Running backs De'Angelo Henderson and Bernard Pierce were particularly effective on cutback runs, with each ripping off solid gains on cutbacks near the end of practice.
... Henderson, in particular, used his 5-foot-7 frame to his advantage, getting low to break through a hole. Impressively, he didn't lose any momentum in his stride as he got low, displaying the balance that allowed him to become one of the nation's most productive college runners at Coastal Carolina.
... Linebacker Zaire Anderson showed good awareness to defuse a pass to fullback Andy Janovich in the left flat, arriving for what would have been a stop for a minimal gain under game conditions.
... Cornerback Aqib Talib was in midseason form, perfectly reading a potential Siemian pass to Taylor late in practice to force an incompletion.
... Rookie quarterback Kyle Sloter also showed some flashes, opening his day with a completion to Carlos Henderson in front of Taurean Nixon. He also showed nice touch on a perfectly-placed pass to tight end Henry Krieger-Coble during a team period. Sloter found his form later in practice, at one point completing nine consecutive passes during team and seven-on-seven periods.
The Broncos are back! The team returned to UCHealth Training Center for the beginning of offseason team activities. (photos by Gabriel Christus)