ENGLEWOOD, Colo. --Before heading to downtown Denver for the Broncos' first world-championship victory parade in 17 years, Executive Vice President/General Manager John Elway and Head Coach Gary Kubiak answered questions at their end-of-season press conference.
A few takeaways from the event: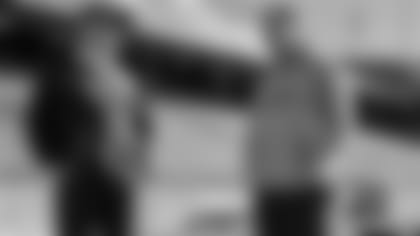 1. Peyton Manning's future is "basically going to be up to him."
Elway said he will not rush a decision from his starting quarterback on his future.
"The key thing is for him to want to come back," Elway said. "I think the important thing is it's going to be his decision, [until] when we get a chance to sit down and talk to him. That's why it's up to Peyton to see that process, where he is in his career, what he thinks he can do, how he can play, what he wants to do from here on out.
"In talking about retirement, it's hard. You can butt up to that line, but crossing that line and taking that final step and saying, 'I am moving on,' even if it's easy to get there, to that first 99 percent, that last one percent is as hard as that first 99 percent.
"That's why he's going to have the time he needs, and it's basically going to be up to him."
2. "Tough decisions" looming.
Throughout the press conference, Elway emphasized that keeping the team -- and particularly the defense -- together was a goal, but with a lengthy unrestricted free-agent class that includes six players who started Sunday, plus restricted free agents Brandon Marshall and C.J. Anderson and exclusive-rights free agent Matt Paradis, there's a lot of work to do.
"Any time you have a world championship team, you've got tough decisions, but we'd much rather have the tough decisions than the easy decisions," Elway said. "We've got the tough decisions [because] we've got a lot of great football players, so trying to keep this puzzle together is the challenge.
"It's going to be hard, but we look forward to it and think we can get it done."
Elway said he will use the strength of the organization as a selling point to try and keep the team together.
"The great thing that we have is the organization -- Gary and the group of coaches that we have -- it makes it easier for us to kind of explain our side of the equation, and where we're coming from and why," Elway said.
3. Elway still shooting for a long-term deal with Von Miller.
The hope of re-signing the Super Bowl 50 MVP and first-team All-Pro remains intact, although the Broncos may have to use the franchise tag to start the process.
"The goal is always to get a long-term deal, but again that goes back into the same old process of trying to include everybody in what we're looking at," Elway said.
Every player to whom Elway has previously given the franchise tag has eventually signed a long-term contract to stay with the Broncos.
There's little time to rest.**
Although Elway, Kubiak and the staff plan to take some time to enjoy the moment, Elway said that the and the personnel department have already begun their free-agent evaluations and draft preparations with the Scouting Combine looming in two weeks.
Elway and Player Personnel Director Matt Russell were all at the East-West Shrine Game and Senior Bowl practices in January, with the college scouts fanning out to cover all all-star game practices during the month.
"When you go this deep into the playoffs, you've got to start moving on to next year," Elway said. "We're into that process and we'll continue to do that."
5. Keeping the defense together is a priority.
The first step was re-signing Derek Wolfe last month, but now Elway said he will next turn to trying to retain Danny Trevathan and Malik Jackson.
"That's something we'll start trying to work on right away," he said.
6. The Pittsburgh loss was a key turning point.
Like most Super Bowl winners in the last decade, the Broncos dropped two games in December. After blowing a 17-point second-quarter lead in Pittsburgh to fall to 10-4, the Broncos never lost again, and came from behind three times in their five-game winning streak to claim the Lombardi Trophy.
"I just remember talking to the players after the game, and my message after the game was about being all-in, all the time," Kubiak said. "You can't be in just some of the time.
"Now, we were a good football team. We were in position to have a chance to be a good playoff team, but, yeah, it was time to step and do it or not.
"Like John said to me many times, we could have not been in the playoffs. We could have been the sixth seed. We could have been a one seed."
And thanks to tough wins to close the regular-season over Cincinnati and San Diego and the Patriots' Week 17 loss at Miami, the Broncos remained at home throughout the postseason -- and that made all the difference.
"We responded after those two losses," Kubiak said. "That's what the NFL is all about. You find out what you're made of along the way. We were very, very tough to deal with late. We played very tough as a football team.
They didn't get here without young players.**
Although the stars of Sunday were established veterans like Emmanuel Sanders, DeMarcus Ware, T.J. Ward, Chris Harris Jr., and, of course, Super Bowl MVP Miller, the Broncos wouldn't have landed on North American sport's biggest stage without the emergence of young players such as Matt Paradis, Max Garcia, Brock Osweiler, Shaquil Barrett and others who at various points not only stepped in, but were reasons why the Broncos kept winning.
That young core represents a key part of the Broncos' hopes and plans to keep sustaining a winner.
"They were extremely important," said Kubiak. "What I've been doing ever since I walked in the door this morning is really evaluating players, trying to come up with an assessment of what took place this past year.
"But one of the great things that did take place is all of our young players became contributors. These guys that you just mentioned, they've all got a lot of games under their belt. When we come back and go to work, they're going to be very seasoned.
"Not many guys go through the playoff run that we went through, playing a Super Bowl. Our young guys got so much better, and it should just make us more competitive as a team every day we hit the practice field."