ENGLEWOOD, Colo. --Notes from the Broncos' second day of mandatory minicamp ...
For the third consecutive week, Head Coach Gary Kubiak used the Wednesday practice to give some proven contributors a chance to rest while giving younger players a longer look.
CB Chris Harris Jr., safeties Darian Stewart and T.J. Ward, DE Derek Wolfe and WRs Demaryius Thomas and Emmanuel Sanders all received breathers after taking part in Tuesday's session.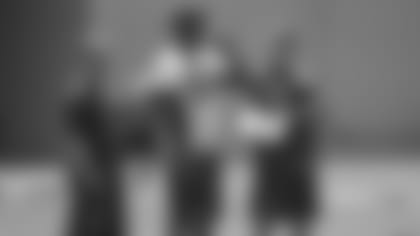 Outside linebacker DeMarcus Ware continued to watch from the sideline, and the Broncos will remain cautious with him as he recovers from the back problem that flared up the last two weeks. However, he remains unlikely to practice; Kubiak does not believe it's worth the risk.
"I don't think it makes much sense. What do we have here? Four days or something like that to really do that," Kubiak said. "We'll get the entire summer to make sure he's feeling good before we get back out there."
2. THE COMPETITION TO BE THE NO. 3 RECEIVER.
With Thomas and Sanders watching from the sideline, Jordan Norwood, Cody Latimer, Bennie Fowler and Jordan Taylor all had the chance to make impressions as they bid to become the third wide receiver.
"It's awesome for them just to get in there and operate and have a chance to work with everybody," Offensive Coordinator Rick Dennison said. "The reps are the biggest thing. Just getting out there and running full-speed, that's the biggest thing for those guys.
"The more they can get, the better they can be."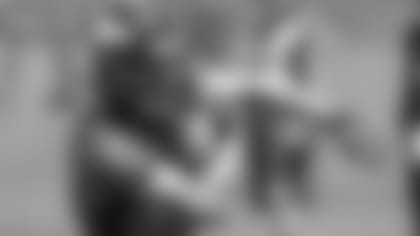 Taylor got involved early with a reception from Mark Sanchez on the second play of the first seven-on-seven period. His route-running was sharp, and led to a handful of receptions in which his cuts created separation from the cornerbacks.
Latimer also did a good job working free for catches on out routes near the sideline, and Fowler and Norwood also had receptions for solid gains during the practice.
3. SAMBRAILO WORKS HIS WAY BACK.
If you were at practice the last two days and blinked, then you might have missed Ty Sambrailo's first work at right guard. The 2015 second-round pick would rotate in for a snap with the first team, then return to the sideline as he completes his recovery from the torn labrum he suffered last September.
"He looked very rusty yesterday; he'd be the first one to tell you that, but we expected that," Kubiak said.
It will take some time for Sambrailo to get up to speed at his new spot, but he showed progress, particularly on one run for C.J. Anderson, when Sambrailo pulled to the right, allowing Anderson to cut inside of him and take off for a solid gain. Sambrailo also showed quickness getting into position in pass protection against Jared Crick on a subsequent snap.
The next step will be for Sambrailo to increase his repetitions, and then to eventually get Russell Okung onto the field at left tackle for team periods.
"I think we made some good progress up front," Kubiak said.
GARCIA GETS COMFORTABLE AT LEFT GUARD.**
After shuffling back and forth between right and left guard last year, Max Garcia has settled in on the left side, which has given him a chance to find stability.
"Being in one spot will help him," Offensive Coordinator Rick Dennison said. "The experience he got through the year in games really has helped him. I think he's just settled in. He's one of those guys that you don't notice because he's doing his job."
5. PUNTING COMPETITION TAKING SHAPE.
The competition between incumbent Britton Colquitt and seventh-round pick Riley Dixon should be one of the most fascinating of the summer. They split repetitions during the special-teams period midway through Wednesday's practice.
Each blasted one punt with a hang time of greater than five seconds; Colquitt uncorked a punt that stayed in the air for 5.02 seconds, while Dixon had one blast that consumed 5.09 seconds. Colquitt was more consistent; each of his five punts had a hang time of at least 4.60 seconds. But on Dixon's final punt, he turned in a 4.86-second hang time on a kick that he placed near the left sideline, well outside the numbers.
FRONT SEVEN ON THE ATTACK.**
Vance Walker's Twitter handle is "SwaggerVance99," and he lived up to that name in his work Wednesday, bursting into the backfield on repeated occasions to defuse run plays as they developed. He also had what would have likely been a sack with an inside rush.
Nose tackle Darius Kilgo also forced an incompletion from Siemian when he didn't bite on a playfake, continuing to pursue Siemian to force an errant throw.
Rookie defensive end Shaneil Jenkins has shown some speed in the pass rush in previous days, but also demonstrated it against the run, using an inside move to explode into the backfield and close on Kapri Bibbs.
Shaquil Barrett also continued to shine. Early in the team period, he sprinted past Michael Schofield to get to Sanchez for what would have been a sack in game conditions.
7. TALIB BACK AND BEING EVALUATED.
Upon returning to the UCHealth Training Center on Wednesday for the first time since suffering a gunshot wound, cornerback Aqib Talib was evaluated by team medical personnel and was not at practice.
"We sent him to our doctors today, and then they will meet sometime this afternoon and try to gather a plan and see where we're at and where we'll go," Kubiak said.
Because he is injured, he will have to stay back in Denver when OTAs end for rehabilitation work as he recovers.
With former Broncos WR Rod Smith in attendance, Denver put their White House trip in the rearview mirror quickly with the beginning of minicamp. (photos by Eric Bakke unless otherwise noted)