ENGLEWOOD, Colo. --Colorado weather is capricious in the spring.
When the Broncos began their on-field work Friday morning, the temperature was a balmy 78 degrees. Twenty-four hours later, it was a blustery 50 and dropping, with north winds and a chilly drizzle buffeting the UCHealth Training Center.
"Another beautiful day in Colorado," Defensive Coordinator Wade Phillips said as he entered the media room. "I'm still thawing out; hang on here for a second."
It didn't take Phillips long to get warmed up. And he had plenty to share Saturday as he, his fellow coordinators and four of the Broncos' eight draft picks met with the media.
Although the 298-pound defensive lineman had to make the leap from a club team outside of Melbourne, Australia to Georgia Tech, he was starting for the Yellow Jackets by his freshman season. That quick progress -- as well as his draft status -- leads Phillips to believe that Gotsis might be ready for a first-team role as a rookie.
"I think he's just like any fairly high-round pick: You expect him to come in and help you this year," Phillips said.
One key reason for that is the manner in which Gotsis adjusted to American football. Phillips and the Broncos have scouted many prospects from outside of the United States and Canada, but not many have adjusted like Gotsis.
"Sometimes, with foreign players that we've seen, sometimes they really look great and they can run fast and they're big and strong, but it doesn't carry over to American football," Phillips said. "This kid has very good instincts, he finds the ball really well, he's a brute on the field, he's very physical, and he's adapted to American-style football really well."
Gotsis' ACL injury will hold him back from full-speed work until August. As Tom Petty once said, "The waiting is the hardest part."
"It's tough," Gotsis said. "You're sitting in there in meetings, you're watching, you're learning and you're going through plays and picking up the playbook, and then you go out there and you just want to walk through or rep it out with the team, but you can't."
"You just have to take the mental reps. Really you just have to visualize yourself being out there in the position of the guys that are out there. That's all I'm doing at the moment. I feel like I've got a pretty good hold of things so far. It's going to be exciting to see when I can be out there and how I pick it up."
The fourth-round running back is still only at about 90 percent, and isn't expected to receive full practice clearance until June as he completes recovery from a torn meniscus.
But he was able to work in some individual running-back drills Saturday, and cut well in both directions as he took handoffs from his position coach, Eric Studesville.
The only worry Saturday was about Booker doing too much.
"I kind of picked up on everything fast. They just wanted me to slow down," he said. "I only know how to practice fast.
"I think they needed like a leash or something for me to put on me just to hold me back. I felt good out there. I was just ready to continue to work."
Just having a fullback like the former Nebraska standout and sixth-round pick will create some more flexibility for the offense, Offensive Coordinator Rick Dennison noted.
"There is a whole set of plays that we can run with two backs that we didn't run very much of last years," Dennison said. "That just opens it up and gives us a little bit more for the defense to have to worry about.
"One extra blocker in there allows us to block another guy closer to the line of scrimmage. So eight-man boxes, we're able to deal with that. Plus, if we do that well then that will get them up in there and we can throw it over their heads."
Janovich wasn't just drafted for his fullback work; he is an outstanding special teamer who played on multiple units during his seasons as a Cornhusker.
"He's a core special-teamer," Special Teams Coordinator Joe DeCamillis said. "A lot of times when you're evaluating guys in college, you don't see them play in the kicking game unless it was their freshman year, part of their sophomore year or whatever. This guy did it all four years and was effective all four years.
"Out of all the guys we got, I was definitely nervous when he went past a certain round because I definitely wanted to see him there. He's a great addition for us. I think he's going to be a heck of a player for us."
And he has the willingness to continue his special-teams role in Denver.
"I'm going to go out there and give it my all," Janovich said. "I would like to be a core special-teams player and get out there and be on all of them. You have to take the field every day with the mentality that you're going to beat the guy in front of you."
How can the defense possibly improve?**
"Besides coaching?" Phillips deadpanned.
There isn't much. But there was one particular area in which his defense improved in the postseason: third downs.
In the regular season, Denver ranked seventh in the league, allowing opponents to convert 35.2 percent of their third-down attempts. That was good, but it paled in comparison with their league-leading status in other key metrics -- yardage allowed per game and per play, rushing yardage per attempt and passing yardage per game and per play.
But in the postseason, the Broncos allowed the Steelers, Patriots and Panthers to convert just 16.7 percent of their third-down attempts.
"We played well on third down throughout the year -- we were one of the top 10 -- but in the playoffs, it was 16 percent," Phillips said. "If we can up our level on third downs -- not that we're going to have 16 percent -- but we played tremendously well in the playoffs.
"That's an area we're going to try to emulate as much as we can going into this year."
Two undrafted rookies will be in the mix on kickoff and punt returns.**
DeCamillis identified two wide receivers -- Holy Cross product Kalif Raymond and Oregon standout Bralon Addison -- as possibilities on returns, where they will step into a scrum that sees Super Bowl punt-return-record-holder Jordan Norwood as the primary holdover following the departure of Omar Bolden and the decision not to re-sign Andre Caldwell.
Raymond, a Holy Cross product who ran the 100-meter dash and the 4x100 relay in college, has extensive return experience, averaging 22.6 yards on 80 career kickoff returns and 7.5 yards on 62 career punt returns at Holy Cross. His best season was last year, when he averaged 10.0 yards on 21 punt returns and 23.9 yards on 14 kickoff returns, scoring once each way.
"He's a smaller guy, but he's got great speed, and we think he's got a chance to compete in there," DeCamillis said.
Addison had just 12 career kickoff returns at Oregon for 217 yards, good for a modest 18.3-yard average, but was an effective punt returner, averaging 11.9 yards and scoring three times on just 38 returns.
"He's probably not as fast as Khalif, but he's got a real good chance, too," DeCamillis said.
There were two punt periods in the last two days of practice, DeCamillis said, adding that there was one dropped punt, although he did not identify who dropped it.
"For the most part, I think it was positive," he said. "It looked like they can handle that part of it."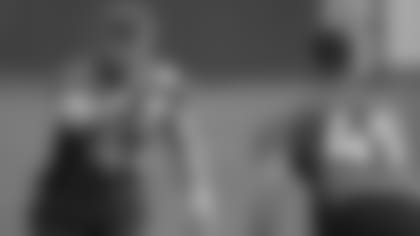 6. At long snapper, it's not just about snapping the football.
Although precise snaps to Britton Colquitt and Riley Dixon are the top priority, the difference between April signee Casey Kreiter and undrafted free agent Nathan Theus could come down to which of the two is the better blocker.
"The biggest thing is obviously the snap; we want to see good rotation on the ball every time," Special Teams Coordinator Joe DeCamillis said.
"The biggest issue with snappers -- and really, it doesn't happen in college -- is the protection part of it. That's what we've really got to see from these guys in camp. So we're going to try to stress that as much as we can, because every time you line up for a punt, there's the possibility of a rush.
"So we've got to make sure they can protect. We'll see from OTAs, and go from there."
A first look at the punting competition.**
Any time a team uses a draft pick on a punter, it's with the belief that the newcomer has a viable chance of claiming the job. So when the Broncos selected Riley Dixon in the seventh round last week, the decision arched eyebrows and spurred speculation about what that would mean for incumbent Britton Colquitt.
Colquitt's numbers were down in recent years, but he also had a dominant postseason that saw him contribute directly to wins against the Steelers and Patriots with punts that were downed inside the opponent's 10-yard-line, from which point the Broncos' top-ranked defense went to work.
"I got up here a few times last year and people were railing on Britton, but I can tell you one thing: There wasn't a better guy in the playoffs, I promise you that," DeCamillis said. "He helped us win games in the playoffs. So it's going to be a heck of a competition."
Dixon dropped 42 percent of his punts the last two years inside the 20, so he, too, is an expert at placement. Special-teams assistant Chris Gould held the same position on Syracuse's staff, so he knew Dixon's capabilities in precise detail.
"We had some inside information," DeCamillis said. "So we had some real good information on the kid.
"We think he's got a chance to be a real good punter in the National Football League, and that's why we took him. But it's going to be a competitive situation."
New leaders have already emerged on special teams.**
The season-ending injury suffered by David Bruton Jr. last December forced younger leaders to step forward for DeCamillis, and he will lean on them this season.
He identified three players in particular.
"Kayvon Webster stepped up for us. Todd Davis stepped up for us all year. I thought a really unsung hero for the whole thing was Cody Latimer," DeCamillis said. He did a great job and then in the New England game [he] knocked that ball out there that gave us a kick start. He knocked a couple of other balls out, too, and played well in the Super Bowl.
"I think we've got a good group coming back and I'm looking forward to getting started."
On the second day of the Broncos' rookie minicamp, RB Devontae Booker joined the rest of his rookie teammates for coaching. (photos by Eric Bakke)