CLEVELAND -- **At 4:26 p.m. EDT Sunday, FirstEnergy Stadium shook as it never had before.
Barkevious Mingo had dropped into coverage, leapt and intercepted Peyton Manning at the Denver 39-yard-line. A venue that that has never hosted a playoff game in its 17 seasons as the Cleveland Browns' home had a moment that felt like the next best thing.
An undefeated team teetered. A giant of the game agonized as Manning slammed his hands against his helmet, angered as he remained in the vice grip of a slump. It was his seventh interception in three weeks, and he knew the consequences could be dire.
Momentum wore garish brown jerseys. The Browns had scored 16 of the final 23 points in regulation to force overtime, and Mingo's interception added to the litany of Broncos miscues that included a Manning throw behind Ronnie Hillman that was returned for a touchdown by Karlos Dansby, a roughing-the-passer penalty on Derek Wolfe that set up the game-tying field goal, and two dropped passes by Demaryius Thomas.
All the Browns needed was nine yards.
Not even a first down. Nine yards for a viable shot at the game-wining field goal.
Even for the NFL's best defense, asking for a stop in this situation was too much, right?
"They thought, 'OK, we're just going to run the ball. We're on their side of the 50. We're going to run the ball and get some yards,'" said inside linebacker Brandon Marshall, '"and we're going to get a field goal and win the game.'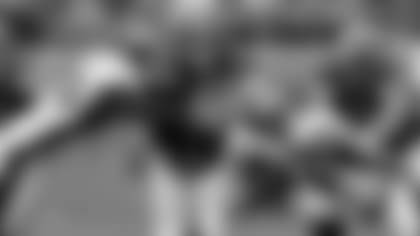 The defense had done its job for most of what would be a 26-23 Broncos win. Browns quarterback Josh McCown was under near-constant duress; he was hit six times in regulation, and rattled into a fumble and two interceptions, one of which Aqib Talib returned 61 yards for a touchdown.
But what happened in overtime was something different. It was what happens when a group with ominous talent gets angry and is pushed against a wall, through little fault of its own.
The Browns needed only to make meek progress. A three-and-out was enough, just as long as they got several yards. Instead, they went backward on three consecutive plays.
Well, they didn't actually go backward. The furious Broncos shoved them in that direction, back toward the Dawg Pound end of the stadium.
"When it looks all lost, we find a way," Marshall said.
Robert Turbin was engulfed for a three-yard loss. Malik Jackson thundered into the backfield and dropped Josh McCown for an eight-yard loss. Antonio Smith and Barrett teamed up to corral McCown for another sack.
"We knew we [were] going to come out and call it aggressive," Talib said. "We [were] going to blitz, we was going to play man, call it aggressive. And we knew we couldn't give up [anything], so that's what we hung our hat on."
First-and-10 at the Denver 39 would become fourth-and-28 at the Cleveland 43 as the rattled Browns took a delay-of-game penalty.
Once again, the defense delivered. Its players will kick themselves in the film room for the plays that forced the game into overtime. But as was the case in the first five games, it was at its best in the most urgent of moments.
"It was in spurts. But whenever it gets against the wall, and we've GOT to do something, it's a whole other defense," Smith said. "More aggressive. Something always happens.
"If we can just tap into that every snap -- or maybe not every snap, because we might get tired -- but for the majority of games, if we can play like we play in those instances, it wouldn't come down to that."
And after the three-and-out -- and another dodged bullet when Jordan Norwood recovered his own muffed punt return -- Manning and the offense walked back onto the field, determined to ensure the defense didn't have to make one more stop.
Maligned by mistakes, the offense refocused. There was no fiery speech, just a calm resolve to settle down and end matters once and for all.
"Let's just play the first play," offensive tackle Ryan Harris replied when asked about the offense's mentality as it took the field at the Denver 12-yard-line.
C.J. Anderson promptly found a hole for four yards. He gained two more on the next play. Third down was the third-and-manageable distance the Broncos wanted, and Manning located Owen Daniels in the left flat for an 18-yard catch-and-run.
But after the Broncos crossed midfield, the ground game took over. The Broncos called six consecutive run plays, picking up 27 yards. Anderson had four carries for 18 yards; Ronnie Hillman had two carries for nine yards. For the first time since the final drive of Week 1, the Broncos ground down a tired foe.
"We knew they were going to be there. We were saying early in the game, 'Hey, let's keep running, let's keep running,' because in the first quarter, those were 2- and 3-yard runs. Come overtime, those were 7-, 9-yard runs."
And finally, the defense could relax. The fury could ebb into satisfaction over a job well done. All its players had to was watch as the offense drove into the red zone and Brandon McManus finished the job with a 34-yard field goal.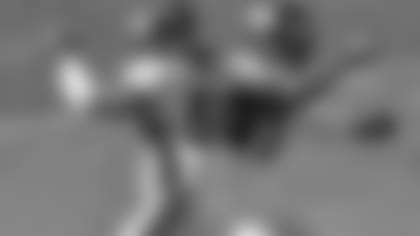 The Broncos left that once raucous stadium 6-0. They took an inelegant, roundabout path to get there; the road has been pockmarked with potholes. But 6-0 is 6-0, and while Marshall knows the defense is "exceeding my imagination," the Broncos' start has been accomplished without being at full speed.
"This is the best team that I've been on, and it's not just because we're 6-0. It's because we don't listen to the outside and we just keep working," Harris said. "We believe in ourselves and we believe in our abilities.
"The best thing about being 6-0, is that we know that we can get so much better. That's what we're going to use this bye week for."
Aded Marshall: "We're not going to apologize for being 6-0. We're not going to apologize for how we're winning, because we are winning."
And sometimes winning means stealing a game that once looked lost.