ENGLEWOOD, Colo. --In nine games as the Broncos' first-team middle linebacker, Steven Johnson demonstrated that he could be a legitimate two-down thumper against the run. The bursts he displayed in limited work his first two seasons -- including a goal-line stand against Kansas City's Jamaal Charles in 2013 -- became consistent blasts as he helped the Broncos become the AFC's best rushing defense.
But on his rare opportunities when the Broncos used a nickel alignment, he struggled, most notably in coverage against Cincinnati's Gio Bernard in the third quarter of a Dec. 22 loss, when Bernard shot past him and turned upfield for a 22-yard touchdown catch-and-run.
Plays like that seared themselves in Johnson's mind -- and drive him now as he works out in Dallas with Pro Bowl cornerback Chris Harris Jr., recent reserve-future signee Jeremy Kelley and a host of other college and professional players.
"What can I get better at?" Johnson said. "This offseason is just (about) becoming a three-down linebacker."
The Broncos' transition to a 3-4 alignment agrees with him; he worked in that scheme during his senior season at Kansas in 2011 and led the Big 12 in tackles. But whether he's in a 3-4 or a 4-3, he knows he must prove that he can be an every-down linebacker with the speed to drop back and to keep pace with tight ends and speedy running backs on drag and wheel routes.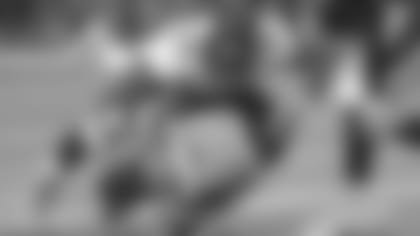 "I feel like the way the league is going about it, linebackers are really safeties now," Johnson said. "They're just glorified safeties with just a little bit more bulk who can move just like a safety.
"So if that's what the league is doing, I've got to be able to adapt. That's what I'm trying to do."
To put himself in coverage-intensive scenarios, Johnson told the players with whom he works out to treat him as a cornerback.
"I don't want to be a linebacker this offseason. I want to be a corner, so just put me out there on an island and just have me guard some of your best people and just help me get better at it.
"I'm going to use some time down here where I'm training because I'm going against some pretty good receivers. But at the same time, I'm getting better."
To increase his agility and speed in coverage, Johnson plans on shedding some weight -- but not enough to where he loses his power against the run.
"I'm known as a hitter. Everybody knows I can come downhill and hit somebody really hard," he said. "I have a nose for the ball. That's just what I do; that's just what I've done my whole life."
"When I come back for OTAs, I want the coaches to say, 'You know what? This is a three-down linebacker.' I can make all of the movements, cover anybody that I need to cover and do that.
"As long as I get that down, I think I've put myself in a really good position to be successful in this defense."