ENGLEWOOD, Colo. —** Back in his hometown of Natchez, Mississippi, Stevan Ridley met up with his mom for lunch with some good news to share. Over a Subway sandwich, he told his mom that he had received a call from the Broncos earlier that day.
Before long, Ridley was on the road, tearing down the interstate to New Orleans to catch a flight to Denver.
Now, working on about three hours of rest on the plane, Ridley is the newest member of the Broncos after impressing with an early afternoon workout. With any luck —and plenty of hard work — this will be the place he gets his career back on track after it was derailed by a devastating knee injury in 2014.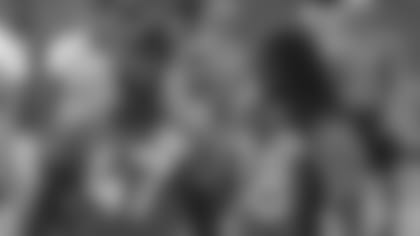 "This game, you can't take it for granted, and it's all about opportunity," Ridley said. "To be in an organization where you're getting the ball 12,15 times a game and you're young, you're running around and you're enjoying it and you have an injury and once you have an injury, it's kind of like things go south. You really never know. You never know what each day's going to bring. You never know when your opportunity's going to be gone or when you're going to have it."
The Broncos turned to Ridley after discovering Devontae Booker's wrist injury. With a new opportunity, Ridley's aim is to offer help in the running backs room in more than one way.
"Just some stability, man — whatever that may be," Ridley said. "I don't really care what my role is. They've got some talented guys in there and for me to come in and say I can do one certain thing, I can't say that. I'm just trying to come in there and find a role and whatever [Head] Coach [Vance Joseph] and them ask of me, whatever my teammates need of me, I just want to be that guy that they can depend on and lean on. I'm just coming in trying to better this team the best way I know how."
Ridley is one step closer to getting back on the field, but there's still a long path ahead of him if he wants to get back to where he once was. Regardless, he's determined to make his NFL return.
"I'm just coming here to work hard," Ridley said. "My nose is in the dirt. I'm just trying to come in here and, like I said, better myself, better this team and do whatever I can to help this team be productive. It's been a long journey and I'm excited about it and not scared of challenges at all. If this is the opportunity that's at stake, I'm diving into it full-speed and I'm going to do my best to help out."