PITTSBURGH --The tenor of the game was different, but the pattern and the 34-27 result were numbingly familiar to last week's defeat to the Oakland Raiders.
Once again, the Broncos raced to a two-score lead at halftime -- although this week, they cashed in on their red-zone chances to build that advantage. Once again, the offense struggled to generate any momentum in the second half, and a Broncos foe eventually worked past them.
The causes were different than they were last week. This time, the defense, stout all year, buckled and collapsed in the second half, as Ben Roethlisberger diced the Broncos up for three touchdown passes -- two to Antonio Brown and one to Markus Wheaton.
But there were some familiar issues: dropped passes -- including two in the fourth quarter that helped short-circuit drives -- and a pass rush that forced Brock Osweiler to work under duress. Although Osweiler did a better job stepping out of the pass rush and creating some openings for himself, one of those step-ups ended in an interception that set up the game-winning Roethlisberger-to-Brown connection.
A 17-point second-quarter lead evaporated, and for the Broncos, they have much to ponder after their second two-game losing streak in the last seven weeks.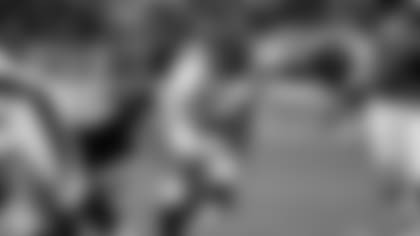 1. Get the ground game going.
In the first half, the Broncos were able to use timely scrambles by Osweiler, a well-executed sweep by Emmanuel Sanders and consistent running from Ronnie Hillman and C.J. Anderson to have the balanced attack they crave: 16 runs (plus a half-ending kneeldown), 19 passes and 27 points on four touchdown drives, all of which came on drives that covered 50 or more yards.
But in the second half, the Broncos struggled to generate any consistency on the ground. Some long-yardage situations created by penalties didn't help, but on the opportunities the Broncos did have to run, yardage was scarce; they gained just 11 yards on their first eight carries after halftime. That freed the Steelers to attack, and forced Brock Osweiler into situations like the one that ended in an interception, when he stepped out of pressure but threw into double coverage down the middle.
"We walked out of the locker room and got a nice first down. After that I think we had four holding calls in the next nine plays," Head Coach Gary Kubiak said. "Nobody has a chance when you do that to yourself. It was penalties and lack of execution."
2. Make the Steelers one-dimensional.
The Broncos did this, holding DeAngelo Williams to just 26 yards on 14 carries. But the Broncos' pass rush, while able to attack, was unable to rattle Roethlisberger on a consistent basis, and he beat the Broncos' man coverage on the Steelers wide receivers, connecting with Brown, Wheaton and Martavis Bryant 32 times for 338 yards. The trio accounted for all three of Pittsburgh's passing touchdowns.
Pittsburgh's strength beat Denver's, pure and simple.
3. Win the special-teams battle.
Denver did not let Antonio Brown break its back on punt returns, but gradually lost a battle of punts, which forced the Broncos into bad field position to start some of their second-half drives.
The Broncos missed the injured Omar Bolden on returns, and didn't get an explosive runback -- at least one that stood -- until a reverse to Cody Latimer in the fourth quarter got the Broncos 41 yards.
Brandon McManus missed an extra point in the first half, and while that did not prove decisive, it gave him a missed placekick for a fourth consecutive game.