ENGLEWOOD, Colo. --Broncos quarterback Peyton Manning is expected to miss at least the next two weeks as he continues his recovery from a plantar fascia tear.
Following a Monday consultation with noted foot and ankle specialist Dr. Robert Anderson in Charlotte, N.C., it was recommended that Manning spend at least the next week in a walking cast. After the cast is removed, he will begin additional rehabilitation on his injured foot.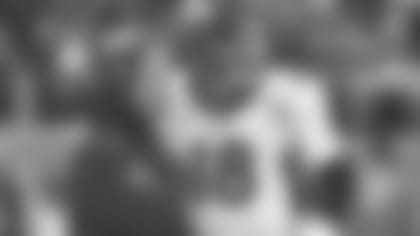 "Peyton and I had a good visit today, and we've got a plan in place for his recovery," Head Coach Gary Kubiak said. "His foot will be in a cast for at least a week, but he'll be able to be part of meetings and do some workouts with the rest of the team.
"We expect him to be unavailable for at least a couple of games. We'll proceed from there and will continue to support him as he does everything he can to get healthy."
Manning did not play last Sunday in Chicago because of the injury, remaining back in Denver for rehabilitation work while Brock Osweiler started in his place.
With Manning sidelined for multiple weeks, the Broncos will look to add depth at quarterback. The team is expected to work out former Minnesota Vikings starter Christian Ponder on Wednesday.