ENGLEWOOD, Colo. -- **Few teams have been overseas more often than the Broncos, with seven preseason games and another in the 2010 season in spots like Tokyo, Berlin, Barcelona and Sydney.
But London — and the United Kingdom — holds a special place for the Broncos. Denver's first overseas game was at Wembley Stadium against the Los Angeles Rams in 1987, and the Broncos returned for a regular-season game against the San Francisco 49ers in 2010. As the NFL grew in popularity during the 1980s, the Broncos' winning ways helped the club become one of the most popular in Great Britain. That fervent pocket of Broncos Country is stronger now than at any point before.
"It's always had that carry-[over] from the 1980s and 1990s when we started seeing the game for the first time," said Sky Sports News HQ's Ben Ransom, who visited Dove Valley to interview Broncos GM/EVP John Elway on Wednesday. "That's why people like John Elway are such massive names over there. For us to come over here and see him and see you guys is great stuff."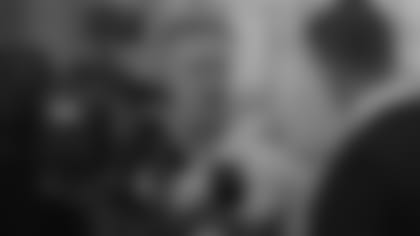 Ransom and Sky Sports News HQ spent Wednesday canvassing the NFL as part of their "NFL 32 Live" endeavor. The network aired live, on-site interviews with players and executives from all 32 teams throughout the day.
As part of the segment on the Broncos, Elway provided a tour of the front lobby of UC Health Training Center, showing off the team's two Super Bowl trophies and its championship rings.
The popularity of the NFL in Britain "is growing all the time," Ransom said. For a second consecutive year, Wembley Stadium will host three regular-season games. More games in London appear likely in the future, and as the audience for the NFL grows, so does the possibility of a London franchise.
"It's very likely, and certainly we're led to believe on our side of the Atlantic that it's getting closer every time. Every year we bring more NFL teams over," Ransom said.
"It's inevitable — we hope anyway — that a franchise can be based in London. There's certainly support for it at the moment. It's just whether they can sell out Wembley, 90,000 tickets, week in and week out, and then on this side, it's whether a team would be willing to travel there, to go for regular-season games and the like."