ENGLEWOOD, Colo. -- **With DeMarcus Ware continuing to recover from the back injury he suffered Sunday, Shaquil Barrett is poised to make his first NFL regular-season start.
"Shaq's going to start the game, but they (the reserve outside linebackers) are all going to play," Head Coach Gary Kubiak said Thursday, referring to fellow backup outside linebackers Shane Ray and Lerentee McCray.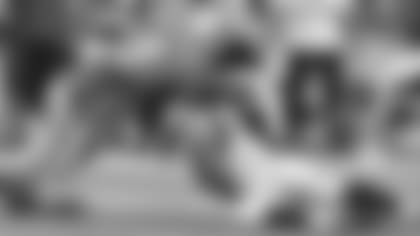 Ware has yet to practice this week after being carted back to the locker room early in the Broncos' 16-10 win at Oakland last Sunday.
But with Barrett and Ray filling in for Ware, the Broncos' pass rush did not miss a step, with each sacking Raiders QB Derek Carr once.
Barrett has flourished in his reserve role, with two sacks -- including one of Detroit's Matthew Stafford that led to a fumble the Broncos recovered in the fourth quarter of their 24-12 Week 3 win.
With Ware injured last week, Barrett had close to a starter's workload, playing a career-high 38 snaps. But actually running onto the field with the first team for the first snap will still represent a milestone.
"It hasn't really hit me right now," Barrett said. "I'm still preparing the same way I usually prepare. But on Sunday, once it happens, I'll probably be a bit more excited.
"People ask me how I feel, and I'm like, 'I really not thinking about it.' But the enthusiasm is going to come Sunday when I actually get out there and get that opportunity."
It's one that he deserves.
"He had a good offseason, a good training camp, and all of a sudden, when he came to game time, he just kept making plays," Kubiak said. "He's earned the right to be out there and play more and contribute."
Before Barrett began making an impression during training camp, he spent the offseason remaking his body, using workouts and an altered diet to reduce his weight from 254 to 242 pounds and his body fat from 18 to 11 percent.
Barrett said that his agent sent his wife a meal plan to allow for proper perparation of food for his diet.
"I tried to eat everything I wanted to eat before I started my diet, so it wasn't that big of a deal," Barrett said. "I used to drink a lot of juice and soda like all the time and I still miss that. I am drinking water the majority of the time now. Just giving up the juice and soda, for the most part [was the hardest thing]."
But it's made Barrett's work as a pass rusher much easier. With 12 fewer pounds, he has become one of the league's quickest young rushers off the edge. Per ProFootballFocus.com's calculations, only of 12 of 71 defensive ends or outside linebackers with at least 20 pass-rush snaps have hurried opposing quarterbacks at a higher rate than Barrett (one every 7.33 pass-rush opportunities).
One of them is Von Miller, who has hurried opposing quarterbacks once every 6.95 pass-rush chances.
"With the limited sacks that Shaq has had, he has two sacks -- I have three, so he's right there with the bunch," Miller said. "He was making a lot of plays for us in the preseason and during the season. When I come out, there's really not a drop in performance.
"Shaq is a good fill-in for us. It's not only Shaq, but Shane and Lerentee. If DeMarcus isn't able to go, I'm fully confident in those guys."