ENGLEWOOD, Colo. — Shaquil Barrett had never given a speech like this before.
On Tuesday night, though, he stood up in front of 500 middle school football players and coaches at the Broncos' 10th annual Futures Football banquet to share his story of becoming an NFL athlete and a Super Bowl 50 champion.  
Here is the speech that Barrett gave:
*"Hi, everyone. My name's Shaquil Barrett. I'm a linebacker for the Denver Broncos. I'm from Baltimore, and for those of you that don't know, that's in Maryland. I've got a couple stories I want to tell y'all about how I overcame adversity, how to be mentally tough and how to be a great athlete, team player and selfless player. I want to share with you how to be successful as a person and as a player in whatever you do in life. *
*I want to start off by congratulating you all on finishing up another season, and congratulate everyone who is about to go to high school. There's a lot of opportunity and a lot of chances for you to become a better player, better athlete and better student. *
For me in high school, I tried out for the JV team in 10th grade. I was a running back, fullback and tight end my entire career. The coaches did tryouts and decided that I wasn't the best person for that position. In my head, I'm disappointed. I think, 'I'm one of the best players on this team. I should be running back or full back.' Coach didn't agree and said, 'You're going to play offensive line.'
*Offensive line was something that nobody wanted to play growing up. It wasn't a fun position. It wasn't a glorious position. But I had to change my mind. I had to be a selfless player. I had to tell myself that I could whine, I could cry about this or I could take this challenge and try to be the best offensive lineman that I could possibly be. And that's the mentality that I took. *
I said, 'I want everyone to run behind me. I want to get pancakes. I want everybody to get touchdowns running through my side. I want to be the best offensive lineman possible.'
*You don't always have to agree with your coaches. You don't always have to like what they say, but you have to be coachable. You have to understand that they have your best interest at heart and have your team's best interest at heart. *
*Now for a little bit of my back story … Growing up in Baltimore, Maryland, I started playing Pop Warner football at the age of six. We were always the best team. I was winning the championship every year. I played 5-7, 7-9, 8-10, 9-11, 10-12, [13]-14. Those years all the way up to 10-12, we would win a championship, but then lose in the regionals which was after the championship. Regionals were where, if we won, we'd get to go to Florida and try to become national champions. But we were always losing those games because we weren't used to overcoming adversity and being mentally tough. We were always the best team in our conference, winning every game, blowing teams out. But when those regional games came, we would go out and give up a touchdown and we're not used to giving up touchdowns. We'd get really sad, be down on ourselves and had the give-up mentality. That didn't work for us. *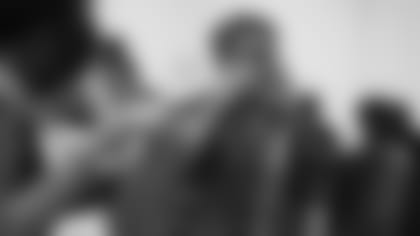 *We had that mentality all the way until my 10-12 year where we finally realized we can't give up on ourselves. We always have to believe that we can win and believe that we're never out of the game. *
*That year, we had this one regional game against a team from Texas. We gave up the first touchdown, but then were able to score again. The game went on and nobody scored all the way until the fourth quarter. They scored and it was 14-8. We got the ball back with about two to three minutes left. We've been in this situation before; we've been on the losing side before. We know that we can't have the mindset that we've given up. We have to believe in ourselves. We were fired up because we all believed. We get the ball and two crazy plays happened on that drive that helped us win that game. *
*There's a lot to be said about your mindset and a lot to be said about your hard work, but that particular time we had one percent luck. We needed something to bounce our way. Our running back got the ball and ran it through the hole, but he dropped the football. The coaches were in disbelief; no one really knew what to do. A whole second passed and the ball somehow bounced right back up to him, he was able to scoop it up and he ran for it for touchdown. It was a 75-yard run off of what could've been a turnover that made us lose the game. *
After that, our coach called a timeout to see if we wanted to kick a field goal or if we wanted to go for it. We had a pretty good field goal kicker so we told him we were going to kick the field goal. Before that, our snapper was sick that day so he wasn't able to play. At the beginning of the game, I volunteered to be the snapper, and I've never snapped a day in my life.
So I told my coach and all my teammates we were going to have a good snap and everything. I snapped the ball and kept my head on it, but I knew I snapped the ball too hard. I'm thinking 'We're going to lose this game because of me.'
I don't know how, but the ball went straight back to the kicker, and he had the presence of mind to run the ball in the end zone to win the game 15-14. We had lost that game so many times in the previous year, but our mindset was that we're always in this game. We're never giving up, we're going to keep fighting.* *
*Moving on, high school was an amazing time. It was a lot of hard work, a lot of fun and I learned a lot. Coaches know a lot more, so y'all need to believe in your coaches and accept the coaching. That's why I learned a lot. I became technically and physically a better athlete. My coaches taught me terminology that I still use today. They showed me techniques that I still use today. They taught me how to work my hands and use my feet to hop away from your opponent. You're going to get that opportunity next year or so and you need to take advantage of it. Coaches are going to steer you in the right direction. They're always going to put you in the best position to succeed. You just have to be a selfless person, and put your team first. That's the attitude that I had. *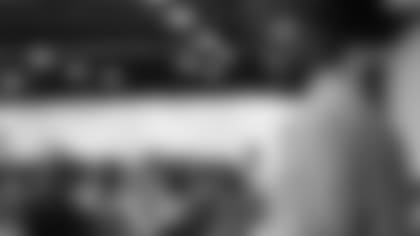 *When I got to college, I realized that grades are an important part of school. You can't think that you're going to go to high school or college without good grades. It happened to a lot of great players and they ended up at junior college trying to transfer. That's a long route that you don't want to have to take. *
*My grades were always good in elementary and middle, decent in high school and they were good in college all the way up until my senior year. That year we were bowl-eligible. But I was ineligible to play in the bowl game because my senior year I had senioritis. I didn't want to do homework. I didn't want to go to class. I wasn't eligible to play in the bowl game until I talked to teachers and did a whole lot of extra work that I should've been doing in the first place. The teachers fortunately helped me out a little bit and I became bowl-eligible, but you can't sleep on the school part of it. *
*You have to be student-athletes in high school and college and all the way up until you get to the NFL. You're still a student-athlete in the NFL. You have to study the playbook. You have to put in all the hours in the gym. The easiest way to make it out of the NFL is to not know your plays. If you don't know what you're doing, you're not going to make the team. Studying is a huge part of it. You need to develop great study habits now if you want to make it to the next level. *
*That's all I have today. I just want to thank everybody for giving me the opportunity to come out and speak to you all today. *