ENGLEWOOD, Colo. -- **From an individual perspective, Shane Ray's rookie season did not go as he would have hoped.
A lingering toe injury kept him from taking part in offseason work. A sprained medial collateral ligament suffered in Week 6 sidelined him for two games.
"I felt like I was a little bit behind, and I had to work extra hard to try to catch up to where I felt I needed to be," Ray said.
Those were the factors beyond his control. But Ray also learned that his study of the game and his dietary habits were not where they needed to be for long-term pro success.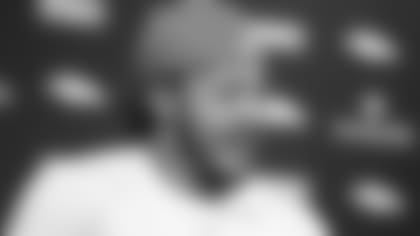 "It was a whole season worth of learning for me," he said. "Staying in D-Ware [DeMarcus Ware] and Von [Miller's] ear and Coach Pug [Outside Linebackers Coach Fred Pagac], just learning what I need to do to get better."
Ray wasted little time acting on what he learned. After taking "a week and a half off," he dove into his offseason program, training in Boca Raton, Fla. But the work wasn't just about weight training and conditioning; his meals were prepared, and he carried the same concepts with him when he returned to Broncos headquarters, where the team's nutrition staff further helps that process.
"One thing that I struggled with as a rookie was having my meals and eating properly," Ray said. "You can't just treat it like it's college and go eat fast food. Everybody heard Von say you can't eat cheese sticks [because] you can't put that fuel in a Ferrari. For me it's treating my body as such."
Ray's diet emphasized lean steak, fish, chicken, vegetables, salads and water. Fried foods were out; foods with sugar were limited.
"I probably eat four or five times a day -- just pure, lean food," Ray said.
Better meals and the workouts with Strength and Conditioning Coach Luke Richesson combined for results that were easily visible.
When Ray stepped up to the podium in the media room at the UCHealth Training Center on Wednesday, he looked stronger and more sculpted than at this time last year. He now weighs 245 pounds, but his eight-pound weight gain is all lean muscle, as his body fat remains at 10 percent.
But altering the diet was only going to get Ray halfway to where he needs to be. In order to step forward and become a dominant, first-team-caliber outside linebacker. he had to double his efforts in his study habits, as well.
He realized last year that his previous level of cerebral work would not be enough.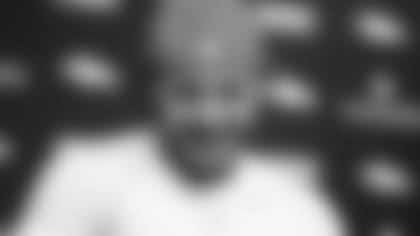 "In this league, you have guys that are very smart in everything they do as far as technique. Your athletic ability can only take you so far," Ray said.
"And that was a big thing for me -- just understanding that my athletic ability took me this far, but I had to find another piece, another key, and that was just the intellectual part of understanding film study, what guys are going to do, what guys are going to give me, formations and also just my technique and my footwork and just how much more crisp it needed to be."
One early result of Ray's work -- both in the weight room and the meeting room -- is the ability to work at strong-side outside linebacker, instead of just on the weak side. He said he's seen repetitions there, which gives him flexibility and helps the entire defense work while Von Miller's contract situation remains unresolved.
This gives Ray greater responsibilities against tight ends not only against the run, but in coverage.
"This offseason I put in tons of work in just making myself more of a complete player," Ray said. "Last year I was limited to play a lot of 'will' linebacker, which was majority [pass-]rush, but now I play the 'sam' just as freely as I play the 'will' as far as drops, coverages and just knowing my assignment and knowing what I'm supposed to do.
"Now I'm more relaxed. I'm more comfortable because I know where I'm supposed to be."
And if the work pays off, Ray will be en route to what a first-round pick should eventually become: a consistent playmaker, and one of the core components of a successful team.