ENGLEWOOD, Colo. --** Shane Ray knows that as a first-round pick he's coming into training camp with larger expectations than most rookies, but he also knows that many observers don't really know what to expect from him.
With Pro Bowl outside linebackers Von Miller and DeMarcus Ware on the left and right flanks, Ray's prospective impact is a bit of a wild card.
"I feel like they have really high expectations," Ray said. "They basically told me, 'You didn't come here to ride the bench. You came here to help this team,' and so with that being said, every day that I come here I'm trying to get better, I'm trying to be the best that I can be so I can help this team accomplish this goal, which is a Super Bowl.
But behind Miller and Ware, Ray's potential is still shrouded in mystery because no one has seen what he can do at the NFL level or how his role will fit in the defense.
One of those keys for Ray has been getting more well-rounded by learning both outside linebacker positions, so he can adeptly fill in for Ware or Miller on either side. Naturally that ability to line up in multiple spots just adds to what one can be imagine Ray doing on the field.
"I'm very excited," Ray said on Monday. "I think there's a lot of questions people have of what I can do and what I was brought here to do and so this is the opportunity for me to show everybody what I'm capable of."
Ray, who has consistently worked out at the Broncos' practice facility during the lull between the end of OTAs and the impending start of training camp, said that anticipation to prove himself at this early stage hasn't levied any pressure, however.
"For me, it's football. It's what I've been doing my whole life," Ray said. "Nothing really changes as long as you work hard and work for what you want to do, I feel like you can be successful in whatever. That's kind of been my motto and that's how I live."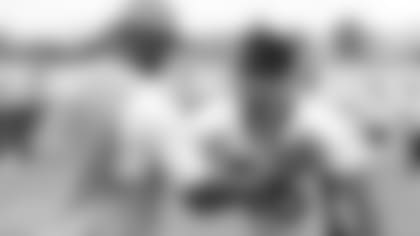 Since arriving in Denver after the draft, Ray had been brought along slowly, balancing recovery from a foot injury with getting repetitions and experience on the practice field. Saying that he'll be full go at training camp, Ray said he feels like he can return to an unleashed mindset.
"I'm back to doing what I'm doing in college having fun, rushing the passer, even dropping into coverage, all those things," Ray added.
Frankly, Ray said, he thinks people forget what he's accomplished because of his fall in the draft. Now he wants to show them what they've forgotten.
"Sometimes I think people forget that I was SEC Defensive Player of the Year because of where I fell in the draft because of the situation," he said. "For me to come out and remind everybody what I'm still capable of doing is very important to me."
He's been able to get plenty of tips from Miller and Ware, too. Although the emphasis might be expected to be on pass rushing, Ray has learned a variety of things that his position will entail.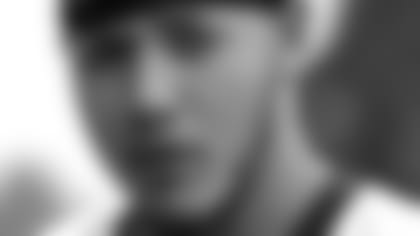 "Von helps me a lot in coverage and DeMarcus helps me a lot with my hands and pass rush," Ray began. "They're two different kinds of players, two different kinds of athletes and I just kind of take little pieces from each one of them and kind of just apply it to myself."
One thing that Miller has talked to Ray about in particular is run defense. The sack numbers are flashy, but Miller's proficiency in stopping the run rated him No. 2 in Pro Football Focus' rushing defense category among all outside linebackers.
"Von talks about playing the run first because those are the harder downs," Ray said. "You dominate the run and then the pass rush is where you get to do what you love to do. So you take care of the first couple downs, set the edge, play the run, stop them and get them in third-and-long. Then it's what you do every day. You go pass rush, you go get the quarterback and that's what I work on."
With a little bit of advice from Miller and Ware on just about anything he might see, now Ray is focused on putting it together and showing everyone that the player they might have forgotten is better than they remember.